As it happened: Italy v France
Updated: Sunday, 03 Feb 2013 17:05
Tap here to refresh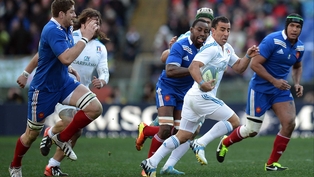 Relive Italy's 23-18 win over France in the RBS 6 Nations at Stadio Olimpico with Tadhg Peavoy's text commentary.
By Tadhg Peavoy
Click 'Live' to watch in player above from 1230 (mobile users visit RTÉ Player App).
Video is island of Ireland only
FT: Italy 23-18 France
Get in touch: sportonline@rte.ie or @TPeavoy
16:57
That's that for today. A match report will follow on the site shortly.
See y'after.
16:53
Superb match with wonderful battles all over the pitch. France were below par, but Italy came prepared. Their scrum and lineout was superb and Luciano Orquera, who was awarded the Man of the Match award, led with aplomb from outhalf. His replacement Kris Burton landed an excellent late drop goal to push Italy five ahead and from there France didn't have the fire power to damage them.
16:53
FULL-TIME: ITALY 23-18 FRANCE
16:50
81 mins: Second scrum to France: they win it and go wide right to Bastareaud on the crash ball, but Italy hold firm. The same player has a second go phases later. France spin wide left to Fall on the left wing, he tries to barge his way up the left wing but is hammered into touch by several Italian defenders. Referee Owens blows for full-time. Itlaly have defeated France 32-18 in one of the best rugby matches in recent memory.
16:48
80 mins: Ghiraldini comes on to make the scrum contestable. France take their scrum and drive hard at Italy. Another penalty is called for France as Italy kill the scrum.
16:46
79 mins: France attack with Michalak up the centre before Parra feeds Debaty wide left. France recycle several times then move it right. They enter the Italy 22. Michalak tries to break the Italy line. He is stopped. Taofifenua can't get through, but from the next ruck, referee Owens says Davide Giazzon came off his feet at the ruck. Penalty France and a yellow card for the No 16.
16:46
78 mins: Burton makes a metre with a break, before McLean is fed and jinks back infield to contact. But France turn it over through Maestri.
16:44
77 mins: France lineout from Kayser to Dusautoir. France maul it hard up the right wing. They pass the Italy ten-metre line. France go up the middle and knock as they go to contact. Italy counter as Gori snipes around the edge.
16:44
76 mins: Second scrum to Italy: they lose the ball as Parisse fails to control the egg. France then win a penalty as Italy infringe at the ruck. Michalak boots the penalty to touch.
16:43
75 mins: Scrum Italy on the France 22. The scrum collapses and must be reset.
16:42
75 mins: Referee Owens blows his whistle as the ruck descends into a mess. He calls a scrum to Italy.
16:41
74 mins: France lineout: Dusautoir wins at two and Fall attacks up the middle but knocks on. Italy counter attack with Venditti. Italy reach the France 22. Gori pops left and right and keeps his team moving forward.
16:40
73 mins: Italy are penalised at the scrum and France decide to kick for touch. Michalak takes it and lands the egg just outside the Italy 22.
16:40
72 mins: Geldenhuys and Benvenuti are off for Pavanello and Canale.
16:39
72 mins: Wonderful game in Rome. A pleasure to watch.
16:38
72 mins: France go wide left where Italy turn it over and Gori boxkicks at France. France scamper back to cover and Fofana breaks in midfield. The ball goes forward off an Italy hand. Scrum France in their own half.
16:37
71 mins: Eventually Les Bleus make the Italy half. It goes wide to Chouly, he bows his head and pumps the legs. France are edging forward very slowly.
16:36
70 mins: France attack from inside their own half. They make it nearly to halfway where Italy hit them with all they're worth.
16:36
69 mins: Chouly comes on for Picamoles.
16:35
69 mins: DROP GOAL - ITALY - BURTON
Minto bashes at the France defensive line. Gori pops to Venditti to make ground, before Gori spins back to Burton in the pocket. The outhalf bisects the posts to extend Italy's lead.
Italy 23-18 France
16:34
68 mins: Italy go phase after phase and Gori makes a break to half way. Benvenuti makes more ground. Burton and Parisse combine.
16:33
68 mins: In fact that was a free, so it's a lineout to Italy. They win and boxkick long. Bastareaud makes a break up the right but loses the ball in doing so and Italy build again.
16:32
67 mins: France scrum: Italy engage early - penalty France. Michalak bashes the peno to touch.
16:31
66 mins: Zanni takes the ball at the back of the lineout. Italy maul it but Parisse is penalised and France win a scrum.
16:31
65 mins: Parisse tells Burton to go for goal, but the outhalf says it's too far, and he bashes the ball to touch.
16:30
65 mins: Italy win a penalty as France collapse on the loosehead side.
16:30
65 mins: Scrum Italy as Orquera comes off for Burton.
16:29
64 mins: Derbyshire is on for Favaro.
16:29
64 mins: France win the lineout at two with Maestri and Picamoles drives forward, but Italy win a scrum as France play the ball on the ground.
16:28
63 mins: Bastareaud is on for Fritz. Parra is on for Machenaud.
16:28
63 mins: Castrogiovanni is off, Cittadini is on.
16:27
63 mins: Fall drives the legs as he makes some ground out left and Parisse halts him. The ball is put out of play by Italy.
16:26
63 mins: France are once more kicked possession by Italy. Michalak goes to contact as Minto takes him down. France reach their own 10-metre line.
16:25
62 mins: Italy then go wide right to Parisse. Italy lose it and bash the ball deep to Masi. He returns the kick to France and they again kick the ball away.
16:25
61 mins: France win it and break right but Huget knocks on as he tries to receive an inside pass. Masi launches a garryowen but Michalak returns the kick. Masi counters and offloads to McLean on the left wing.
16:24
60 mins: France restart and Italy knock on to give France a scrum just inside the Italy half.
16:23
60 mins: Papé is called ashore for Taofifenua in the engine room. The France captain has suffered a leg injury and winces as he is helped from the field.
16:23
59 mins: Game on in Rome as Italy take the lead.
16:20
57 mins: Italy spin wide to Venditti on the right wing and he makes the France 22. Italy keep calm in the red zone and set the ruck. Orquera snipes around the left side of the ruck and offloads to Castrogiovanni a metre out. The long haired tighthead prop collects a pop pass from the outhalf and crosses the whitewash for a try.
Orquera converts to give Italy the lead.
Italy 20-18 France
16:20
57 mins: Italy counter attack from inside their own half and Parisse makes it right to the France 22 before he is cut down.
16:19
56 mins: Giazzon, De Marchi and Gori are on for Lo Cicero, Ghiraldini and Botes.
16:18
55 mins: Ping pong takes place before McLean lands a kick into touch in the France half.
16:17
54 mins: Fall goes to contact on the left before Fofana joins the line in the centre. France remain just inside the Italy half after several phases and eventually Michalak kicks to the Italy corner, Masi boots long back to France.
16:15
53 mins: Italy 22-metre drop-out. France win it and go left with Papé. Machenaud passes left and right as Les Bleus put several phases together. It comes to Dusautoir on the right but he finds no way through.
16:13
51 mins: Italy attack with Sgarbi, but he loses the ball at the breakdown and the ball is hacked on by France. Masi gets back and boots to Huget. The France 15 then boots back to Benvenuti, who in turn boots to Michalak. As Michalak returns the kick, Ghiraldini takes Michalak out as he attempts to claim the landing ball. Michalalk goes for goal from halfway, but his penalty kick drops just below the crossbar.
16:11
50 mins: PENALTY - FRANCE - MICHALAK
Second scrum Italy: this time Italy are penalised as Lo Cicero has no bind. France penalty. Michalak opts to go for goal. From wide left, just inside the 10-metre line, he lands it.
Italy 13-18 France
16:10
49 mins: Italy scrum: the scrum collapses and must be reset.
16:09
48 mins: Castrogiovanni makes some hard yards and then Orquera takes the ball on himself. But Masi is then hit back in the tackle by Mermoz and France turn over the ball before they break up the left. However, the ball is knocked on by Picamoles and it will be a scrum to Italy.
16:09
48 mins: Italy steal the lineout and Sgarbi breaks up to the 10-metre line.
16:07
47 mins: Referee Owens says penalty France as the throw was taken too slow. Italy again try to build from deep with Geldenhuys on the charge before Orquera launches a deep kick at France, but it goes out on the full and it will be a line-out back for France on halfway.
16:07
46 mins: Michalak boots to touch for a France lineout in the Italy half.
16:06
45 mins: Minto tries to pound his way through. But eventually it's a penalty to France on their own 22 as Italy play the ball on the ground at the breakdown.
16:05
44 mins: Botes spins to Orquera to take to contact before Parisse attack. Italy into the France 22 now. They make several pick and goes.
16:05
44 mins: Parisse picks from the base and the ball goes wide to Sgarbi before Minto and Masi launch attacks.
16:03
44 mins: There's a lengthy delay as some players receive attention before the Italy scrum.
16:01
42 mins: France lineout: it goes to Maestri at two. The ball is spread wide to Mermoz in thee centre by France. They recycle several times as they slowly build. But referee Owens calls a knock on at the breakdown, scrum Italy.
16:00
41 mins: We're off again in Rome. Penalty France on halfway for offside against Italy at the restart. Michalak boots the peno towards touch, but he fails to reach it. Masi bashes the ball upfield to touch for a France lineout.
15:46
A superb start from Italy with excellent passing, and ball-in-hand play, gave them a 13-5 lead in Rome. But Les Bleus have worked their way back into the clash with a try from Fall to add to Picamoles's earlier effort and are beginning to control the game in the manner they were expected to. Forty minutes to come. Can the Azzurri deliver? Or will France overpower them?
15:46
HALF-TIME: ITALY 13-15 FRANCE
15:45
40 mins: Szarzewski goes to Ouedraogo at the front, but the ball is knocked on. Referee Owens calls penalty for a dummy throw and Orquera kicks long. France bash the ball back to Italy and into touch, and that's the last action of the half.
15:43
38 mins: Scrum Italy in their own half. The ball reaches Benvenuti in the middle and he is stopped with hard tackling. Soon after France turn over possession. Michalak chips ahead where Italy receive it. Orquera boots to touch to take the pressure off Italy.
15:42
37 mins: France win their scrum and Fofana wraps around to take the egg and make a line break up the centre. He surges into the Italy half but when he tries to offload outside him Dusautoir knocks on the pass.
15:40
36 mins: Michalak takes the 22 drop-out and Italy receive. Parisse breaks up the right before going to contact. Italy then switch to the left where Zanni breaks well but can't get the pass away before a ruck. Benvenuti then breaks off the side of the ruck but knocks on as he does so. Scrum France.
15:39
35 mins: France receive the kick-off from Italy and attack up the middle where the ball is spilled forward. Italy chip to the France corner, where Michalak gets back to kick the ball dead.
15:37
34 mins: TRY & CONVERSION - FRANCE - FALL & MICHALAK
Geldenhuys wins at two in the line and Botes kickicks to France. France try to build again from inside their own half and Huget breaks down the right with a superb break, he pops inside to Mermoz, who has Fall inside him to receive the egg and sprint over for a try. Michalak converts.
Italy 13-15 France
15:36
32 mins: Scrum France in the Italy half. They win it and go to the centre where a grubber kick is placed into touch.
15:34
31 mins: France win the scrum and Michalak boots long where Orquera knocks on.
15:33
30 mins: Italy lineout: they win at two and maul it. France hold firm before Italy get some change and drive the French ten metres. Minto takes a pop pass and drive. Italy go wide right to Benvenuti who spills forward. Scrum France.
15:33
29 mins: Fofana claims the Italy restart before slicing a kick to touch.
15:31
28 mins: PENALTY - FRANCE - MICHALAK
Scrum France: they win and go openside where Michalak tries to dance over the line, but is stopped. France still five metes out and offside is called against Minto, penalty France. Michalak converts from inside the 22, in front of the posts.
Italy 13-8 France
15:27
27 mins: Dusautoir wins at the back of the line. Szarzewski picks and goes. Mermoz and Huget combine to bring France to the Italy line where three French players surge in behind the latter to force him over the line. Referee Owens goes to the TMO to ask whether the ball was grounded for a try. After a brief delay, Gareth Simmons says no try. Scrum France five metres out.
15:27
26 mins: Italy win the lineout and Botes boots to touch for a France lineout.
15:25
26 mins: France throw to four and then go up the centre with Fritz before Mermoz attacks the outside channel, feeding Fall on the wing. Masi makes a superb cover tackle to push him to touch.
15:23
25 mins: France steal with Papé at two. Ouedraogo breaks upfield and Michalak boots long to Masi. He garryowens and Huget claims. France break left with Dusautoir making good ground. Les Bleus then use Ouedraogo before Fofana spills the ball and Botes boxkicks out on the full. Lineout back in the Italy half.
15:23
23 mins: Orquera boots to touch deep in the France half.
15:22
22 mins: Scrum Italy in their own half: France fail to drive square - penalty Italy.
15:21
21 mins: Geldenhuys and Lo Cicero pick and go. So do Castrogiovanni and Ghiraldini. But McLean attempts to kick long and Michalak charges the ball down. As the France No 10 tries to claim the knock down he fumbles forward: scrum Italy.
15:20
20 mins: Dusautoir wins the throw and Machenaud kicks long to Masi, he feeds Benvenuti to attack France.
15:19
19 mins: Italy win the restart through Zanni on the left and go up the centre with Parisse. Masi then smacks a kick to the corner to put France back in their own quarters.
15:16
16 mins: PENALTY - ITALY - ORQUERA
Italy win the restart and go wide left where Oruera launches a garryowen which Masi wins and passes to Benvenuti. Parisse makes a break out right into the France 22. Botes feeds Benvenuti on the charge, but referee Owens calls offside against Mermoz - penalty Italy. Orquera slots the penalty from just right of the sticks, outside the France 22-metre line. Quality kick.
Italy 13-5 France
15:14
14 mins: DROP GOAL - ITALY - ORQUERA
Scrum Italy: France drive Italy back but the Italians still win the ball and spread wide. It goes through the hands to the right wing. Lo Cicero picks and goes before Italy spin wide to Venditti to make a yard or two with a break. Italy swing it to the centre where Orequera receives the ball directly in front of the sticks, on the 22, he smacks over a drop goal.
Italy 10-5 France
15:14
13 mins: Orquera restarts and Picamoles knocks on. Scrum Italy in the France 22.
15:11
10 mins: TRY - ITALY - PICAMOLES
France scrum: Picamoles picks and goes from the base before Ouedraogo has a drive, followed by Szarzewski. They reach the whitewash. Eventually it goes wide right to Fritz but he can't cross the line. France go left and Picamoles is fed with two men outside of him. But he doesn't need them as he holds off Parisse and Minto to cross for the try. Excellent piece of physicality from the France No 8. Michalak pulls the conversion to the left.
Italy 7-5 France
15:09
9 mins: France win the lineout on this occasion and maul into the Italy 22. Machenaud spins outside where Michalak launches a garryowen into the Italy in-goal area. Italy scramble back to defend and Benvenuti knocks on. Scrum France on the Italy line.
15:09
8 mins: Parisse steals the lineout from France and taps it back, where Masi launches a reliving kick to touch upfield.
15:07
8 mins: France break up the centre on the counter where Huget is high tackled. Michalak boots the penalty to touch deep in the Italy half.
15:04
5 mins: TRY & CONVERSION - ITALY - PARISSE & ORQUERA
France turn it over and Michalak boots downfield to McLean to claim and counter down the right wing. From the next ruck Orquera is fed the ball and makes a superb break down the centre of the field before passing outside to Parisse. The captain has plenty of space to sprint over on the left-hand side of the pitch for the try. Fantastic start for Italy. Orquera slots the conversion from wide left.
Italy 7-0 France
15:03
4 mins: France yet to get their hands on the ball as Parisse makes a break out left, before Masi makes some more ground. Italy still on the edge of the France 22.
15:02
3 mins: Italy lineout. It's tapped back off the top and Italy go up midfield. They make the France 22 with a Botes snipe as Italy go short side.
15:02
3 mins: Italy win a penalty as France infringe at the breakdown. Orquera kicks for touch.
15:01
2 mins: Scrum Italy on halfway: the Italians break wide left and meet a wall of French defence. They spin wide to Orquera and he is driven back in the tackle.
14:59
1 min: Michalak starts the tie and puts the ball out on the full. Woeful start.
14:59
Kick-off is not long away in Rome now.
14:57
Italy used not award caps for internationals, but today they have rectified that by awarding caps to every Italy international that has donned the blue. Those former internationals hug the touchline as their national anthem blazes out.
14:56
Next up is Il Canto degli Italiani.
14:55
France's national anthem la Marseillaise belts out. Love it.
14:54
Italy now emerge from the tunnel in white socks, shorts and jerseys. France wear blue jerseys and shorts, red socks.
14:54
The sides are emerging onto the pitch in Rome. France are first out.
14:46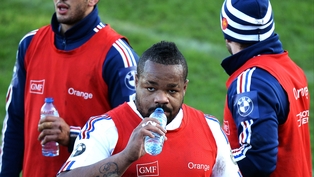 Mathieu Bastareaud lines up as France's replacement outside back this Sunday. Big boy with a big reputation. Hopefully he'll get on today so that we can assess his form.
14:45
Adam Roche's pre-match preparations are well underway.
14:35
Shane Horgan says the Ireland team will be exhausted after yesterday and different players will do different things. He believes there will be very little time spent on the pitch but some players will do plenty of weights, some will do none, and some will do nothing at all in a bid to recover fully. He also says swimming, stretching and yoga will be the order of the day in a bid to recover.
14:33
What are your thoughts on yesterday's wins for Ireland and England? And what are your thoughts on today's match-up in Rome? Tweet me: @TPeavoy
14:32
Italy v France, RBS 6 Nations, Stadio Olimpico, Sunday 3 February, kick-off 15:00:
Italy: 15 Andrea Masi 14 Giovambattista Venditti 13 Tommaso Benvenuti 12 Alberto Sgarbi 11 Luke McLean 10 Luciano Orquera 9 Tobias Botes 8 Sergio Parisse (captain) 7 Simone Favaro 6 Alessandro Zanni 5 Francesco Minto 4 Quintin Geldenhuys 3 Martin Castrogiovanni 2 Leonardo Ghiraldini 1 Andrea Lo Cicero.
Replacements: 16 Davide Giazzon 17 Alberto De Marchi 18 Lorenzo Cittadini 19 Antonio Pavanello 20 Paul Derbyshire 21 Edoardo Gori 22 Kristopher Burton 23 Gonzalo Canale.
France: 15 Yoann Huget 14 Wesley Fofana 13 Florian Fritz 12 Maxime Mermoz 11 Benjamin Fall 10 Frédéric Michalak 9 Maxime Machenaud 8 Louis Picamoles 7 Fulgence Ouedraogo 6 Thierry Dusautoir 5 Yoann Maestri 4 Pascal Papé (captain) 3 Nicolas Mas 2 Dimitri Szarzewski 1 Yannick Forestier.
Replacements: 16 Benjamin Kayser 17 Vincent Debaty 18 Luc Ducalcon 19 Romain Taofifenua 20 Damien Chouly 21 Morgan Parra 22 Francois Trinh-Duc 23 Mathieu Bastareaud.
Referee: Nigel Owens (Wal).
14:29
Just under 30 minutes to kick-off in Rome and TV coverage has just started for those of you in Ireland.
14:26
For those who want things a little bit more recent, watch Italy's 2011 win here:
13:56
While Italy's 22-21 win in Stadio Flaminio in 2011 is the better known of Italy's two wins over France. The win in 1997 is regarded as one of Italian rugby's coming-of-age moments and secured them the European Nations Cup. It was big darts for them at the time.
Watch the highlights of that victory here: