As it happened: Edinburgh 17-26 Munster
Updated: Sunday, 13 Jan 2013 15:03
Tap here to refresh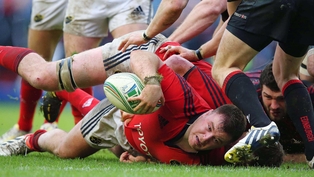 Relive Munster's Heineken Cup Pool 1 victory over Edinburgh with Tadhg Peavoy's text commentary.
By Tadhg Peavoy
Email: sportonline@rte.ie
Twitter: @TPeavoy
14:38
It really is so tight for those two best runners-up qualification spots. At present they stand like this: 18 Montpellier, 15 Munster, 15 Leinster, 14 Biarritz, 14 Northampton, 13 Toulouse. With Toulouse of course still to play today. Munster are ahead of Leinster currently as they have scored nine tries to Leinster's eight. It's going to go down to the wire. Munster report to follow on the site shortly.
Thanks for reading. See y'after.
14:36
A stodgy, error ridden game of rugby. Two tries a piece, but total domination for 70 minutes from the Irish province. No bonus point for Munster but the win is enough to lift them above Leinster on tries scored and into a qualification spot for the last eight as one of the second-best losers.
14:35
FULL-TIME: Edinburgh 17-26 Munster
14:33
80 mins: Munster win a lineout in the Edinburgh 22 and launch repeated attacks at Edinburgh. Williams pops to various forwards but the attacks are blunt and eventually Edinburgh win a penalty as Munster lose the ball in thee ruck. Laidlaw boots the penalty to touch and that's the last action of the tie.
14:31
77 mins: TRY & CONVERSION - EDINBURGH - FIFE & LAIDLAW
The Scots win the lineout and move it to midfield where Laidlaw plays a reverse pass back inside to Fife on the burst into the line. O'Mahony falls off the tackle and Fife makes it across the tryline to score. Laidlaw converts.
Edinburgh 17-26 Munster
14:31
76 mins: They win the lineout and go phase-after-phase at Munster. A weary looking Munster pack concede another penalty at the breakdown. Laidlaw pops the egg into touch in the Munster 22.
14:28
74 mins: Edinburgh scrum on their own 22: They win and recycle and then Munster kill the ball. Penalty Edinburgh. Tonks tonks the ball into touch.
14:26
72 mins: TRY & CONVERSION - EDINBURGH - FIFE & LAIDLAW
Scott makes a classy break and smashes the Munster line to reach the 22. They make the Munster line on the right and then spread through the hands from right to left where Fife receives the ball to race over the tryline and touch down. Laidlaw converts.
Edinburgh 10-26 Munster
14:25
72 mins: Allan is on for Hislop for Edinburgh.
14:25
71 mins: Edinburgh win a penalty as Munster kill the ball at the ruck. Williams is on for Murray at nine for Munster.
14:24
70 mins: Edinburgh win the lineout and boxkick to Munster. But Atiga steals possession back for the Scots.
14:22
69 mins: Edinburgh clear the penalty to touch. Gilchrist wins the lineout and Scott takes a pop in the centre. Edinburgh lose at the next ruck and Earls puts a kick into the corner.
14:20
68 mins: Munster go phase-after-phase and eventually lose the ball at the ruck. At the moment they just lack the cutting edge to pierce Edinburgh despite having almost total possession. They're missing a spark of something special.
14:19
67 mins: Munster win back possession and set a ruck in the centre outside the Edinburgh 22. It comes to Earls on the left wing. He chips over the defence and races onto the ball, but he misjudges the bounce as he's about to collect and the attack ends.
14:18
66 mins: Visser comes around the side of the ruck and it's a penalty to Munster. Murray snipes quickly and Munster break on the left with Zebo. Earls pumps the legs and takes Munster to a metre out before Kilcoyne does a little more. O'Mahony makes his 15th carry of the game before Botha knocks on and Edinburgh break upfield.
14:17
65 mins: Laidlaw's time in the sin bin is over.
14:16
65 mins: Butler and Keatley come on for Munster in place of and Coughlan and O'Gara.
14:15
65 mins: Tensions bubble over as Cox and Zebo have a scuffle.
14:14
64 mins: Laulala is on for Downey in the centre.
14:11
61 mins: TRY & CONVERSION - MUNSTER - MURRAY & O'GARA
Munster maul off the lineout and Ryan then breaks free and at Edinburgh. Coughlan makes a break himself. Then O'Mahony follows suit. Munster go wide left to Howlett and then Downey drives to the line befoore Murray picks and goes and collapses over the tryline. Try number two. Munster are half way to the bonus point. O'Gara makes the conversion from wide left.
Edinburgh 3-26 Munster
14:10
60 mins: Munster win the lineout and attack to the Edinburgh 22. The ball goes wide left to Howlett and then to midfield where the ruck is set. Next Earls trys to feed Downey and the pass is poor and possession lost. Edinburgh set a ruck and Titterrell drives before Rees box kicks to touch.
14:09
59 mins: Visser attempts a chip down the line and it goes out on the full, lineout on the Edinburgh 10-metre line. Kilcoyne's time in the sin bin comes to an end.
14:08
58 mins: This time it holds and O'Mahony breaks from the base. Then Munster go to O'Gara to Earls but the pass outside to Jones goes to touch. Edinburgh take a quick lineout and go up the centre with Tonks playing stand-off.
14:07
57 mins: Once more the scrum collapses. It must be reset for a third time.
14:06
56 mins: Munster win yet another reset scrum as Edinburgh go down once more.
14:05
56 mins: So that's try number one for Munster, three more needed.
14:03
55 mins: PENALTY TRY & CONVERSION - MUNSTER - O'GARA
Munster take the scrum. Howlett plays blindside flanker with O'Mahony at eight. The Edinburgh pack wilt under Munster's pressure. Penalty try for Munster. Again Nel popped up and he was the guilty party. O'Gara converts.
Edinburgh 3-19 Munster
14:01
54 mins: This time it's good and Murray is fed off the base. Botha then picks and drives to the line. Murray chips over the top to Earls to chase into the in-goal area. As Earls is about to claim Laidlaw deliberately bats the ball out of play - which is foul play. The TMO says penalty Munster and yellow card for Laidlaw.
14:00
53 mins: The scrum goes down again and will be reset once more.
13:59
52 mins: Munster scrum: Again Edinburgh go down and it's a scrum again for Munster. Du Preez is on for Coughlan while Kilcoyne is in the bin.
13:58
51 mins: Munster turn it over and boot back to the Edinburgh corner. Denton gets back to cover and throws a woeful forward pass on his own 22. Scrum Munster at that spot.
13:57
50 mins: O'Gara kicks to touch in the Edinburgh half and to touch. The Scots take it quick and run it back to the Munster half.
13:55
49 mins: After 23 phases Munster fail to present the ball at the ruck and it's a penalty to Edinburgh in their own 22. To make matter worse Kilcyone is sin-binned for deliberately tackling from an offside position. Very harsh call there from referee Garner.
13:55
48 mins: And now it's 18 phases as Varley carries up the centre, followed by Murray. Munster make it 20 phases with Earls.
13:54
47 mins: Munster put 15 phases of retention together and the ball goes wide to Zebo.
13:52
46 mins: Munster win the lineout and spread to the centre. Ryan picks and goes from the ruck. O'Mahony picks and goes.
13:52
45 mins: O'Gara pops the penalty to touch.
13:52
45 mins: It's Nel again and if he goes down again he'll be sin-binned, says referee Garner.
13:51
44 mins: Second scrum: But this time the Edinburgh scrum goes down again. Penalty Munster.
13:50
43 mins: Scrum Munster on halfway. Edinburgh front up this time and Munster pop up. The scrum is to be reset.
13:47
42 mins: Edinburgh spread the ball wide left where Cairns breaks the Munster line and makes the edge of the 22. Scott and Rees make some more ground but the ball spills out of the ruck and is hacked down field by Munster.
13:39
41 mins: O'Gara restarts for Munster.
13:36
[tweet https://twitter.com/Bluemagicboy1/status/290446407649873920]
13:33
Munster were average enough in that first 40, but they lead the tie, and look quite easily the better team. The Edinburgh scrum is woeful and Munster should look to exploit that weakness in the second half. Let's hope for some tries.
13:32
HALF-TIME: EDINBURGH 3-12 MUNSTER.
13:31
41 mins: Munster tap and go with the penalty and spread wide left to O'Gara. The move is a shapeless mess though and the ball is spilled forward. Half-time.
13:31
41 mins: Penalties conceded: Edinburgh 8, Munster 3.
13:28
40 mins: Munster lineout: Varley hits O'Callaghan at four in the line. O'Donnell takes a pop and go. Munster drive to five metres out and grind away at the line. Kilcoyne picks and goes. On the Edinburgh line, Munster spin to O'Donnell but Tonks intercepts and knocks on. Penalty Munster as the ref calls offside against Edinburgh.
13:28
38 mins: Edinburgh come over the top at the ruck with Cox - penalty Munster outside the 22. O'Gara kicks for the corner.
13:26
37 mins: Munster receive the restart and the ball is knocked on. But Edinburgh steal back possession. They attack again. Earls takes a snipe up the left wing.
13:25
36 mins: PENALTY - MUNSTER - O'GARA
O'Gara pops the penalty over the sticks from the centre of the pitch to extend the lead again.
Edinburgh 3-12 Munster
13:24
35 mins: Scrum Munster: again Edinburgh go down in the front row. Munster win another penalty in the 22.
13:22
34 mins: O'Gara restarts to Edinburgh. They recycle and move to the centre, but Ryan and O'Callaghan enforce the choke tackle on Fife and he fails to use the ball to concede a scrum.
13:21
33 mins: PENALTY - EDINBURGH - LAIDLAW
Edinburgh win the lineout and Munster kill the ball at the next ruck in midfield. Laidlaw decides to kick the penalty at the sticks. From the centre of the pitch, 22m out, he gets it. They're off the mark.
Edinburgh 3-9 Munster
13:20
31 mins: At the next ruck, Scott goes into contact and Munster fail to release in the tackle. Laidlaw boots the penalty to touch in the Munster corner.
13:19
30 mins: Munster win the restart and spread wide to Coughlan in the backline again. Murray boxkicks to Tonks. The ball is bashed back to O'Gara before Jones kicks deep to Denton to run it back into contact.
13:16
29 mins: PENALTY - MUNSTER - O'GARA
Scrum Munster in the Edinburgh 22 on the right-hand side of the pitch. Again Edinburgh go down at the scrum and it's another penalty to Munster. O'Gara opts to have another pop at goal. From wide left, he nails it.
Edinburgh 0-9 Munster
13:15
28 mins: Munster boot the ball deep to Tonks in the Edinburgh 22. He fumbles as he fails to read the bounce of the ball.
13:15
27 mins: Laidlaw restarts for Edinburgh and Munster claim it. They spread wide to Coughlan playing second centre.
13:13
25 mins: PENALTY - MUNSTER - O'GARA
Second scrum: Nel goes down again and referee Garner this time says penalty Munster. From in front of the sticks, O'Gara pops it over.
Edinburgh 0-6 Munster
13:11
25 mins: Scrum Edinburgh: Nel goes down and the ref says scrum again.
13:11
24 mins: Varley picks from the base of the ruck but fumbles the ball as he does - scrum Edinburgh.
13:09
23 mins: Munster lineout: O'Callaghan takes and pops. Munster drive and go up the centre. Kilcoyne runs hard and straight. O'Donnell clears out and then Murray feeds Coughlan as Munster reach the 22.
13:08
22 mins: Munster go wide right to Coughlan, he sets the ruck before Varley takes a pop and go. O'Gara then chips deep to Tonks. He returns the kick to touch.
13:07
21 mins: Lineout Edinburgh. They win it and Rees boxkicks to Zebo, he jinks into midfield and feeds Howlett, who in turn pops to Earls outside. O'Donnell goes up the centre.
13:07
20 mins: Ryan takes the lineout and Murray kicks to touch inside the Edinburgh half.
13:05
19 mins: Edinburgh on the attack. Laidlaw bashes a kick to the corner to push Munster into their own back yard.
13:03
17 mins: Munster lose the ball on the Edinburgh 22, but Laidlaw kicks possession away and Howlett runs it back. Downey then makes some hard yards but can't offload. However, Cairns is caught offside and Munster are awarded a penalty. From wide left, 36m out, O'Gara slices it wide right.
13:02
16 mins: Frankie Sheahan says 'both sides need to feel each other up.' Okay, Frankie...
13:01
15 mins: O'Gara fails to find touch with the penalty and the ball is kicked back to Munster. The men in red recycle and play it tight before O'Gara pops over the top with a kick to Tonks to claim and run back into traffic.
13:00
14 mins: Scrum Munster: they win, Coughlan picks and Murray kicks clear. Edinburgh bring back to contact and Murray runs to contact where he wins a penalty as Edinburgh kill the ball.
12:59
13 mins: Munster win the scrum and then their own put in as Nel stands up.
12:57
12 mins: Edinburgh scrum in the Munster 22. The ref brings Kilcoyne and Nel aside and asks them to delay their hits until he says set.
12:56
11 mins: Second scrum: a free-kick is awarded to Edinburgh as Munster infringe. Edinburgh recycle to the line and Rees is stopped on the whitewash. Nel then drives a few inches further. Scrum to Edinburgh as the ball isn't coming out.
12:55
10 mins: The packs set the scrum and hit. Munster go down on the loosehead side with Kilcoyne. The scrum is reset.
12:54
9 mins: Munster lineout: another poor lineout as Ryan taps back to Coughlan and the latter knocks on. Scrum Edinburgh.
12:52
7 mins: Edinburgh turn over possession and Laidlaw plays a garryowen to Zebo, who fumbles. Edinburgh claim the loose ball and spread to the left wing to Cairns. Tonks kicks to the corner.
12:52
6 mins: Edinburgh spread to the centre to Visser, but the ball gets fumbled forward. Scrum Munster.
12:50
5 mins: Coughlan charges ball-in-hand back up the pitch. The ball is spread wide right to Earls, he sets a ruck near halfway, but referee Garner says that Munster are sealing off. Penalty Edinburgh.
12:49
4 mins: Munster kill Edinburgh in the ruck and O'Gara pops a kick into the corner, Tonks comes across to secure possession but can do nothing but get put into touch. But Munster lose the lineout and the ball is booted back down into their half.
12:46
3 mins: PENALTY - MUNSTER - O'GARA
An up-and-under is pumped into the Edinburgh half and Tonks claims and sets the ruck. But the Edinburgh pack is adjudged to go over the top at the ruck and it's a penalty to Munster outside the 22. O'Gara slots it with ease. Munster lead.
Edinburgh 0-3 Munster
12:46
1 min: Sleet and drizzle come down onto the Murrayfield turf as the game gets underway. Zebo receives the kick-off and puts boot to ball and hoofs the egg into touch in the Edinburgh half.
12:45
What are your thoughts on today's game? Tweet me: @TPeavoy.
12:44
The teams are emerging onto the pitch in Scotland, with Munster leading the way followed by Michael Bradley's Edinburgh.
12:37
I should hasten to add that Munster can of course still win Pool 1 if they win today and also defeat Racing in their final game, and Saracens lose their final match at home to Edinburgh. In reality, second spot seems more feasible.
12:33
With four teams already qualified for the last eight of the Heineken Cup: Ulster, Toulon, Harlequins and Clermont, the race is on to secure those final four spots. Munster are looking to grab second spot in Pool 1 behind Saracens and sneak in as a best runner-up. At present, Montpellier are the best second-placed team on 18 points, Leinster are second best on 15. But if Munster win in Murrayfield with a bonus point they jump above Leinster to 16.
12:30
The teams for today's Heineken Cup Pool 1 clash are as follows.
Edinburgh: 15 Greig Tonks, 14 Dougie Fife, 13 Ben Cairns, 12 Matt Scott, 11 Tim Visser, 10 Greig Laidlaw, 9 Richie Rees, 8 David Denton, 7 Dimitri Basilaia, 6 Stuart McInally, 5 Sean Cox, 4 Grant Gilchrist, 3 Willem Nel, 2 Steven Lawrie, 1 Allan Jacobsen.
Replacements: 16 Andy Titterrell, 17 Robin Hislop, 18 Geoff Cross, 19 Netani Talei, 20 Roddy Grant, 21 Piers Francis, 22 Ben Atiga, 23 Sep Visser.
Munster: 15 Felix Jones, 14 Doug Howlett (c), 13 Keith Earls, 12 James Downey, 11 Simon Zebo, 10 Ronan O'Gara, 9 Conor Murray, 8 James Coughlan, 7 Tommy O'Donnell, 6 Peter O'Mahony, 5 Donnacha Ryan, 4 Donncha O'Callaghan, 3 BJ Botha, 2 Damian Varley, 1 David Kilcoyne.
Replacements: 16 Mike Sherry, 17 Wian Du Preez, 18 Stephen Archer, 19 Billy Holland, 20 Paddy Butler, 21 Duncan Williams, 22 Ian Keatley, 23 Casey Laulala.