As it happened: Leinster 34-13 Stade Francais
Updated: Thursday, 27 Jun 2013 17:05
Tap here to refresh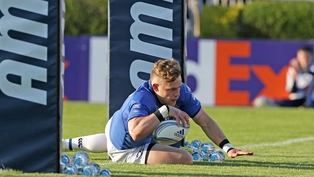 Relive the action as Leinster claimed their fourth European title in against Stade Francais at the RDS.
By Micil Glennon
AMLIN CHALLENGE CUP FINAL
Get in touch: email sportonline@rte.ie, Tweet @RTErugby #rterugby
22:00
That's it for now, we'll have a match report up shortly, thanks for logging on.
21:55
Once again, Leinster come good in a European final, congratulations to Joe Schmidt and his men! Thoroughly deserved!
21:53
FULL-TIME: Leinster 34-13 Stade Francais
79 mins
TRY! Now Leinster come looking for another try, Heaslip up to the 22, Nacewa stays in, Toner involved, within 5m, Healy is over but Nigel Owens wants to check with the TMO. Nope, he talks to his touch-judge and awards the score. Sexton adds two. Leinster 34-13 Stade Francais
77 mins
Jonathan Sexton is named man of the match.
76 mins
Kearney collects a Sexton Garryowen, Jennings kicks and it goes out on the full.
75 mins
Inside the Leinster 22, up to 10m, Kearney collects a chip that was never on, mark.
73 mins
Cronin is back on, Stade force a penalty and kick for the corner.
72 mins
Goodman pushes off two men, Boss digs it out of a ruck, slow ball now, Kearney puts his foot on the gas and goes on the outside, touchjudge says he was out before touchdown, fair play to him for seeing that one, it's even hard to tell after three slow motion replays.
70 mins
Tackles made: Leinster 107 Stade Francais 40
70 mins
Here come Stade again, Parisse is at the centre of everything, inside the 22, Jennings chases after a fly kick, scrum Leinster in the Stade half.
67 mins
McFadden is carried off on a stretcher, let's hope it's not serious. Goodman is on. Now Kearney lands awkwardly but is back up.
67 mins
Play is stopped as Fergus McFadden gets some medical attention close to the Leinster line.
67 mins
TRY! Stade string some passes together but Kearney is there at full-back to prevent a try, scrum Stade inside the Leinster 22, Wright carries, Jeremy Sinzelle gets on the end of a break by Bonneval and touches down in the corner. Plisson adds the extras. Leinster 27-13 Stade Francais
63 mins
PENALTY! Scrum turns into a penalty and Sexton can really kill it off here, it's a 45-metre kick and it's...good. Leinster 27-6 Stade Francais
61 mins
That's 11 handling errors from the French side so far.
61 mins
Jamie Hagan on for Ross, Cullen also on for Roux. Yet another Stade attack ends with a sloppy pass, scrum Leinster.
60 mins
Leinster are tenacious in defence and Nacewa this time spoils the Stade attack.
59 mins
Shane Jennings is on for the European champions, O'Brien takes a break. Stade counter, and surprise, surprise there's a knock-on...
57 mins
Nice hands by a Stade but there's a knock on in the middle of all that, Leo Cullen is about to come on, Sempere is replaced by Bonfils, scrum is messy, turnover, Stade within 6m, knock on, scrum Leinster.
56 mins
Parisse picks, then switches play with an inside pass, Healy, on for McGrath, rips the ball but Owens goes back for a penalty, Stade kick for the corner, they have to at this stage.
54 mins
Leinster knock on at the restart, scrum Stade.
53 mins
PENALTY! Sean Cronin is replaced by Richardt Strauss, Heaslip forces a penalty about 25m out, just to the left of the posts, Sexton has no problem extending the lead. Leinster 24-6 Stade Francais
51 mins
Leinster feign a blindside move and go wide on the other side, comes to nothing, Kearney grubbers through but it finds the touchline.
49 mins
Williams bashes, turnover, teams swap kicks, Conway and Madigan get mixed up, Boss tidies, McFadden gets his hands on the ball, Cronin makes a burst, turnover, another turnover, Stade not cool in possession. Scrum Leinster inside Stade half.
46 mins
Scrum turns into a penalty, it's just inside the Stade half and they go for touch, game could do with a Stade score here.
45 mins
Madigan was held up in the tackle by David Lyons, turnover, scrum Stade.
44 mins
Penalty to Leinster for a lineout infringement, not good enough at this level and at this stage, Sexton clears down the line, just over the halfway mark.
43 mins
Warwick is driving Stade on, penalty to the French side just inside their own half, they go down the line.
42 mins
Former Munster man Paul Warwick has come on for Julien Depuy. Plisson is short with a drop-goal attempt.
20:59
Bernard Jackman on Game On: "They'll go for the jugular..they've got very good players to come on".
20:55
Tony Ward on Game On on 2fm says Andrew Conway will be a "huge loss" to Leinster when he moves to Munster next season.
20:47
Possession: Leinster 31% Stade Francais 69%
20:47
HALF-TIME: Leinster 21-6 Stade Francais
40 mins
PENALTY! Porical, from 46m, lands his kick. Leinster 21-6 Stade Francais
40 mins
Stade spin it, the pass back inside looked forward, play on, says Nigel Owens, penalty to Stade just inside the Leinster half, one minute to play in this half.
38 mins
Stade can't control it, Kearney clears to touch, lineout on the Leinster 22, they go wide, Porical steps Madigan but Leinster turn it over and clear.
36 mins
Leinster maul but when ruck forms they can't get it to ground, scrum Stade inside the Leinster 22.
35 mins
Parisse looks for options but goes to ground, Madigan stops Sinzelle, Stade are too lateral, Parisse stopped by Conway, they are going backwards, nine phases, up to Leinster 22 now, Scott Lavalla can't make up his mind whether to pass or go to ground and makes a mess of it, lineout to Leinster.
32 mins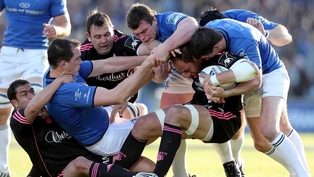 Free-kick to Stade for an early engagement at the scrum, they opt for another scrum.
30 mins
Former Leinster prop Stan Wright replaces Aled De Malmanche for Stade.
29 mins
TRY! It's all too easy, Sexton picks out Nacewa with a crossfield kick, he is tackled but turns to find Kearney coming at full pace, the Lions full-back dives over in the corner, kick is perfect and it's Leinster 21-3 Stade Francais after 29 minutes
28 mins
Nacewa takes Sexton's restart, Ross carries, Conway shimmies, Heaslip holds it, Stade counter-ruck and are unlucky not to win the ball, knock-on, scrum Leinster outside Stade 22.
26 mins
PENALTY! Full-back Jérôme Porical slots it. Leinster 14-3 Stade Francais
25 mins
Parisse threw out a pass without looking and it went behind Sinzelle, penalty to Stade, they should take three points here.
25 mins
Stade have a lineout just outside the Leinster 22, the giant Gerhard Mostert is brought down by Heaslip, up to the 5m line...
22 mins
Possession: Leinster 32% Stade Francais 68%
20 mins
TRY! Conway claims a Boss kick and offloads to Sean Cronin and there is no-one near him as he goes over under the posts. Kick is good. Leinster 14-0 Stade Francais
18 mins
Stade run from deep again, that's the spirit. Winger Jeremy Sinzelle cuts inside, Doumayrou makes more yards, outside the Leinster 22, seven phases, Parisse offloads, Bonneval comes off his wing, turnover after 11 phases, Kearney kicks and Stade are forced to clear to touch, there goes a lot of effort with no return.
15 mins
Lineout is clean, maul 3m out, Williams is over, he's held up, Parisse goes, Depuy dummies, a long pass goes forward, scrum Leinster. O'Brien saved a certain try in that last attack.
14 mins
Wonderful kick, brings Stade up to the Leinster 5m line.
13 mins
Ross is back up and his first job is to scrum down, Stade put-in, turns into a penalty.
12 mins
Madigan's try was his eighth of the season, he's is the province's top try-scorer this season.
12 mins
Mike Ross is receiving treatment for a neck injury, doesn't look too serious.
12 mins
Parisse claims a high ball with typical assuredness, Stade spin it again, Williams tries a dummy in midfield, turnover, Heaslip carries, then Toner, back to Cronin and there's a knock on.
10 mins
Stade are keen to run the ball as well, then Plisson boots it. Rob Kearney returns it with interest, lineout to Stade in their own half.
8 mins
Leinster make 20 yards with a maul and then Owens blows for a penalty to the home team, they run it.
7 mins
Leinster scrum stands up but ref says play on, turnover, up to the Leinster 22, Depuy almost puts Jules Plisson in in the corner but he is tackled into touch by the cover.
6 mins
Stade are a bit shocked, Paul Williams tries to go up the middle, there's a forward pass from Geoffrey Doumayrou, scrum Leinster on their own 10m line.
5 mins
Sexton taps over. Leinster 7-0 Stade Francais
4 mins
TRY! Cronin's first throw is perfect, Madigan carries, Nacewa breaks the line, Sexton passes inside to Madigan and he's clear to touch down under the posts. Leinster 5-0 Stade Francais
3 mins
Depuy kicks from the base of a ruck and makes it into touch inside the Leinster half.
2 mins
Just outside their own 22 and Leinster go through the hands three times, Nacewa kicks and we're up to the Stade 22.
1 min
Stade knock on from the kick-off, so do Leinster, Blues scrum.
1 min
Here we go, Stade kick off.
19:59
Teams are on the pitch, Nigel Owens is in charge this evening.
19:54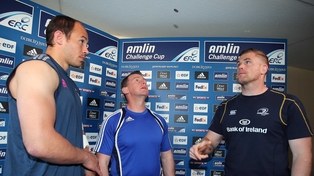 The captains flipped earlier on, who won? Don't know!
19:53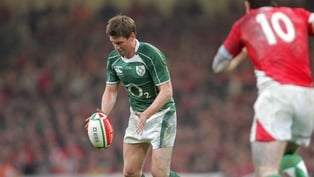 Of course, the big news today is that Ronan O'Gara will move to Racing Metro in a coaching role next season. The news signals the end of the career of one of Ireland's greatest ever players; alongside his two Heineken Cup wins, he will be remembered as the man who scored the winning drop-goal against Wales when Ireland won the Grand Slam in 2009.
19:51
Brendan Cole says Leinster have the edge, read his preview here.
19:42
Don't forget we're live on Game On on 2fm, click the link above to tune in.
19:41
This is Stade's second Amlin Challenge Cup final appearance. They were beating 19-18 Harlequins in 2011.
19:38
Leinster are the only survivors from the three Heineken Cup pool runners-up who qualified for the knockout stages of this competition.
19:35
Stade Francais: Jérôme Porical; Jeremy Sinzelle, Geoffrey Doumayrou, Paul Williams, Hugo Bonneval; Jules Plisson, Julien Dupuy; Aled De Malmanche, Laurent Sempere, Rabah Slimani, Scott Lavalla, Gerhard Mostert, David Lyons, Pierre Rabadan, Sergio Parisse (c).
Replacements: Remy Bonfils, Stanley Wright, Jeremy Becasseau, Anton van Zyl, Lei Tomiki, Waisea Nayacalevu, Julien Arias, Paul Warwick.
19:34
Welcome to our match tracker. We'll start with the teams.
Leinster: Rob Kearney, Andrew Conway, Fergus McFadden, Ian Madigan, Isa Nacewa, Jonathan Sexton, Isaac Boss, Jack McGrath, Sean Cronin, Mike Ross, Quinn Roux, Devin Toner, Rhys Ruddock, Sean O'Brien, Jamie Heaslip (c).
Replacements: Richardt Strauss, Cian Healy, Jamie Hagan, Leo Cullen, Shane Jennings, John Cooney, Andrew Goodman,Dave Kearney