As it happened: Men's Olympic soccer
Updated: Friday, 27 Jul 2012 20:08
Tap here to refresh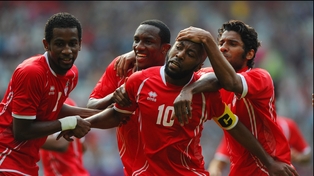 There was plenty of drama and some big upsets on the opening day of the men's soccer. Relive the action here.
RESULTS
Honduras 2-2 Morocco
Spain 0-1 Japan
Mexico 0-0 South Korea
Uruguay 2-1 UAE
Gabon 1-1 Switzerland
Brazil 3-2 Egypt
Belarus 1-0 New Zealand
Senegal 1-1 England
21:40
FULL-TIME - GREAT BRITAIN 1-1 SENEGAL

Hosts Great Britain have to settle for a draw in a game they dominated for large periods. Some rough-house tactics from Senegal and weak refereeing harmed the game as a spectacle but a draw is a fair result
21:38
GOAL - SENEGAL - KONATE

Great Britain fall asleep at the back and diagonal through ball cuts their defence out of the game. Moussa Konate collects the pass and chips the ball over the on-rushing Ryan Bertrand to equalise.
Great Britain 1-1 Senegal
21:37
FULL-TIME - BELARUS 1-0 NEW ZEALAND

A thoroughly forgettable game is brought to a close. The game's only goal came courtesy of a goalkeeping error and both sides will have to improve hugely if they are to progress past the ground stages.
21:34
FULL-TIME - BRAZIL 3-2 EGYPT

Brazil claim the three points but not in the manner that many expected them too. They romped into a half-time 3-0 lead but complacency and some awful defending almost cost them victory.
21:27
Great Britain's Craig Bellamy looks to be in a bad way after a horrific challenge from Papiss Cisse. Cisse's challenge is late, high and inside the Senegal penalty area but the referee somehow gives a goalkick.
21:18
GOAL - EGYPT - SALAH
Now this is getting interesting! Egypt break forward at pace and the ball comes to Mohamed Salah, who has time and space to control, turn and shoot from 12 yards out. Are Brazil about to throw this away?
Brazil 3-2 Egypt
20:53
GOAL - EGYPT - ABOUTRIKA
A goal from nothing puts Egypt back in the game. Brazil fail to deal with a freekick into the box and after hitting the post, the ball bounces back into the path of Mohamed Aboutreika, who pokes the ball home.
Brazil 3-1 Egypt
20:23
GOAL - BELARUS - BAGA
New Zealand go behind on the stroke of half-time after a terrible error by New Zealand goalkeeper Michael O'Keefe. The shot-stopper comes to punch away a Belarus corner but gets nowhere near the ball and Baga is at the back post to head the ball into the empty goal.
Belarus 1-0 New Zealand
20:21
GOAL - GREAT BRITAIN - BELLAMY

Two Welshmen combine to give Great Britain the lead. On his home ground of Old Trafford, Ryan Giggs takes a free-kick on the right and delivers a teasing cross into the box. Michah Richards wins the header and steers it back into the path of Craig Bellamy who hits a sweet volley that gives the goalkeeper no chance.
That might just silence the Manchester United fans among the crowd who had been booing Bellamy for his Liverpool connections.
Great Britain 1-0 Senegal
20:14
GOAL - BRAZIL - NEYMAR

This is in danger of becoming a rout. Neymar skips through the Egyptian defence before playing the ball wide, he continues his run into the box and gets on the end of the cross to head the ball home.
Brazil 3-0 Egypt
20:03
GOAL - BRAZIL - DAMIAO
New Chelsea signing Oscar is lighting up this match. He collects a through ball, drags the Egyptian goalkeeper wide before rounding him and cutting the ball back into the path of Leandro Damiao, who slides the ball into the empty net.
Brazil 2-0 Egypt
20:02
GOAL - BRAZIL - RAFAEL
A kindly deflection from Oscar rolls into the path of Rafael, who is unmarked in the Egyptian penalty area and he fires home the game's opening goal.
Brazil 1-0 Egypt
19:59
Great Britain (or rather England and Wales) kick-off against Senegal. Craig Bellamy, Ryan Giggs and Joe Allen are the only non-English players in the starting line-up, and even then the official matchday program claimed that Joe Allen was in fact English.
Not as bad as the North Korea flag fiasco, but still rather embarrassing.
19:58
It's been a pretty subdued opening in the game between Brazil and Egypt, with the Egyptians looking comfortable and Brazil not yet sparking into life.
19:46
The games between Brazil and Egypt and Belaurus and New Zealand have both kicked off.
Brazil in particular will be looking will be looking to get off to a good start in their attempts to claim the country's first ever soccer Olympic gold.
18:57
FULL-TIME - GABON 1-1 SWITZERLAND
Gabon claimed a surprise and fully deserved point. They may regret not making more of their numerical advantage once Bruff was sent-off, but this was an impressive display by the African side.
18:57
RED CARD - SWITZERLAND - BRUFF
Oliver Buff is given his marching orders after he picks up a second yellow card for diving. It's a big call by the referee and one that he may have just got right. Bruff burst into the box and after evading one challenge, appeared to throw himself to the ground.
18:54
FULL-TIME - URUGUAY 2-1 UAE

The referee blows the final whistle to give one of the tournament favourites an opening win.
18:44
Uruguay look set to claim an opening win as their game with UAE draws to a close. Luis Suarez is involved in a little bit of handbags as he protests some afters from Alkalami, but the referee shows a cool head and calms the situation.
18:15
GOAL – URUGUAY – LODEIRO
Luis Suarez shows some neat footwork in the penalty area and Nicolas Lodeiro races onto the ball to flash a left-footed shot to the UAE net.
UAE 1-2 Uruguay
18:00
GOAL – GABON – AUBAMEYANG
History is made at St James' Park as Pierre-Emerick Aubameyang scores Gabon's first-ever Olympic goal. A great first touch sets up the Saint-Etienne striker to strike low and hard to the net. No more than the African side deserve.
Gabon 1-1 Switzerland
17:47
HALF-TIME: UAE 1-1 Uruguay
17:41
GOAL - URUGUAY - RAMIREZ
Gaston Ramirez equalises for the South Americans with a beautifully-struck 25-yard free-kick. The Bologna winger found a spot near the top corner with his left foot.
UAE 1-1 Uruguay
17:25
GOAL – UAE – MATAR
UAE captain Ismail Matar gives the underdogs a surprise lead. A superb through ball to the Al-Wahda player, who showed great composure before side-footing home.
UAE 1-0 Uruguay
17:20
GOAL – SWITZERLAND – MEHMEDI
No doubt about the penalty decision after a reckless challenge by a Gabonese defender. Admir Mehmedi slots the spot-kick home, but the referee orders a re-take for encroachment. Mehmedi is unperturbed and sends the goalkeeper to wrong way again.
Gabon 0-1 Switzerland
17:15
The clash between Gabon and Switzerland has started at St James's Park in Newcastle-upon-Tyne.
17:15
The game between United Arab Emirates and Uruguay is underway at Old Trafford.
16:36
FULL-TIME: Spain 0-1 Japan
The first major shock of the tournament as the plucky Japanese hold out against the highly-fancied Spanish. It was no fluke, either, and the Asian side would have won it more comfortably had they taken their chances.
16:23
FULL-TIME: Mexico 0-0 South Korea
15:31
HALF-TIME: Spain 0-1 Japan
15:25
RED CARD – SPAIN – INIGO MARTINEZ
The Spanish centre-back is dismissed for hauling down Nagai, who was through on goal, on the edge of the box. Unfortunate for Martinez, but looked the correct decision.
15:20
GOAL - JAPAN - OTSU
Japan have taken the lead against Spain at Hampden Park through Yuki Otsu after 33 minutes. Poor Spanish defending from a Japanese corner left Otsu with a straightforward finish from just outside the five-yard box.
Japan 1-0 Spain.
14:55
Two games are currently in progress: Mexico and South Korea are in action at St James' Park, while Spain versus Japan is at Hampden Park. Both games are available to watch live on RTE.ie: Click here to choose either fixture.
14:03
Mexico and South Korea will play at St James' Park. Spain versus Japan is the second of the double header at Hampden Park.
13:54
The next game up is Mexico v South Korea at 2.30pm, followed soon after by Spain v Japan at 2.45pm.
13:50
FULL- TIME: Honduras 2-2 Morocco
13:25
RED CARD - MOROCCO - BERGDICH
Zakarya Bergdich is dismissed. The Moroccan centre-back was caught by the arm of Mario Martinez, but the referee has no option but to send Bergdich off after he kicked out in retaliation.
13:22
GOAL - MOROCCO - LABYAD
Morocco hit back immediately with an excellent strike from Zakaria Labyad. The Sporting Lisbon man takes a touch in the box before dinking a lob over the head of the Honduran goalkeeper. Just over 20 minutes to be played.
Honduras 2-2 Morocco
13:18
GOAL - HONDURAS - BENGSTON
Bengston is heavily involved again as he is clipped in the box and a penalty is awarded. The striker has an argument with Figueroa over who will take the spot kick, but it is New England Revolution player who steps up to wrongfoot Moroccan goalkeeper Mohamed Amsif.
Honduras 2-1 Morocco
13:12
GOAL - HONDURAS - BARRADA
A stroke of luck for the Hondurans. Wigan star Maynor Figueroa's cross-cum-shot is deflected past Moroccan goalkeeper by the outstretched toe of Jerry Bengtson.
Honduras 1-1 Morocco
12:45
Half-time in Hampden. Honduras 0-1 Morocco.
12:40
GOAL - MOROCCO - BARRADA
Morocco take the lead in Hampden on 40 minutes. Getafe's Barrada is the man with the opener with a fine volley from 18 yards. Bottom left-hand corner, keeper had no chance.
Honduras 0-1 Morocco
12:12
Still waiting for an opening goal in Hampden.
11:58
There are eight games down for decision in men's Olympic soccer today. The fixtures are listed above.
First off is Honduras v Morocco in Hampden Park.