As it Happened: Olympics Day 15
Updated: Saturday, 11 Aug 2012 21:09
Tap here to refresh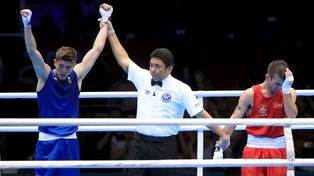 Read back on day 15 of the Olympics, including John Joe Nevin's narrow defeat in bantamweight boxing.
Click LIVE for RTÉ coverage in Player above | (iPhone users visit m.rte.ie)
Andrzej Jezierski wins C1 200m Canoe Sprint B final
Rob Heffernan finished 4th in 50km Walk
Arthur Lanigan O'Keeffe finished 25th in Modern Pentathlon
Olive Loughnane and Laura Reynolds finish 13th and 20th in 20km Walk
John Joe Nevin beaten 14-11 by Luke Campbell
21:41
We'll have more reaction to John Joe Nevin's defeat shortly. Well done to the Mullingar boxer on winning silver and we'll be back tomorrow for the final day of the Olympics. Thanks for reading.
21:31
Allyson Felix claimed her third gold medal of the Games as the United States outclassed their rivals to win the women's 4x400 metres relay by some distance.
Felix, who took the 200 metres individual title and was part of the 4x100m team that smashed the 27-year-old world record on Friday, ran the second leg to help the Americans cross the line first in the event for the sixth successive Olympics.
There was to be no world record in the one-lap relay, though, with Sanya Richards-Ross powering across the line in three minutes 16.87 seconds, outside the mark of 3:15.17 set by the Soviet Union at the 1988 Seoul Olympics.
21:26
Defending champions Germany have won the men's hockey gold medal with a 2-1 win
over Holland.
21:19
Double Olympic sprint champion Usain Bolt anchored Jamaica to victory in a blistering men's 4x100 metres final as they retained their title in a world record 36.84 seconds.
It was the same Jamaican quartet of Nesta Carter, Michael Frater, Yohan Blake and Bolt that set the previous mark of 37.04 at the world championships in Daegu last year.
The United States team of Trell Kimmons, individual bronze medallist Justin Gatlin, Tyson Gay and Ryan Bailey won silver in 37.04 to equal the old record.
Canada finished third but were disqualified, leaving the athletes in tears on the track as Trinidad and Tobago were awarded the bronze.
21:12
Paddy Barnes is entering the ring now to receive his bronze meal. China's Zou Shiming, Barnes' conqueror, has retained his light-flyweight Olympic title after claiming a controversial victory in the gold medal match against Thailand's Kaeo Pongprayoon.
21:09
Kenneth Egan said: "I'm sick to my stomach. He had the beating of that guy and the first round cost us again."
21:05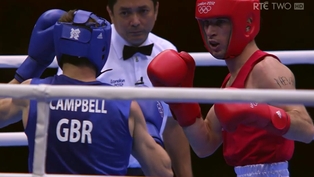 Luke Campbell beats John Joe Nevin 14-11.
21:04
Round 3: It looks like heartbreak for Nevin as Campbell continues to find some telling punches and Nevin then receives a count as he walks into a shot and falls to the ground. He tries to go for it in the last 90 seconds but I don't think he has done enough.
21:00
Round 2: Cagey start again with both boxers standing off until Nevin begins to land some punches and the combinations are hurting the British boxer. He is the much more aggressive boxer in this round and crucially more composed, it is telling on the scorecard. 9-8 to Campbell and truthfully Nevin should be level. Questionable scoring.
20:55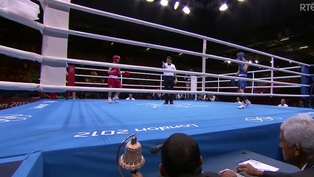 Round 1: An amazing atmosphere greets the bell and quite an even start. John Joe Nevin connects with the first significant combination but Campbell comes back well. Campbell looks the better boxer for most of the round but in the final minute, Nevin hurts the Hull man with a flurry of punches. Campbell bounces back and connects again, a thrilling round comes to an end with Campbell 5-3 ahead.
20:45
John Joe Nevin is on the way to the ring. It is a partisan home crowd but he looks cool and focused on his gameplan. Time will tell on how he can cope with this. He has no reason to fear Campbell after beating the top ranked boxer in his division in the semi-finals.
20:40
We'll have round-by-round updates and remember click on LIVE on the picture above to watch the fight. Mick Dowling believes right hooks to the ribs will be Nevin's gameplan.
20:37
Trinidad & Tobago's Keshorn Walcott completed a remarkable double by taking a surprise Olympic javelin gold, less than a month after becoming world junior champion.

The 19-year-old, crowned global junior champion in Barcelona on 13 July, won gold with an 84.58 metre throw, a personal best. He was the youngest winner of an Olympic javelin title.
Ukraine's Oleksandr Pyatnytsya won silver with a 84.51 effort and Antti Ruuskanen of Finland took bronze with 84.12.
20:32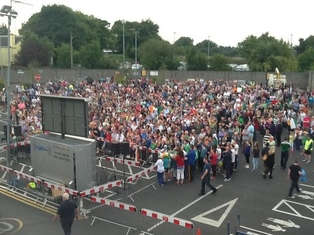 A huge crowd has gathered in Mullingar to watch the fight on a big screen. They'll be cheering on their hero in a matter of minutes.
20:27
Andy Lee also feels another gold medal is on the way to the Irish team. John Joe Nevin has been very composed throughout the tournament. Hopefully he can cope with it and what is likely to be a hostile British crowd.
20:23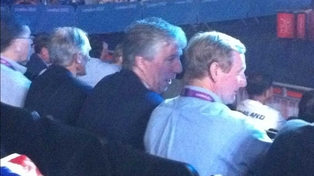 FAI Chief Executive John Delaney pictured with An Taoiseach Enda Kenny at the ExCel.
20:21
Kenny Egan is very confident on John Joe Nevin's chances: "He is not going to let this slip. He know what it is all about and he wants it more than Luke Campbell."
20:15
The final of the men's 4x100m is at 2100, and after that Paddy Barnes will receive his bronze medal so there is plenty to look forward to in the next couple of hours.
20:10
Australia's men won the hockey bronze, beating Britain 3-1 after dominating the second half to make it a sixth consecutive Olympics at which they have won a medal.
Australia, touted before the tournament as favourites for gold, recovered from the disappointment of losing the lead and ultimately the semi-final against Germany in the last 15 minutes of their match on Thursday.
That close loss contrasted with Britain, who suffered a 9-2 drubbing in their semi-final against the Netherlands, and did not regain their group-stage fighting spirit when they managed to hold Australia to a 3-3 draw.
20:04
Russia's Mariya Savinova has won gold in the women's 800m with Caster Semenya in second. The South African showed terrible concentration and left too much to do as the Russian claimed gold. It was a very strange race.
20:01
Just 45 minutes to go until John Joe Nevin's gold medal bout. Tension is already rising at the ExCel according to our reporters. John Joe is favourite to win the fight, if he performs like he did in the rounds so far he will be taking home the top prize.
19:44
Mo Farah hangs on to win the 5,000 metres gold! Dejen Gebremeskel couldn't push enough and had to settle for silver. Thomas Pkemei Longosiwa takes bronze for Kenya.
19:43
Farah is with three Ethopians in the top four with 1,000 metres to go.
Dejen Gebremeskel looks the threat.
19:39
Lopez Lomong is head of the field just close to the half-way stage. Farrah is in mid-division.
19:36
Russian Sports Minister Vitaly Mutko has accused hosts Britain of using political clout to win medals at the London Olympics.

"The Brits are just as (bad) as (the Chinese) in Beijing," Mutko told Russian media on Saturday.
"Here in London everyone wants the British to win. They have a very strong political support."
19:35
Mo Farah is at the back of the field in the 5,000 metres. It has been a relatively slow start.
19:31
David Gillick has borrowed Kenneth Egan's stone wash denim jacket for tonight's show as it grows more and more popular.......sort of.
If there are any negative comments Gillick can just claim cutbacks in the wardrobe department.
19:28
The men's 5,000metres final is coming up now with Mo Farah looking to complete a double after gold in the 10,000 metres.
19:19
Spain beat South Korea 31-29 after two periods of extra time to win the Olympic women's handball bronze medal.

It was the Spanish women's team's first volleyball medal in their third Games appearance while twice winners South Korea have only finished off the podium twice in eight Olympics.
19:18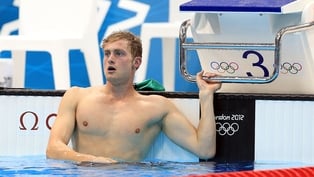 Ireland's Arthur O'Lanigan-O'Keeffe finishes in 25th position. A fine display by the Dubliner. He can look to Rio after a great Olympic experience.
19:16
David Svoboda, Zhongrong Cao and Adam Marosi make up the top three in the Modern Pentathlon as he Svoboda takes gold.
19:14
The Irish pentathlete is down to 24th after the third round of shooting.
19:10
Ireland's Arthur O'Lanigan-O'Keeffe is in 21st after the second round of shooting in the combined event in the modern pentathlon.
19:04
The combined run and shoot discipline in the modern pentathlon has just begun.
18:55
Remember John Joe Nevin's fight is at 2045. We also have the final event in the modern pentathlon which is coming up shortly.
18:40
Ireland's Arthur O'Lanigan-Keeffe is in solid mid-table position, as the modern pentathlon event enters its final stage.
The Dublin student is 18th, out of 36 contenders, following the fencing, swimming and showjumping disciplines.
His best result was in the 200m swim, where he finished ninth.
He finished 29th overall in fencing, and 20th in horse-riding.
He is 1:08 behind the leader, David Svoboda of the Czech Republic, going into the final event - a combined run and shoot.
18:30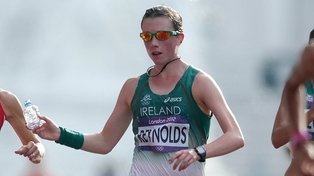 Laura Reynolds just fights her way into the top 20 with a personal best time of 1:31:02. Loughnane's time was a seasonal best of 1:29:39.
18:29
Olive Loughnane finishes in 13th, 4.37 behind the winner.
18:27
It's silver for Russia as well, as Olga Kaniskina comes home in a seasonal best of 1:25:09. China's Shenjie Qieyang took bronze in 1:25:16.
18:24
Russia's Elena Lashimanova wins the women's 20k in a time of 1:25:02.
18:22
Loughnane has fallen to 14th, now over four minutes off the lead. Leitrim woman Laura Reynolds is now in 22nd. Just 2k to go.
18:12
Loughnane is in 12th position after 16k, some 3 minutes 22 seconds behind leader Olga Kaniskina. Laura Reynolds has risen to 25th.
18:05
At 14k, Olive Loughnane in 14th place, over three minutes off the leader. However, there is very little between 12th and 15th place. Laura Reynolds in 29th.
18:00
Claire Tallent of Australia has been disqualified so Loughnane has moved up to 10th.
17:59
Laura Reynolds is moving up the field. She is in 33rd now. Olive Loughnane remains in 13th, 2.16 behind after 12k.
17:55
After 12k, Olga Kaniskina of Russia is leading with Liu Hong of China 22 seconds behind.
17:48
Olive Loughnane has slipped to 13th place, +1.41 off the pace, after 10k. Laura Reynolds has moved up to 41st place.
17:47
Apparently, a big screen has been installed at Kilbeggan Racecourse in Co Westmeath for punters to watch John Joe Nevin's final tonight.
17:38
Laura Reynolds, a DCU student from Leitrim, is 46th. She is about three minutes behind the leaders.
17:37
Loughnane drifts to 12th and is falling behind, 1 minute 10 seconds behind the front duo.
17:28
FIFA have charged a South Korea football player after he displayed a flag with a political message during his side's bronze medal win over Japan in Cardiff.
Jongwoo Park allegedly displayed a banner supporting sovereignty of a group of islands that is disputed territory between the two countries - political messages are banned at the Olympics.
A FIFA spokesman said: "In view of the information currently at his disposal, the chairman of the FIFA disciplinary committee has this afternoon decided to open disciplinary proceedings against the player Jongwoo Park, regarding his behaviour after the match played between the Republic of Korea and Japan on 10 August.
"The KFA and the player now have a deadline of 16 August to provide their position. Further information will be provided in due course."
17:27
Loughnane is up to 10th now, 44 seconds off the lead. Olga Kaniskina leads but there has to be questions asked about her walking. Reynolds is in 46th place.
17:19
Arthur Lanigan-O'keeffe is 15th out of the 28 riders so far in the Riding event.
17:14
Olive Loughnane is now 11th, 25 seconds behind the Russian and Liu from China. Reynolds is 50th.
17:09
Loughnane is 15th after the first 2km, 10 seconds off the lead. Kaniskina of Russia leads so far with China's Liu just behind. Laura Reynolds is 53rd, about 40 seconds back.
17:02
This is 10 x 2km laps so we'll have updates throughout the race.
16:55
Olive Loughnane and Laura Reynolds are about to begin the Women's 20km Race Walk.
16:53
Arthur Lanigan-O'Keeffe posts 80 faults in the riding event for a score of 1120 in the riding. He is currently sixth but will fall down the leaderboard with several more riders to come.
16:51
One of the players on the Australian hockey team was born in Bray. Fergus Kavanagh looks like helping Australia to bronze, they are 3-1 up in the closing stages.
16:51
Mexico win the football gold medal
16:48
Chelsea's Oscar misses a guilt-edge chance to equalise in the final minute but heads wide from close-range.
16:47
Hulk scores in the first minute of added-time for Brazil. Mexico must hang on for a couple of minutes. Brazil 1-2 Mexico
16:45
The men's soccer final between Brazil and Mexico has attracted a crowd of 86,162 at Wembley Stadium, the highest for any single event at the London Olympics. We're in the final minutes with Mexico 2-0 up.
16:31
Peralta's header makes it 2-0 to Mexico and that should be enough. More terrible defending from Brazil who allowed a free header from 12 yards. Brazil 0-2 Mexico
16:31
Artur Taymazov is one win away from cementing his place in freestyle wrestling history after he reached the final of the super-heavyweight division this afternoon.
Taymazov, who won the -120kg weight category in Athens and Beijing, will become the first super-heavyweight to top the podium in three Olympics tonight if he defeats Davit Modzmanashvili at the ExCeL.
The Uzbek did not drop a point en route to the final and defeated Tervel Dlagnev in the last four with a brutal pin which left the Bulgarian-born American close to tears.
16:27
Pato is on for Sandro as Brazil try to inspire a comeback.
16:26
Peralta's close-range finish finds the net but it is ruled out for offside.
16:26
Leandro Damiao heads over from a corner as Brazil miss another fine chance. Mexico struck the crossbar through Peralta on the break a short time before, this is shaping up to be a fantastic conclusion to the gold medal match.
16:21
Russian Evgeniya Kanaeva produced four mesmerising routines full of grace and charm to become the first rhythmic gymnast to win back-to-back Olympic all-around golds.

Kanaeva, who owns a mind-boggling 17 world titles, was a class apart from her rivals as she picked up top scores on three of the four apparatus - hoop, ball, clubs - to run away with the title with 116.900 points.
Compatriot Daria Dmitrieva produced a rousing finale featuring ambitious throws and spins with the ribbon but was still eclipsed in the overall standings by 2.400 points. Belarussian Liubou Charkashyna was left shedding tears of joy as she snatched bronze with 111.700.
16:16
Barry McGuigan and Carl Frampton will be on the RTÉ 6.1 news to look at John Joe Nevin's prospects on winning Gold in the Bantamweight Olympic Final.
16:16
Neymar is threatening in Wembley with Brazil increasing the tempo with 30 minutes to go. Neymar snatches a shot over from 12 yards in the latest chance.
15:59
An update from Bernard Dunne ahead of the John Joe Nevin's gold medal bout tonight.
"I've just been watching some John Joe Nevin and Luke Campbell and I really do think we can win. John Joe has been in a different league throughout the Games."
15:48
Half-time: Brazil 0-1 Mexico
15:46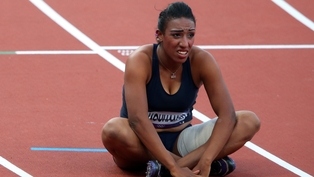 Syria's Ghfran Almouhamad, who competed in the women's 400 metres hurdles event, has been disqualified from the London Olympics after testing positive for a banned substance, the International Olympic Committee said on Saturday.

"Ghfran Almouhamad, 23, provided a urine sample on 3 August 2012 in London that indicated the presence of methylhexaneamine. The analysis of the B sample confirmed the results of the A sample," it said in a statement.
She had placed eighth in the second heat of the first round on 5 August.
15:44
Olive Loughnane and Laura Reynolds in 20km Walk at 1700 in the next Irish in action. Loughnane has an outside medal chance.
15:44
Lanigan-O'Keeffe is out 16th in the riding section of the modern pentathlon. That is coming up shortly.
15:41
Hulk's 35 yard shot is saved by Corona with the Mexico goalkeeper staggering across the goal to keep the ball out. It was a fantastic left-footed strike by the striker. Brazil are coming into this. Brazil 0-1 Mexico
15:33
Hulk comes on for Alex Sandro as Brazil make a change in the 32nd minute, unhappy with how the game is going at Wembley.
15:26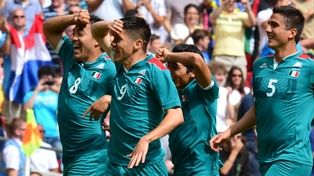 Mexico still lead with 26 minutes gone in Wembley.
15:23
Ben Ainslie, now the most successful Olympic sailor after adding a fourth gold to his collection at the London Games, will carry the flag for hosts Britain in Sunday's closing ceremony.

Ainslie, 35, won the Finn class at Weymouth last week for his fourth consecutive gold medal at successive Olympics.
15:15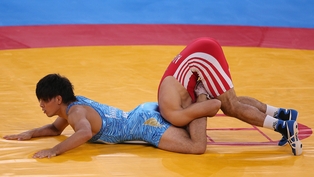 British Wrestling last night stood by their policy of foreign imports despite a withering attack from the president of the sport's international governing body.
More criticism was aimed at British Wrestling this week after Britain's sole wrestler at the Olympics - Ukraine-born Olga Butkevych - crashed out of the -55kg freestyle in the first round.
The organisation were already under fire for failing to fill their quota of three athletes, and for going back on their vow that foreign imports, who came to Britain as sparring partners five years ago, would not be allowed to wrestle for Team GB.
And the organisation were hit by fresh criticism from Raphael Martinetti, president of FTdTration Internationale des Luttes AssociTes (FILA) yesterday evening.
"The British team actually managed to do nothing," Martinetti told a press conference.
"Three places were awarded to Great Britain but they decided to keep only one.
"Who is to blame? Great Britain? Someone else? the federation? I am not sure, but what I can tell you is that they absolutely sucked, and you can write that down."
15:11
Brazil have been stunned by the start of this final, and have failed to trouble Mexico in the first 10 minute. A nice stat from freelance soccer journalist Miguel Delaney on Twitter on the link between professional football and the Olympics.
"Since pros allowed into Olympic football in 1984, 17% of gold medallists have never received a senior cap; 49% have received less than 10."
15:02
Oribe Peralta gives Mexico a 1-0 lead after 30 seconds of the gold medal match with Brazil.
14:55
Russia have failed in an appeal against a decision to cancel two races of an Olympic sailing semi-final because of lack of wind and award victory to their Spanish opponents, who were leading at the time.
The Court of Arbitration for Sport, which adjudicates in sports-related disputes, said in a statement that the appeal had been dismissed.
The Spanish women's team won Friday's Elliott 6m semi-final by 2 points to 1 after races four and five were cancelled because of the calm conditions.
14:52
The teams are coming onto the pitch in Wembley for the final of the football competition.
14:42
The Olympic football final will be live on RTÉ Two shortly. Damien Richardson will provide analysis and Richie Sadlier is in studio.
14:30
A dominant performance saw Julie Bresset of France win the London 2012 Olympic Games women's cross-country mountain bike at Hadleigh Farm.
World under-23 champion Bresset led from the gun and triumphed in one hour 30 minutes 52 seconds.
The 2008 champion Sabine Spitz of Germany was second, 1min 02secs behind, with Georgia Gould of the United States third, six seconds further adrift.
Great Britain's Annie Last placed eighth, 2:55 behind.
14:13
Brazil and Mexico are set to meet in the gold medal match in Wembley in football. Kick-off is 3pm.
Brazil: Gabriel; Rafael, Thiago Silva, Juan, Marcelo; Sandro, Romulo; Alex Sandro, Oscar, Neymar; Leandro Damiao
Mexico: Corona; I Jimenez, Mier, Reyes, Chavez, Enriquez, Salcido, Herrera, Fabian, Aquino, Peralta.
14:04

Ireland's Robert Heffernan was fourth in a national record of 3:37.54 in the 50k walk earlier. He said: "I wanted to win an Olympic medal, it's been my dream. I did everything I could, it's hard to take to finish fourth. The last four years have been aimed at winning a medal at the Olympics so it's tough.
"The first 30km was just making sure I was refuelling, making sure I had the reserves to challenge on the last 20km. I had to be mature because you can get carried away by the unbelievable crowd.
"I stuck to the plan and it's just unfortunate I did not win a medal. There's nothing more I could have done."
14:04
Wildcard taekwondo fighter Daba Modibo Keita remains in the hunt for Mali's first Olympic medal after reaching the quarter-finals of the men's over-80kgs at ExCeL.
The 31-year-old, twice a world champion and who trains in the United States, relies on funding from the IOC Olympics Solidarity Scholarship. He did not disappoint in his opening bout against Akmal Irgashev of Uzbekistan.
After trailing 1-0 from the first round, Keita - who has struggled with a knee injury since reaching the quarter-finals of the Beijing Olympics - hit back to lead 4-1 and then landed head kicks in the third to complete a 13-4 win over the seventh seed, who had won silver at last year's World Championships.
Keita, though, faces a stern test in the last eight against Canada number two seed Francois Coulombe Fortier.
13:58
Darren O'Neill has been asked to carry the Irish flag at the closing ceremony after captaining the boxing team to such great success.
"Was extremely honored to be asked to carry the Irish flag at the closing ceremony this morning. Amazing end to amazing journey," he said.
13:43
Arthur Lanigan O'Keeffe swims in a time of 2:02.44 in the 200m freestyle, enough for second place and 1332 points in the men's modern pentathlon. Lanigan O'Keeffe sits in 21st overall after two events.
13:20
Japan took the bronze medal in the women's Olympic volleyball by securing a straight-sets success over South Korea in their all-Asian clash at Earls Court.
Masayoshi Manabe's side appeared to want the glory more than their rivals, displaying a greater appetite from the first point as they wrapped up a first Games podium finish since 1984.
They stifled Kim Yeon-koung - South Korea's go-to hitter - throughout, with the 24-year-old appearing battle weary having carried her nation through to the last four with a string of stunning performances.
13:13
France will have history in their sights when they play Sweden tomorrow as they attempt to become the first team to defend the men's handball Olympic title.
Les Bleus, who are also reigning world champions, topped the podium in Beijing four years ago and assured themselves of at least a silver medal in London when they edged past Croatia 25-22 in yesterday's semi-final at the Basketball Arena.
But they will be favourites to earn gold again against the Scandinavians, who were not expected to advance much further than the quarter-finals, having been a team in transition.
13:08
Tom Daley believes bronze is the best he can hope for after qualifying for tonight's men's 10-metre platform final.
Daley catapulted himself back into medal contention, and put a horror first round behind him, to finish fourth in this morning's semi-final.
But while the former world champion improved markedly he was still out of reach of Chinese duo Qiu Bo and Lin Yue who pieced together another masterclass inside the Aquatics Centre.
13:08
The Court of Arbitration for Sport (CAS) on Saturday said Swedish triathlete Lisa Norden would not be awarded a gold after the close finish to the Olympic women's event a week ago.

CAS denied an appeal by Sweden asking CAS to award a gold to Norden as well as Switzerland's official winner Nicola Spirig, who was declared the winner in a photo-finish last Saturday.
12:58
From RTE's Paul O'Flynn in London: "Took an Olympic record & 2PBs to beat Rob. His time would've been enough to win any other Olympics. Says crowd worth 5 mins to him."
12:44
India's Olympic misery in Hockey was completed when the eight-time champions finished last after defeat to South Africa.
The Asian side have lost all their matches at London 2012 and their 12th-place finish is the worst outside of failing to qualify four years ago.
12:44
50km walk: Tianfeng Ci crosses in third for China, and Heffernan crosses in a brilliant fourth place after winning a dramatic race to the line with Sergey Erokhin of Russia. Heffernan has finished higher in this event than any other Irishman and in the process smashed the Irish record by 7 mins 36 secs - RESPECT.
12:36
Sergey Kirdyapkin has just crossed the line in first place, while Jarred Tallent crosses in second. A medal for Heffernan is very unlikely now.

12:27
BAND WAGON ANNOUNCEMENT: We are now officially all aboard the 50km walk wagon. Our boy Rob Heffernan looks comfortable in fourth, there's an Aussie, Jarred Tallent, ahead of him on two warnings, a mistake by him and Rob's in a medal position. The course is packed with Irish fans and tri-colours aplenty - they were on board before we hopped on.
12:18
50 km walk: Robert Heffernan is now up to fourth - 31 secs off a medal place. One competitor ahead of him is on two warnings. Is that a band wagon I see approaching?
12:07
Robert Heffernan is climbing the field in the 50km walk. The Cork man is up to eighth now and 48 seconds off the lead with 10km to go. Brendan Boyce is 45th, over 12mins off the pace, while Colin Griffin has been disqualified. Sergey Kirdyapkin of Russia leads the way.
11:50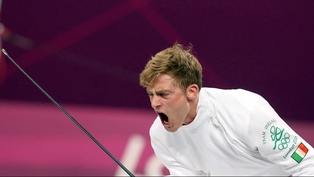 Arthur Lanigan O'Keefe and his foil.
11:47
Arthur Lanigan O'Keefe has just fought his way from behind enemy lines with his sword. He's picked up a few nicks though to be honest after losing 14 of 21 duals and lies 29th out of 36 competitors.
11:44
The modern pentathlon...

Imagine a soldier trapped behind enemy lines. He fights his way out with his sword, swims across a lake, grabs the nearest horse, gallops through the forest and makes a last dash for freedom on foot, occasionally firing a pistol to fend off his adversaries.

That, in essence, is modern pentathlon, the brainchild of Baron Pierre de Coubertin, founder of the modern Olympics.
11:38
Rob Heffernan is going very well in the 50km walk. He now lies 10th, 1min 15secs off the lead after the 35km mark and has no warnings.
11:32
Arthur Lanigan O'Keefe now lies in 23rd place as the fencing draws to a close in the modern pentathlon. O'Keefe has won 14 and lost 19 of his duals so far. He has two to go.

11:15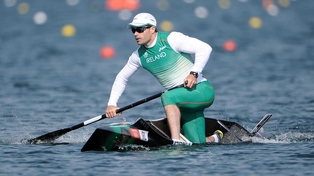 The aforementioned Andrzej Jezierski
10:58
Russia's Yury Postrigay and Alexander Dyachenko blew away the field to take victory in the men's C2 200m. Raman Piatrushenka and Vadzim Makhneu of Belarus took silver and Britain's Liam Heath and Jon Schofield the bronze.
10:56
Back to the 50km walk and just passing the halfway mark Robert Heffernan is now 1min 5secs off the pace. He lies in 12th place, Colin Griffin is 33rd, while Brendan Boyce has dropped to the back of the field.
10:46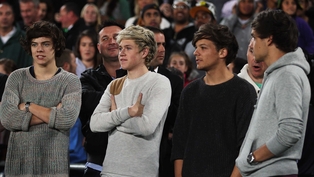 I've just read that the Spice Girls, Annie Lennox and One Direction are performing at tonight's closing ceremony. Great. Lennox is the only one there that passes our quality control, only just though.
10:24
Ukraine's Yuri Cheban stormed to gold in the men's inaugural C1 200m final. Lithuania's Jevgenij Shuklin took silver and Russia's Ivan Shtyl, the 2010 world champion, took the bronze in what had been a very open event. And New Zealand's Lisa Carrington won the gold medal in the women's K1 200m.
10:15
Arthur Lanigan O'Keefe has begun his fencing in the modern pentathlon. O'Keefe has to fence every other competitor, of which there are 35, and he's won ten and lost six of his bouts so far. Interesting fact alert! Fencing is one of only five sports to have featured at every modern Olympic Games. The others are athletics, cycling, swimming and gymnastics.
10:09
Robert Heffernan is still going well in the 50km walk. The Cork man is in 13th place, 37 secs off the lead after about 15km. Colin Griffin is in 32nd place, while Brendan Boyce lies in 53rd place, although you can expect huge changes to those placings before the end.
09:58
And chants of Jezza! Jezza! Jezza! go up around the office as Andrzej Jezierski wins the C1 B final. No medals I'm afraid but there are valuable ranking points on offer which will stand to him in the future.

09:42
Britain's Ed McKeever powered to victory in the men's K1 200m in front of thousands of screaming fans on Dorney Lake. Spain's Saul Craviotto Rivero took the silver and Canada's Mark de Jonge the bronze.

Our boy (and Poland's) Andrzej Jezierski takes part in the C1 B final. We're a fan in these offices since learning that Jezierski, living in West Cork, drives lorries for a living and only returned to the sport less than a year ago to represent Ireland.
09:42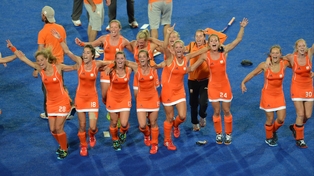 The Netherlands women took gold in last night's hockey final. That's all.
09:25
After 5 of the 50km in the men's walk, Robert Heffernen leads the Irish challenge 8 seconds off the pace, with Colin Griffin +45secs and and Brendan Boyce about 1m 30secs back, although there are always big changes up and down the field throughout these races.
09:19
Other Irish interest this morning sees Arthur Lanigan O'Keeffe begin his modern pentathlon quest. First event is fencing.
09:10
The men's C1 200m finals are taking place shortly with the C1 and K1 A and B all featuring. Ireland (and Poland's and West Cork's) Andrzej Jezierski takes part in the C1 B final after missing out on the A final yesterday.
09:00
The men's 50km walk is underway with Rob Heffernan, Colin Griffin and Brendan Boyce all off safely. This is the longest competition at the Olympics so we'll give you updates throughout the day. Olive Loughnane and Laura Reynolds take part in the women's 20km walk at 5pm this evening.

08:43
Rob Heffernan (Cork), Colin Griffin (Leitrim) and Brendan Boyce (Donegal) are getting ready to take part in the men's 50km walk. That begins at 9pm.
08:17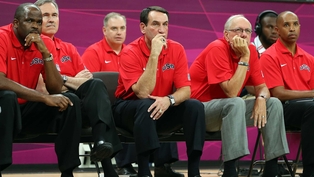 I was going to look for an image of Mike Krzyzewski looking angry, but I found this one of him, clearly, not doing a whole lot courtside. At least pretend to shout something Mike...
08:10
Oooh touchy, touchy! US men's basketball team coach Mike Krzyzewski reacted tetchily when asked if his fiercly talented team needed coaching at all after they over ran Argentina 109-83 to reach the final. Answer? "None. None. You got it. Absolutely none," the 65-year-old coach answered curtly. "I'm out every night with my family, drunk as a skunk. Wait 'til you see me tonight. I'll get in at six. You're all invited to come out with me. We just roll out the damn ball. You got it. I don't know how you figured it out." Erm, ok then.
07:57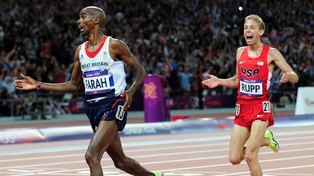 Usain Bolt's attempt to win a sixth sprint gold medal in two Olympics as part of Jamaica's 4x100 metres relay team will be the climax of the last night of athletics at the London Games tonight, while Mo Farah, who won the 10,000m gold, runs in the 5,000m final.
07:40
Good morning! The men's 50k walk is on this morning with Rob Heffernan, Colin Griffin and Brendan Boyce in action for Ireland. The men's K1 200m final also takes place this morning, while there is mountain biking, diving, boxing and of course athletics throughout the day. Follow them all here.