As it happened: DP World Tour Championship
Updated: Sunday, 25 Nov 2012 12:12
Tap here to refresh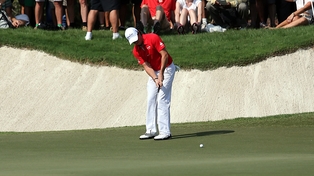 Rory McIlroy finished off his final round with five consecutive birdies to beat Justin Rose by two shots at Jumeirah Golf Estates. A truly stunning finish.
DP World Tour Championship in Dubai.
McIlroy -22
Rose -21
Donald -18
Schwartzel -18
Oosthuizen -17
12:36
"A great way to finish what has been a great season."
- Rory McIlroy, master of understatement.
12:30
Tiger-esque is how Paul McGinley describes that finish by McIlroy. Soon, they'll be describing such finishes as Rory-esque.
"It's unbelievable," admits McIlroy, who had noticed Rose's charge up the leaderboard. He needed to 'do something special' and that's exactly what he did. A worthy world number one!
12:28
The finish of a true champion: Five birdies in a row for McIlroy. That's how to win a tournament. He managed the final hole rather than attack it and yet he was able to birdie it. From about 10 feet, he hit a right-to-left putt which rolled right into the cup. He really is a stunning golfer.
Justin Rose must be commended for his -10 final round but that falls two shots short of McIlroy.
12:27
Par for Donald and it's all down to Rory now.
12:22
Donald plays a long putt just beyond the hole on 18. Looks like he'll rescue a par.
12:21
From 87 yards, McIlroy chips past the pin and spins it back to about 10 feet or so. Two putts from there to be champion.
12:17
Donald not too happy with his approach to 18, it's in the water. Rory, though, plays up short just to be safe. That's the right play and he now has a short chip into 18. Justin Rose is watching from the tent now. Resigned to it?
12:14
No problem for Donald from the tee. Safely on the fairway.
Oosthuizen, having found the water and the bunker on 18, plays a beauty to hole-side. Tapped in for a par. Not such a nightmare after all.
12:12
Rory tees off on 18 and it's quite safe. He ensures it's safely away from the water by firing it down the left-hand side. He doesn't need to do anything spectacular here. The 18th hole is officially ranked the easiest on the course.
12:11
Oosthuizen was in the water on 18 and after a drop he finds the bunker on 18. Nightmare finish for the South African.
12:09
Rory's in front. I probably underplayed his tee-shot on 17. It was probably only about six feet shy of the cup and the world's number one golfer rolls the ball to the hole and it sneaks in on the left-hand side.
Four birdies in a row under pressure and a fist pump from McIlroy. He leads by one.
12:04
Donald hits a fine chip onto 17 but it rolls past the cup. Should be par.
12:04
This would be a great time for McIlroy to get his first birdie of the tournament at this particular hole.
12:03
Donald misses the green to the left-hand side but it's safely away from the water.
12:00
Rory has a five iron in his hands as he looks across the water and onto the 17th green. It's 201 daunting yards but it's a stunner from McIlroy. Always straight on line for the hole and it's only about eight or ten feet short. Sublime.
11:55
Schwartzel plays a lovely chip from the greenside bunker on 17. An assured par.
Oosthuizen, however, misjudges his putt on 17 and that's a dropped shot for him.
11:54
Justin Rose is keeping warm in the practice area. Will he be going back on the course or will Rory win or lose it over these last two holes?
11:51
Par three 17th, surrounded by water, and a Par 5 18th to finish for Rory. He's parred 17 on all three rounds this week, while he birdied 18 yesterday and parred it on Thursday and Friday.
11:50
Birdie for Rory. Three birdies in a row and a share of the lead. Unbelievable play. He's got to be favourite now.
11:49
"I thought it was going to be good," says Rose, of his total of -21, but he knows Rory is prowling. It's certainly not over yet.
11:47
Rory's sand wedge to 16 stops hard on the green. He's a lot further back than Donald but it's a chance, nevertheless.
11:43
Donald plays a lovely chip onto the green at 16. A birdie chance.
11:42
Donald hasn't the power to clear the bunker and aims to leave it short. No problem there.
11:39
Rory tees off on 16 but has some anxious looks as the drive approaches the fairway bunker. The ball just about makes it across. It's perfect.
11:38
But McIlroy is still on his tail. The Northern Irishman duly taps in his birdie chance on 15. He's up to -20 and has three holes remaining. Grandstand finish in the offing.
11:35
Long putt for eagle for Rose and it's unbelievable. With stunning precision, he plays it up onto the first ridge, where the ball all but stops before picking up speed and rolling right down to hole-side. Tap-in for a certain birdie and a finishing total of -21.
That's a final round of 62 (-10).
11:34
On-screen stat: Rose's six-shot comeback in the final round will be the joint biggest of the season if he converts. Ernie Els holds the season's best with his Open victory.
11:33
From 65 yards, McIlroy just about sticks it to the pin. Another tap in? He'll be level with Rose if getting it!
11:31
Donald is between clubs (nine and eight iron) on his approach to 15 but he chooses right, producing a cracking shot which leaves him with a real birdie chance.
11:30
Rose with a three wood on the approach to 18. He screams at the ball as it flies towards the green but his power sends it way beyond the flag on the long green. He has a tricky two-putt from there.
11:30
A huge drive from McIlroy on 15 leaves him almost greenside on the par 4 hole.
11:26
A little earlier Padraig Harrington finished with an eagle for a -4 round 68 and a total of -14, which leaves him in a tie for eighth spot.
But it could have been so much better. The Dubliner double-bogeyed 10 and followed it with a bogey at 11, ruining an otherwise blemish-free round.
11:25
Perfect tee shot from Rose on 18. Straight down the middle of the fairway.
11:23
Birdie for Donald and McIlroy.
McIlroy has reduced the lead to just one shot. We're in for a thrilling finish!
11:20
Cracking effort from Donald, whose exit from the bunker threatens the flag. Big chance for a birdie.
And McIlroy follows suit. A delicate chip and run on to the green rolls slowly past the cup but stops in plenty of time to be a real birdie chance.
11:18
Frustration showing with McIlroy, whose approach to 14 inexplicably lands left of the green. Time is running out to claw back those two shots.
Donald is also in trouble off 14 and Rose has just parred 17. He's -9 for the day. Huge, huge effort.
09:44
They're very much in the latter stages of the DP World Tour Championship and Justin Rose holds sway, two shots clear of McIlroy, with Oosthuizen and Donald two more back.