As it Happened: League finals
Updated: Sunday, 28 Apr 2013 17:05
Tap here to refresh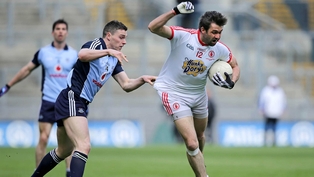 Dublin edged Tyrone to win the Division 1 honours - while Derry finished strongly to beat Westmeath in the Division 2 decider. Read how it all unfolded here.
ALLIANZ FOOTBALL LEAGUE FINAL RESULTS
Dublin 0-18 Tyrone 0-17
17:33
And so Dublin are league champions for the first time since 1993. Dean Rock's late points swung the game in the Dubs favour after he replaced Bernard Brogan. Niall Morgan was named man-of-the-match. Tyrone, despite their defeat, can take much from today's encounter - while Dublin know they have a strong bench and can introduce players that can have a telling effect. Roll on the championship!
17:32
FULL-TIME: Dublin 0-18 Tyrone 0-17
71 min
Jack McCaffrey puts Dublin two clear. Title looks like its going to Dublin. Sean Cavanagh responds with a Tyrone point.
70 min
Rock, with another stunning score puts Dublin ahead. Dublin 0-17 Tyrone 0-16
68 min
Dean Rock, with space at a premium, hits over a stunning point. Dublin 0-16 Tyrone 0-16
67 min
Conor Gormley off injured for Tyrone. Ryan McKenna is on. Martin Penrose free goes over. Dublin 0-15 Tyrone 0-16
64 min
Stephen Cluxton free just over the half-way line goes over. Level again for the eight time. Dublin 0-15 Tyrone 0-15
62 min
Paul Mannion misses a very scoreable free. On the other end, Plunket Kane effort drops into Stephen Cluxton's hands. Really should have scored. Conor Gormley down injured for Tyrone
59 min
Niall Morgan is again spot on with his frees. Tyrone lead again. Dublin 0-14 Tyrone 0-15
58 min
Philly McMahon's long range effort goes over. Bernard Brogan goes off the Dublin team. Dean Rock is on Dublin 0-14 Tyrone 0-14
56 min
Tyrone have hit over a few wides in the last few minutes. Could be costly at the end. Their defence is playing well, however.
54 min
Tyrone survive again after Kevin McManamon's effort at goal is blocked. Philly McMahon on for Dublin as Macauley goes off.
51 min
Martin Penrose finds Mark Donnelly and the latter puts Tyrone back in front. Dublin 0-13 Tyrone 0-14
50 min
Diarmuid Connolly fouled as he was making inroads on the Tyrone goal. Close in free from B Brogan comes off the post. Let off for Tyrone
49 min
Dublin level thanks to a Bernard Brogan free. His fifth of the day. Dubs bring on Denis Bastick. Cian O'Sullivan makes way.
48 min
Niall Morgan free goes straight over. Dublin 0-12 Tyrone 0-13
17:03
Paul Mannion responds for Dublin. Best player on the Dublin team today. Dublin 0-12 Tyrone 0-12 - Kevin McManamon on for Dublin - Bryan Cullen off
44 min
After soaking up some Dublin pressure - Conor McAliskey on the counter attack points for Tyrone. Dublin 0-11 Tyrone 0-12
40 min
Bryan Cullen is fouled by Cathal McCarron. Paul Mannion free goes over. Teams are level. Dublin 0-11 Tyrone 0-11
38 min
Niall Morgan free goes straight over and Tyrone are ahead for the first time. Dublin 0-10 Tyrone 0-11
37 min
Dublin's Ger Brennan also gets a card.
36 min
Yellow card for Cian O'Sullivan.
16:53
Teams out for the second half. Shane Carthy on for Dublin - Jason Whelan off. Plunkett Kane on for Tyrone - Justin McMahon.
16:36
HALF-TIME: Dublin 0-10 Tyrone 0-10
36 min
Conor McAliskey brings the sides level with the best point of the half. Dublin 0-10 Tyrone 0-10
34 min
Nikall Morgan points from the half-way line to leave it. Dublin 0-10 Tyrone 0-09
32 min
Conor Gormley, untackled waltzes up the field and his kick narrows the gap to a point. Paul Mannion responds for Dublin with an excellent score from a tight angle. Dublin 0-10 Tyrone 0-08
29 min
Not a game of great quality. Many of the scores coming from frees. As I write Sean Cavanagh is fouled as he hit the ball and from the 14 yard line, Cavanagh pops over the free. Paul Mannion at the other end points for Dublin Dublin 0-09 Tyrone 0-07
25 min
Paddy Andrews is putting himself about a fair bit, while Bernard Brogan has been quiet. The latter is on hand to point his fourth score from a free. Dublin 0-08 Tyrone 0-06
23 min
Martin Penrose free goes over. One-point game again. Dublin 0-07 Tyrone 0-06
21 min
Dublin attacking with intent. M D Macauley surging run results in another Dublin point. They go three clear. Sean Cavanagh immediately responds for Tyrone. Dublin 0-07 Tyrone 0-05
20 min
Bryan Cullen puts Dublin back in front. Diarmuid Connolly is fouled close in and Bernard Brogan taps the free over. Dublin 0-06 Tyrone 0-04
17 min
Niall Morgan, the Tyrone goalkeeper, levels the match with a point 40 metres out. Dublin 0-04 Tyrone 0-04
14 min
Set up by the Cavanaghs, Mattie Donnelly pops over a fine score for Tyrone. Dublin 0-04 Tyrone 0-03
14 min
Connor McAliskey scores Tyrone's first point in nine minutes. Dublin 0-04 Tyrone 0-02
11 min
Diarmuid Connolly with his left boot scores Dublin's first point from play. Seconds later the same play drives one over on the run. Dublin 0-04 Tyrone 0-01
10 min
Bernard Brogan fires over a free. Dublin 0-02 Tyrone 0-01
8 min
Nearly eight minutes gone and just two scores in the game. Effort from Paul Mannion goes wide Dublin have hit four that have gone astray.
4 min
Cian O'Sullivan's effort at goal goes badly wide. Sean Cavanagh bursts through to score Tyrone's first point.
3 min
Joe McMahon caught high and hard by Paddy Andrews. The Dublin player gets a card
1 min
Bernard Brogan with an early free puts Dublin ahead. Dublin 0-01 Tyrone 0-00
16:00
Stephen O'Neill injured himself in the warm-up and will not start.
16.00
Dublin v Tyrone is under way.
15.57
We're a few minutes away from throw-in. The National Anthem is being played. Marty Duffy from Sligo is the referee.
15:40
Dublin v Tyrone is 20 minutes away.
TEAMS
Dublin: S Cuxton, K O'Brien, J Cooper, D Daly, J McCarthy, G Brennan. J McCaffrey, M D Macauley, C O'Sullivan, P Flynn, D Connolly, B Cullen, P Mannion, P Andrews, B Brogan
Tyrone: N Morgan, PJ Quinn, C Clarke, C McCarron, C Gormley, D Carlin, J McMahon, C Cavanagh, S Cavanagh, M Donnelly, Mark Donnelly, J McMahon, M Penrose, S O'Neill, P McNiece
15:34
FULL TIME DERRY 1-18 WESTMEATH 0-15. Eoin Bradley was taken off near the end for a Derry side that finished strongly. Introduction of subs Ciaran McFaul and Emmet McGuckian made an impact and the Ulster side were deserving winners.
73 min
DERRY GOAL - EMMET MCGUCKIAN THE SCORER. Seconds later he fires over a point. Title going to Derry. Derry 1-18 Westmeath 0-15
15:32
Kielt on the mark again to push Derry two point clear. Ulster side finishing strongly. Derry 0-17 Westmeath 0-15
71 min
Derry back in front through James Kielt's fourth point. Derry 0-16 Westmeath 0-15
70 min
4 minutes of added time.
69 min
John Heslin free from an acute hits off the post and goes over. Sides level again. Derry 0-15 Westmeath 0-15
66 min
Showing composure under pressure, Dessie Dolan is at the end of a Westmeath move to score his third point. Derry 0-15 Westmeath 0-14
64 min
James Kielt gets a card. Sub Ciaran McFaul gets his first point after a good build up. Derry 0-15 Westmeath 0-13
62 min
Gerard O'Kane tries to burst the net with only the goalkeeper to beat. The ball goes over, however. James Kielt then follows up with a point. Derry ahead again. Derry 0-14 Westmeath 0-13
58 min
D Dolan is making an immediate impact as he kicks over his second point. Derry 0-12 Westmeath 0-13
56 min
Derry's wide count goes to 10 as the level of quality served up by the sides has dropped. Dessie Dolan scores his first point after his pile driver is deflected over the bar. Derry 0-12 Westmeath 0-12
52 min
Dessie is on for Westmeath Kieran Martin goes off. Derry '45 is put over by Benny Heron. Derry 0-12 Westmeath 0-11
49 min
Dessie Dolan is being readied for action. Derry's Colin Duffy has the goal at his mercy - but his effort is well blocked by a combination of Gary Connaughton and John Gaffey.
48 min
Game is gone a bit ragged now. Needs somebody to put their mark on the game. Derry 0-11 Westmeath 0-11
40 min
Wilkinson is being stretchered off. It looks like a knee injury. Colin Devlin on for Derry. Game resumes
39 min
Game stopped as Derry's Raymond Wilkinson receives attention. The player fell awkwardly after going for a ball alongside John Gaffey
37 min
Patient build up from Derry sees Daniel Heavron tie up the game. Derry 0-11 Westmeath 0-11
36 min
Denis Glennon kicks the first point of the half. Derry 0-10 Westmeath 0-11
14:54
Thank God! Derry have reappeared.
14:52
Second half about to get under way that's if Derry were out on the pitch. Come on lads! Very poor crowd in Croke Park as we speak.
14:47
Enjoyable fare at Croker in a game where both teams have had periods of dominance. Westmeath quite productive in their 12/13 minutes of superiority.
14:36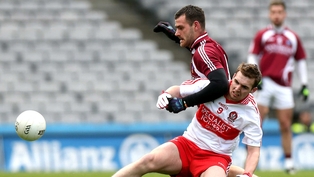 HALF-TIME: Derry 0-10 Westmeath 0-10
14:35
Derry regain control and James Kielt is again on hand to fire the ball over the bar. The sides are level.
35 min
Raymond Wilkinson narrows the gap to a point after Eoin Bradley gave him a sublime pass. Derry 0-09 Westmeath 0-10
34 min
James Kielt points for Derry. He has a good game - but Derry need a lot more from other players. Derry 0-08 Westmeath 0-10
33 min
Westmeath have hit the last six scores. What has happened to Derry?
31 min
James Dolan gets his name in the book.
30 min
Full forward Ciaran Curley turns and shoots and fires over a point. From the kick-out Denis Glennon breaks upfield and gets his first score of the day. Derry 0-07 Westmeath 0-10
29 min
Westmeath go in front as John Heslin points a free from 25 yards out. Derry 0-07 Westmeath 0-08
28 min
Ger Egan licks from long distance and the ball splits the posts. We are level at 0-07 each. Westmeath are coping better now with the threat of Eoin Bradley
25 min
A free for Westmeath close in is kicked wide from Kieran Martin. It's a lively encounter now.
24 min
Westmeath finding their groove now and their passes are starting to stick. John Heslin point narrows the gap. Callum McCormack cuts in on the Nally Stand side and fists the ball over the bar. Derry 0-07 Westmeath 0-06
22 min
Callum McCormack from out on the sideline scores a superb point for Westmeath. Derry's response is swift as Enda Lynn goes on a run to make it a three point game. Derry 0-07 Westmeath 0-04
18 min
The sun is shining at Croke Park. Can the brightness light up Westmeath's play? John Heslin from the 45 metre drives over an excellent point. In saying that, the Leinster county are not playing with any real intensity. Derry 0-06 Westmeath 0-03
17 min
Simplicity in what Derry do this afternoon. Eoin Bradley is too hot to handle for Westmeath at the moment. Bradley hits an exquisite point.
16 min
First meaningful Westmeath attack results in a fine point from Ger Egan. Derry 0-05 Westmeath 0-02
15 min
Derry are well in control after 15 minutes. Westmeath look nervous and their foot passing is poor.
12 min
A soft free is awarded to Derry on the 14 metre and Eoin Bradley extends Derry's advantage
10 min
Derry's use of the diagonal ball is dragging the Westmeath defence all over the place. The Lake County need a score to settle themselves. John Heslin is on hand with a close in free to give them their first score. Derry 0-04 Westmeath 0-01
8 min
Dominance from the Ulster side continues. Eoin Bradley free goes straight over.
7 min
Derry have found their rhythm and are posing many problems for the Westmeath defence. Ryan Bell pops over a point and Derry go 0-03 clear.
5 min
Sean Leo McGoldrick and Eoin Bradley fire over the opening points of the game. Derry 0-02 Westmeath 0-00
2 min
Eoin Bradley's free goes wide. Early pressure from Derry.
14.00
Derry v Westmeath is underway. The Ulster county have the aid of the wind in the opening half. Referee is Conor Lane from Cork.
13:56
The weather is dry in Dublin after morning showers. Crowd is small at the moment in Croke Park. Will it swell by the time the Dubs enter the fray?
13:40
Teams
Derry: E McNicholl, A McAlynn, C McKaigue, G O'Kane, C Kielt, M Lynch (capt), S L McGoldrick, P Bradley, R Bell, D Heavron, J Kielt, E Lynn, B Herron, E Bradley
Westmeath: G Connaughton, M McCallon, J Gaffey, K Maguire, D Harte, P Sharry, J Dolan, D Duffy, J Heslin, G Egan, C McCormack, K Martin, D Cooroon, C Curley, D Glennon
13:25
Good afternoon everybody and I hope you're all well on this Sunday afternoon. Bookies are going for Dublin and Derry to prevail today. What do you think?