As it Happened: Sunday's Championship action
Updated: Tuesday, 16 Jul 2013 16:04
Tap here to refresh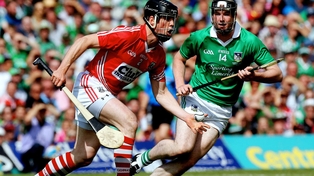 Follow how Limerick won their first Munster hurling title since 1996 in beating Cork and how Dublin's strong second-half performance saw them win the Leinster football title.
RESULTS

Munster SHC Final
Leinster SFC Final
Leinster MFC Final
Kildare 2-15 Westmeath 2-07
Munster MHC Final
Waterford 2-19 Limerick 2-19
Get in touch: Tweet @RTEgaa, comment below or email sportonline@rte.ie
17:38
All-Ireland hurling quarter-final line-up on 28 July - Cork v Kilkenny, Galway v Clare
17:32
GAME OVER. Limerick 0-24 Cork 0-15. The Shannonsiders are provincial champions for the first time since 1996. The margin of the scoreline may be a bit hard on Cork who had Pat Horgan sent off just before half-time. Nevertheless, Limerick were deserving champions and now march on to the All-Ireland semi-final on 18 August
17:30
2 minutes of added time. Another sub Niall Moran fires over the bar from long range. LIMERICK 0-24 CORK 0-15 seconds left. Crowd ready for big invasion out on the pitch.
17:27
Sub Kevin Downes gets his second point of the day as Limerick now lead 0-22 to 0-15. Another sub Shane Dowling also points and the lead goes out to eight.
17:25
Kevin Downes on for Limerick as their lead stretches out to six. LIMERICK 0-21 CORK 0-15 after 66 minutes. The Treatymen within touching distance of their Munster title since 1996.
17:18
LIMERICK 0-19 CORK 0-15 - after 61 minutes. Declan Hannon's gets his eight point with a brilliantly hit cut from the sideline.
17:15
Cathal Naughton gets his first point of the game and the lead is cut to three.
17:12
LIMERICK 0-17 CORK 0-13 after 55 min. Michael Cussen on for Cork.
17:10
Sub Shane Dowling puts 4 between them. You can see Cork's morale crumbling in front of us. Conor Allis on for Limerick - Graham Mulcahy off.
17:09
Declan Hannon scores a brilliant point from play. LIMERICK 0-15 CORK 0-12 after 50 minutes
17:05
Limerick giving away a lot of frees. Coughlan's free from a scoreable position goes wide.
17:03
LIMERICK 0-14 CORK 0-12 - Coughlan free goes over. Point between them again until Seanie Tobin darts through and points.
17:02
James Ryan with a wonderful score for Limerick. Limerick 0-13 Cork 0-11 after 43 minutes.
17:01
Jamie Coughlan hits over a Cork free. Cathal Naughton on for Cork - Conor Lehane makes way.
16:57
Declan Hannon free from 40 metres outs puts Limerick two clear.
16:55
Limerick's Graeme Mulcahy gets the opening point of the half.
16:52
Second half between Cork and Limerick is on. Jamie Coughlan on for Cork - Cian McCarthy goes off.
16:51
Scrolling through Twitter and the view seems to be that Pat Horgan's sending off was harsh.
16:39
HALF-TIME: Limerick 0-10 Cork 0-10
16:38
Pat Horgan sent off for a slap of the hurley on the back of the head of Limerick wing back Pat Horgan. James McGrath was adamant in showing the red
16:36
Declan Hannon (0-05) with a free draws the sides level at 0-10 each
16:34
Seanie Tobin point means that everybody on the Limerick inside forward line has scored. LIMERICK 0-09 CORK 0-10 after 33 minutes.
16:29
LIMERICK 0-08 CORK 0-09 after 29 minutes.
16:29
Declan Hannon responds with a pointed free for Limerick
16:28
Pat Horgan with another pointed free has Cork ahead again. Then Pa Cronin from 60/65 metre drives one to put the Rebels two clear.
16:23
Luke O'Farrell points puts Cork ahead, but after a foul on David Bree. Declan Hannon's free is converted and we're level again. LIMERICK 0-06 CORK 0-06 after 22 minutes
16:18
GOAL chance for Cork - Pat Horgan's ground stroke goes narrowly wide. Graham Mulcahy point ties up the game.
16:17
Horgan gets his third point of the day and Cork hit the front.
16:16
The Rebels draw level thanks to converted free from Pat Horgan. 0-04 each after 15 minutes
16:11
Good Cork move sees Chris Joyce feed Seamus Harnedy and the latter fires it over the bar
16:10
James Ryan & Patrick Horgan exchange points and it's 0-04 to 0-02 after 9 minutes.
16:07
Much better start from Limerick as they lead 0-3 to 0-01 after 6 minutes.
16:04
Declan Hannon point for Limerick and from two attacks they get two scores. LIMERICK 0-02 CORK 0-01
16.01
Munster final is on. Limerick's Paudie O'Brien gets the opening point of the game. Daniel Kearney responds for Cork.
15:54
RTÉ pundits Cyril Farrell (tight to call), Sheedy (Limerick) and Loughnane (Limerick) give their predictions. 44,000 inside the ground.
15:48
The teams are parading at the Gaelic Grounds on what is a warm, humid afternoon on Shannonside.
15:33
Limerick: Quaid, Walsh, McCarthy, Condon, O'Brien, McNamara, O'Mahony, Browne, O'Grady (capt), Breen, Ryan, Hickey, Mulcahy, Hannmon, Tobin.
Cork: Nash, O'Neill, McDonnell, O'Sullivan, Kenny, Joyce, Egan, McLoughlin, Kearney, Harnedy, McCarthy, Cronin (capt), O'Farrell, Horgan, Lehane
15:31
A great 60 minutes by Meath but once Paul Mannion got Dublin's second goal it was too much to ask. That's Dublin's eighth Delaney Cup in the last nine seasons.
15:30
FULL-TIME: DUBLIN 2-15 MEATH 0-14
70+1 mins
Newman goes for goal with a late close-range free but it's blocked. There'll be two added minutes.
69 mins
Joe Sherdian gets a late point for Meath, Ciaran Kilkenny is man of the match. DUBLIN 2-15 MEATH 0-14
68 mins
Bryan Cullen is on now for Dublin. Stephen Bray runs into a wall of blue defenders. Mickey Burke fouls Mannion and Rocks taps over the free. DUBLIN 2-15 MEATH 0-13
64 mins
Denis Bastick in the thick of it and forces a brilliant turnover, Rock is short with a point attempt, Meath counter, Dublin clear.
60 mins
GOAL! Paul Mannion taps in after O'Rourke saved O'Brien's shot. DUBLIN 2-10 MEATH 0-13
59 mins
Dublin sweep up the field, Kilkenny drops his shot short, James McCarthy knocks Reilly over the sideline with a shoulder.
58 mins
Darren Daly is on for Ger Brennan.
58 mins
Dublin captain Cluxton comes up for another free, nails it this time. DUBLIN 1-13 MEATH 0-13
56 mins
Burke denies Connolly's low drive, Meath clear, Bray sees his shot saved by Cluxton, Newman points, end to end stuff here. DUBLIN 1-12 MEATH 0-13
54 mins
McCaffrey finds himself up front and hits the angle of the crossbar and post with a shot, Mannion points. DUBLIN 1-12 MEATH 0-12
52 mins
Cluxton comes up for another 45, wide. Joe Sheridan is on for Damien Carroll.
50 mins
Mannion taps over a free down the other end. DUBLIN 1-11 MEATH 0-12
48 mins
Wallace is one on one with Cluxton, tries to lob him but the Parnells man stood up to the end and clears.
46 mins
Yellow for Damien Carroll and Paul Flynn, Cluxton lands the free. DUBLIN 1-10 MEATH 0-12
44 mins
Meanwhile, Meath hit back with two Newman points to draw level. Then the customary schmozzle. DUBLIN 1-09 MEATH 0-12

15:00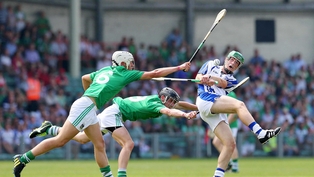 Munster MHC Final result: Waterford 2-19 Limerick 2-19 Game goes to a replay.
42 mins
Make that three for the Castleknock player. DUBLIN 1-09 MEATH 0-10
40 mins
Kilkenny gets his second of the half to put Dublin ahead again. DUBLIN 1-08 MEATH 0-10
40 mins
Newman taps over a free for Meath. DUBLIN 1-07 MEATH 0-10
38 mins
And Paul Flynn makes it three in a row. DUBLIN 1-07 MEATH 0-09
37 mins
Brogan, from a free, levels up the game. DUBLIN 1-06 MEATH 0-09
36 mins
Game on! Kilkenny needs just 13 seconds to get Dublin's first of the half. DUBLIN 1-05 MEATH 0-09
14:53
Teams are back out in Croker, Dubs playing into the Canal End this half.
14:47
Jason Sherlock reckons this game is exactly what Dublin need.
1st half shows why Dubs have a lot to prove that they are genuine contenders but this is now a perfect challenge for them #gaa #coybib

— Jason Sherlock (@boomjayo) July 14, 2013
14:44
Christopher Hanley and Neil Connaughton from Limerick are watching in San Diego, getting ready to cheer the Treaty County on from California.
14:40
Come on Meath... this is some game! Love it when the underdogs put a spanner in the works @officialgaa @RTEgaa

— Catherine Hanvey (@catherinehanvey) July 14, 2013
14:38
Great late surge from Meath who hit the last five scores to lead by two at the break. If they can stay with Dublin at the start of the second half we're in for a treat.
14:36
HALF-TIME: DUBLIN 1-04 MEATH 0-09
35 mins
Kevin O'Brien is yellow-carded, Newman kicks another point from the ground, all of 55m. DUBLIN 1-04 MEATH 0-09
33 mins
Newman again, this time from play, levels, Eamonn Wallace then puts Meath ahead. DUBLIN 1-04 MEATH 0-08
33 mins
22-year-old Newman lands another free, his third, this one from 50 yards. DUBLIN 1-04 MEATH 0-06
31 mins
Padraic Harnan is booked for a foul on Kilkenny, Brogan's free drops short, sloppy again.
30 mins
As does Jack McCaffrey, that's their sixth wide of the game.
29 mins
A few scraps going on around the field, the ball falls to O'Gara but he shoots wide.
27 mins
Dublin sloppy in the tackle, Newman punishes them with another free off the ground, two-point game. DUBLIN 1-04 MEATH 0-05
24 mins
Down the other end, Eamonn Wallace fists over. DUBLIN 1-04 MEATH 0-04
23 mins
But Cluxton comes up to take the 45 and and it goes over off the post. DUBLIN 1-04 MEATH 0-03
23 mins
Another goal chance for Dublin but Connolly is denied by Paddy O'Rourke.
21 mins
Mickey Newman lands a free for Meath. DUBLIN 1-03 MEATH 0-03
19 mins
Mickey Burke is spoken to by Eddie Kinsella but no card, yet. Paul Mannion clips a free over the bar. DUBLIN 1-03 MEATH 0-02
17 mins
Diarmuid Connolly finds the target after a series of wides from both teams. DUBLIN 1-02 MEATH 0-02
14:16
Munster MHC Final half-time: Waterford 0-12 Limerick 0-09
14 mins
More wides at Croke Park, Damien Carroll shoots wide of Cluxton's right-hand post.
10 mins
But Brogan and Kilkenny are also off target for the Dubs.
8 mins
Newman and Graham Reilly both wide from relatively easy chances.
6 mins
Mickey Newman then hits the post with a free that was directly in line with the Dublin goal, Meath can't take advantage of the rebound.
5 mins
GOAL! Just 4m 14 seconds on the clock and Paul Flynn finds the top corner. DUBLIN 1-01 MEATH 0-02
4 mins
Paul Mannion goes on a run and finishes with a point. DUBLIN 0-01 MEATH 0-02
2 mins
And the Navan O'Mahony's man quickly adds another, maybe a goal chance. DUBLIN 0-00 MEATH 0-02
1 min
Game on, bit of pushing and shoving before the whistle. Stephen Bray scores a point after 20 seconds. DUBLIN 0-00 MEATH 0-01
14:00
Meath will play into the Canal End in the first half. Eddie Kinsella from Laois is in charge.
13:57
Kevin O'Brien also replaces Darren Daly at right corner-back for the champions.
13:53
If Graham Reilly can manage his customary 4-5 points from play today he should have an All Star reserved for him!

— Dick Clerkin (@dickclerkin8) July 14, 2013
13:45
Dublin full-forward Paddy Andrews is not fit to start, Eoghan O'Gara takes his place.
13:44
There was amazing drama in the hurling qualifiers last night. Check out our A/V section for reaction from both camps.
13:43
Mick O'Dowd says it's every Meath player's dream to get to Leinster final; he's expecting a good performance from his men.
13:42
Jim Gavin says both teams have had decent league campaigns, Dublin winning the league, while Meath won promotion from Division 3. After two 16-point wins on the way to the final, he says he'll take a one-point win today.
13:30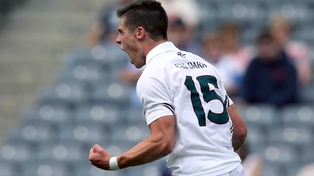 It's all over in the Minor final, Kildare have beaten Westmeath by 2-15 to 2-07.
13:16
Below are the starting teams as announced during the week, we'll let you know if there are any late changes.
13:16
Cork: Anthony Nash; Shane O'Neill, Stephen McDonnell, Conor O Sullivan; Tom Kenny, Christopher Joyce, William Egan; Lorcan Mc Laughlin, Daniel Kearney; Seamus Harnedy, Cian McCarthy, Pa Cronin; Luke O'Farrell, Patrick Horgan, Conor Lehane.
13:15
Limerick: Nickie Quaid; Stephen Walsh, Richie McCarthy, Tom Condon; Paudie O'Brien, Wayne McNamara, Gavin O'Mahony; Paul Browne, Donal O'Grady; David Breen, James Ryan, Seamus Hickey; Graeme Mulcahy, Declan Hannon, Seanie Tobin.
13:14
Meath: Paddy O'Rourke, Donal Keogan, Kevin Reilly, Bryan Menton, Padraic Harnan, Mickey Burke, Seamus Kenny, Brian Meade, Conor Gillespie, Peadar Byrne, Damien Carroll, Graham Reilly St. Colmcille's, Eamonn Wallace, Stephen Bray, Michael Newman.
13:13
Dublin: Stephen Cluxton, Darren Daly, Rory O'Carroll, Jonny Cooper, James McCarthy, Ger Brennan, Jack McCaffrey, Michael Darragh Macauley, Cian O'Sullivan, Paul Flynn, Ciarán Kilkenny, Diarmuid Connolly, Paul Mannion, Paddy Andrews, Bernard Brogan.
13:02
One more time for the day that's in it.