As it Happened: Saturday's GAA action
Updated: Saturday, 23 Feb 2013 20:08
Tap here to refresh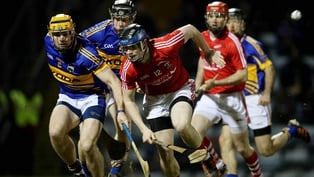 In hurling, Cork were too good for Tipperary and Dublin had to hang on against Offaly. Louth were winners in the football league, while Armagh battled back to secure a draw with Wexford
RESULTS

Allianz NFL Division 2
Louth 0-17 Galway 0-11
Armagh 3-08 3-08 Wexford
Sigerson Cup Final
DIT 3-08 UCC 0-07 RES
Allianz NHL Division 1A
Cork 0-26 Tipperary 1-11
Allianz NHL Division 1B Preview
Dublin 1-20 Offaly 2-16
Get in touch: sportonline@rte.ie | @RTESport
20:35
That's it for tonight. Join us tomorrow from for a busy afternoon of hurling action
20:34
FULL-TIME - CORK 0-26 TIPPERARY 1-11
20:33
DRAW AT THE ATHLETIC GROUNDS - ARMAGH 3-08 WEXFORD 3-08
20:31
FULL TIME - DUBLIN 1-20 OFFALY 2-16
20:30
Dublin 1-20 Offaly 2-16. The Dubs are clinging on. Game over.
20:29
TIPP GOAL - Eoin Kelly the scorer after a brilliant finish.
20:26
Dublin 1-20 Offaly 2-15 after 67 minutes. A point in it at the Athletic Grounds. Armagh 3-07 Wexford 3-08. Cork 0-24 Tipp 0-11 after 69 minutes.
20:23
Lar Corbett gets his econd point - but it hardly raises a cheer. Cork 0-23 Tipp 0-11 with 5 min left.
20:22
Wexford now lead Armagh 3-08 to 3-06 with 5 minutes left.
20:21
Cork on their way to victory. They now lead 0-23 to 0-10 with eight minutes left.
20:20
OFFALY GOAL - Shane Dooley three-pointer from a free. Dublin 1-18 Offaly 2-12. Cathal ParlonOFFALY GOAL then fires over a point. It's Dublin 1-18 Offalky 2-13. 7 minutes left.
20:18
Armagh get a couple of goals and they now trail 3-08 to 3-05. 7 minutes left.
20:16
Cork 0-20 Tipp 0-09 after 55 minutes. Bit of a comeback from the Premier. Danny Sutcliffe pints for Dublin. They now lead Offaly 1-18 to 1-12
20:14
DUBLIN GOAL - Danny Sutcliffe goals for Dublin after McCaffrey's piercing run. The Dubs then add a point and they now lead 1-17 to 1-11 after 58 minutes.
20:13
OFFALY GOAL - Shane Dooley scores the first goal in this year's hurling league. Long ball in and Dooley finishes it off. Dublin 0-16 Offaly 1-11 after 56 minutes
20:13
Noel McGrath free is popped over and it's now Cork 0-19 to 0-6 after 51 minutes.
20:10
Dublin 0-16 Offaly 0-11. The Dubs are on top with Conal Keaney (0-04) hitting over a fine score.
20:09
Lar Corbett gets his first inter-county score of 2013 with a fine point. Jason Forde then follows up with a point of his own. Cork 0-19 Tipp 0-5 after 50 minutes
20:07
Paudie O'Sullivan had all the time in the world to fire over Coirk's 18th point. All so easy! As I write Conor Lehane points. Cork 0-19 Tipp 0-03 after 49 minutes.
20:05
League debutant John O'Dwyer fires over Tipp's third point of the night. Long way back though. Cork 0-17 Tipp 0-03 after 48 minutes.
20:04
Dublin 0-13 Offaly 0-08 after 45 minutes.
20:02
Patrick Horgan slams over a point from a free - his eight in all. The lead is now 15 points for the Rebels.
20:01
Daniel Kearney scores his third point for Cork. They now lead 0-16 to 0-02. after 42 minutes.
19:56
Cork 0-15 Tipperary 0-02 after 38 minutes. Armagh have scored the first two points of the half. Wexford have replied with a point of their own. Armagh 1-03 Wexford 3-04
19:56
Dublin v Offaly have already begun and the Dubs now lead 0-12 to 0-07 after 38 minutes
19:50
Second half underway in Armagh. Home side trail by eight points. Cork and Tipp also underway
19:39
John O'Dwyer at last raise a white flag for Tipp just on half-time. At the interval, Cork 0-14 Tipperary 0-02. In Parnell Park, Dublin 0-11 Offaly 0-06. Armagh 1-01 Wexford 3-03
19:38
Armagh get a goal back. They now trail 3-02 to 1-01.
19:37
Patrick Horgan converts a free to push them to 0-14. Incredible scoreboard so far. Tipp truly awful.
19:36
William Egan the left-half back hits a belter from long range for Cork. They now lead 0-13 to 0-01 after 34 minutes
19:35
Lar Corbett on for Tipp. Seamus Callanan makes way. Can Larry improve things?
19:34
Dublin exerting control against Offaly as they lead 0-09 to 0-05 approaching half-time.
19:31
Kearney makes it two-in-a-row. Exquisite point from the youngster. Cork 0-11 Tipp 0-01. Cian McCarthy makes it a dozen scores for JBM's side. Cork 0-12 Tipp 0-01
19:30
Daniel Kearney under no pressure makes it Cork 0-10 Tipp 0-01 after 27 minutes.
19:28
Tipp sub. Adrian Ryan comes in. Johnny Ryan makes way.
19:26
Armagh 0-01 Wexford 3-01 at the Athletic after 22 minutes. The Model county showing well so far.
19:25
Still Cork 0-09 Tipp 0-01 after 23 minutes. The Premier just can't get going and have gone 22 minutes without scoring.
19:24
Paul Ryan responds fro Dublin. Dublin 0-07 Offaly 0-04 after 24 minutes.
19:22
Dublin 0-06 Offaly 0-04. Rory Hanafy from Birr scores Offaly fourth point.
19:19
Parnell Park latest: Dublin 0-04 Offaly 0-03. Shane Dooley now on the edge of the sqaure for the Faithful
19:18
Lorcan McLoughlin shows incredible stickwork to push Cork to 0-09. TIPP ARE IN REAL TROUBLE!
19:17
It's all Cork. Luke O'Farrell gets his first point of the game. Cork 0-08 Tipp 0-01
19:16
Patrick Horgan with his second point from play adds to Cork's tally. Cork 0-07 Tipp 0-01 after 14 minutes.
19:15
Christopher Joyce adds to Cork's tally with a delightful point. The Rebels are rampant at the moment.
19:15
Stephen Moylan gets Cork's first point from play. They now lead 0-05 to 0-01 after 12 minutes
19:14
Horgan again on the mark for the Rebels from a free after Tipp's Johnny Ryan was yellow carded after a needless foul.
19:12
Patrick Horgan hits over Cork's third point. They lead 0-03 to 0-01 after 10 minutes.
19:10
Cork 0-02 Tipp 0-01 after 7 minutes. The hosts have settled. Armagh 0-01 Wexford 1-01 after 7 minutes
19:08
Dooley is again on the mark from a free from the half-way line. Offaly 0-02 Dublin 0-01 after eight minutes. Paul Ryan had goal scoring chance for the hosts but Offaly keeper saved well.
19:08
Shane Dooley from a free levels things for Offaly.
19:07
Dublin guilty of missed chances so far. Tipp have started better against Cork. Offaly's David Kenny picked up a knock in the warm up for Offaly.
19:02
Card for Offaly's Derek Morkham. Paul Ryan puts Dublin ahead. Dublin 0-01 Offaly 0-00 after 4 minutes. Tipp 0-01 Cork 0-00 after 2 minutes.
19:02
Game on in Parnell. Both side have had a wide each.
18:59
Natioinal anthems being played at both Páirc Uí Rinn and Parnell Park. James McGrath the man in the middle for Dublin v Offaly and Barry Kelly officiates at Páirc Uí Rinn.
18:55
Excellent conditions in Cork for this evening's tie, while Parnell Park is seeing the odd hail and snow shower.
18:45
The Allianz Hurling league start tonight as Cork host Tipperary in Division 1A, while Offaly are the visitors to Parnell Park where Dublin are the opposition in Division 1B. In the football league Division 2 Armagh play Wexford in a rescheduled tie at the Athletic Grounds.
16:29
So, points for Louth and glory for DIT. We'll be back at 7pm with the opening games in the National Hurling League - Cork host Tipp in 1A while Dublin welcome Offaly to Parnell Park.
16:18
FULL-TIME: DIT 3-08 UCC 0-07
16:18
GOAL! Givney wraps it up with the third DIT three-pointer. DIT 3-07 UCC 0-07
16:05
DIT keeping UCC at bay, Doherty points. DIT 2-07 UCC 0-06
16:04
It's all over in Drogheda where a strong second-half performance from the hosts is enough to claim the two points in the re-fixed Division 2 game. Match report coming through shortly.
16:02
FULL-TIME: Louth 0-17 Galway 0-11
16:00
Tomás O'Connor strikes back for DIT. DIT 2-06 UCC 0-06
15:59
Luke Connolly pulls a point back for UCC. DIT 2-05 UCC 0-06
15:53
Sub Derek Maguire points twice in quick succession and looks to have secured the two points for Louth. Louth 0-17 Galway 0-10
15:51
The Wee County pulling away as we go into the last 10, Brian White with the latest. Louth 0-14 Galway 0-10
15:50
Cavan's Givney gets the first point after the break, DIT by seven. DIT 2-05 UCC 0-04
15:47
Paddy Keenan on target from play, Louth by three, 13 minutes to play. Louth 0-13 Galway 0-10
15:47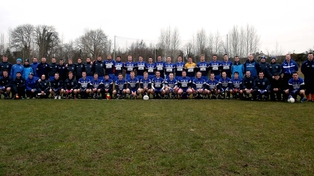 And DIT, don't you just love GAA final-day panels!
15:45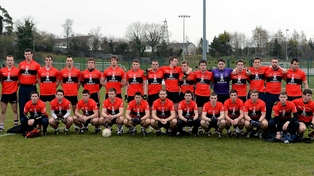 Here's the UCC panel.
15:41
Louth's Shane Lennon points from a free as well. Louth 0-12 Galway 0-10
15:39
Brian White is on target with another free. Louth 0-11 Galway 0-09
15:35
HALF-TIME: DIT 2-04 UCC 0-04
15:32
Brian White scores from a free to give Louth the lead, 42 minutes gone. Louth 0-09 Galway 0-08
15:32
GOAL! Tomás O'Connor sets up Jason Doherty and the Mayo man raises the green flag. DIT 2-04 UCC 0-03

15:25
Corner-back Gary O'Hare ventures upfield and gets a point, fair play. DIT 1-03 UCC 0-02
15:25
DIT look to be in control, but they've also hit seven wides for their 1-02.
15:25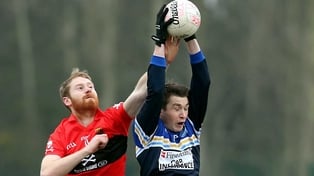 JB Spillane of UCC with David Givney of DIT.
15:20
Reigning All-Ireland colleges champions St Mary's Edenderry have beaten Marist 3-08 to 0-14 and are into the Leinster final!
15:20
16 scores on a dirty day is not a bad half-time return, RTÉ's Brian Carthy reports that the pitch is in good condition so credit to the ground staff there.
15:17
GOAL! Reddin strikes a major for DIT. DIT 1-02 UCC 0-02
15:11
All square in Drogheda where the sides have shared 16 scores. HALF-TIME: Louth 0-08 Galway 0-08
15:10
And Tom Clancy pulls one back for UCC. DIT 0-02 UCC 0-01
15:09
Ciaran Reddin extends DIT's early lead. DIT 0-02 UCC 0-00
15:02
David Givney gets the first score of the Sigerson final. DIT 0-01 UCC 0-00
15:02
Brian White points from a free to get Louth's lead back to two. Louth 0-08 Galway 0-06
14:52
Galway stop the rot and add two quick points. Louth 0-06 Galway 0-04
14:45
Shane Lennon is the latest Louth man to get his name on the sheet. Louth 0-06 Galway 0-02
14:44
Andy McDonnell and Adrian Reid stick two points on the board for Louth. Louth 0-05 Galway 0-02
14:40
Louth and Galway are swapping the lead in Drogheda, Paddy Keenan's point gives the home side a slight advantage. Louth 0-03 Galway 0-02
14:36
Mark Brennan gets the first score of the day. Louth 0-01 Galway 0-00
14:29
In the Trench Cup Final IT Blanchardstown beat St Pat's of Drumcondra, 0-11 t0 0-10.
14:06
Okay, let's start again, first up it's the re-fixed Division 2 game between Louth and Galway that was postponed two weeks ago due to a waterlogged pitch.
14:06
Good afternoon, welcome to our match tracker where we have a mixed bag of matches on the fixture list today.