As it happened: Ireland v England
Updated: Tuesday, 03 Sep 2013 21:09
Tap here to refresh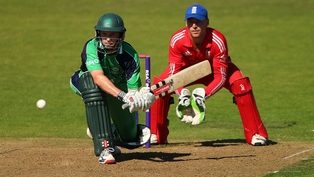 England claim an impressive victory over Ireland in the sun at Malahide as former Ireland international Eoin Morgan's 124 and partnership with Ravi Bopara gave the visitors a big win.
Ireland v England
England win by six wickets
England 267 for 4 wickets after 43 overs
M Carberry - 10 lbw Johnston
L Wright - 5 b Murtagh
J Taylor - 25 b Murtagh
G Ballance - 0 c Wilson b Murtagh
E Morgan - 124 not out
R Bopara - 101 not out
Extras - 9
Total - 267
Did not bat: J Buttler, B Stokes, J Tredwell, S Finn, B Rankin
Ireland 274 for 7 wickets after 50 overs
W Porterfield - 112 b Rankin
P Stirling - 10, c Ballance b Rankin
E Joyce - 1 hit wicket b Rankin
N O'Brien 26 - b Tredwell
G Wilson - 2 lbw b Treadwell
K O'Brien - 23 c Morgan b Bopara
J Mooney - 28 lbw b Rankin
T Johnston - 12 not out
M Sorensen - 24 not out
Extras - 32
Total - 274
Did not bat: G Dockrell, T Murtagh
17:52
A final six from Eoin Morgan gives England victory and they produce a fine comeback back solely on the partnership of Morgan and Bopara. The visitors were tottering on 48 for 4 early on but the Irish born English captain led the revival and he and Bopara put on a batting masterclass to give the tourists a comfortable victory.
17:50
Ravi Bopara gets a standing ovation as he hits his ton. Ten fours and five sixes put England on the verge of victory.
17:48
Niall O'Brien drops a chance to get rid of Morgan as his attempted six falls short and looks like an easy catch, but it got caught behind the bright sun and O'Brien lost track of it.
17:41
A single from Morgan brings up a 203 partnership with Bopara off just 162 balls. Ireland are just waiting to be put out of their misery now.
17:41
Irish heads are dropping and Morgan and Bopara continue to hit boundaries at will. Kevin O'Brien is the latest bowler to see his efforts come to naught and England now only need 33 runs off 57 balls.
17:30
Morgan brings up his century, at what was once his home ground with another massive six. From a match in which Ireland looked so comfortable at one stage, this is in danger of turning in a procession.
17:23
The run rate may have slowed slightly but England no longer need to chase this match as Morgan and Bopara continue to eat away at the required total. Another big six from Bopara leaves England needing 78 off 79 balls.
17:11
This match is slipping away from Ireland and there doesn't seem to be much that captain Porterfield can do about it. For all of his efforts to mix things up and Ireland's impressive work in the field, Morgan and Bopara are putting on a masterclass with the bat. They need 94 runs off the final 15 overs for victory.
17:02
England are now 15 runs ahead of where Ireland were at the same stage of the match now. John Mooney comes in to bowl but to little effect as Morgan and Bopara continue to add to their total.
16:57
This is getting worrying and Morgan and Bopari start to knock sixes - Bopari's first booming effort brings up the 100 partnership, before he immediately hits another. England are starting to look comfortable as Ireland give up 15 from the over.
16:51
Morgan and Bopara continue to put runs of the board in style as Morgan brings up his half-century. Only some impressive Irish fielding is preventing the duo from doing further damage but if the home side don't shift one of these two soon, then some real damage could be done.
16:29
Eoin Morgan and Ravi Bopara are starting to put it together now. They've got 43 from 49 balls and have helped to revive England's fortunes. You get the feeling that Ireland are going to have to take one of them out sooner rather than later if they want to win this.
16:15
Tim Murtagh's bowling duties for the day are over and he has finished with his best figures in ODI. Murtagh finished with 3-33 from his ten overs including two maidens. His previous best was 2-54 against Pakistan earlier this year in Clontarf.
English-born Murtagh qualified for Ireland through his Dublin-born grandfather and made his debut in 2012.
16:10
George Dockrell comes in for his first over with the ball and the spinner gives up just a single with five dot balls. Decent start.
16:00
Ireland outplaying England at cricket - every country we screw up does that to us eventually. In 2035 we'll lose to Iraq..

— Mark Steel (@mrmarksteel) September 3, 2013
15:53
Tim Murtagh couldn't be any better if Danny Glover played him.

— Jarrod Kimber (@ajarrodkimber) September 3, 2013
15:53
Ireland are really keeping it tight here, making England take risks for anything other than singles, and just on cue James Taylor is bowled by Murtagh who claims his third wicket.
15:40
Max Sorensen has replaced Trent Johnston in the Irish attack.
15:31
Bizarre cricket moment in Dublin as Rankin (ex-Ireland player, now with England) bowls to Joyce (ex-England player, now Ireland). #HowZat

— Mark Simpson (@BBCMarkSimpson) September 3, 2013
15:30
England's 10 powerplay overs are complete and Ireland have the upper hand. England stand on 27-3 with Trent Johnston and Tim Murtagh bowling impressively. Murtagh has figures of 2-12 with Johnston on 1-14.
15:21
Ireland are making 270 look like a very difficult chase for England. The home side have taken 3 wickets in the opening 9 overs with Trent Johnston trapping Michael Carberry lbw in the fourth over. Tim Murtagh then took two wickets in three balls in the ninth over to leave England struggling on 25-3.
14:30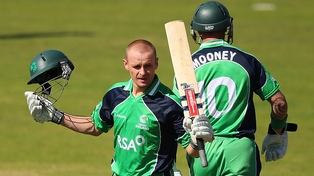 William Porterfield celebrates his century.
14:16
So Ireland have given themselves a real chance to beat England at Malahide. William Porterfield played a true captain's role with a brilliant 112 and anchored the Irish batting superbly. Even though the scoring may have sagged slightly in the middle, Trent Johnston and Max Sorensen's closing 36 runs may prove to be vital.
Spare a thought for England's Michael Carberry who dropped two big catches before being handed an over at bowl in which he gave up 12 runs. The partisan Irish crowd are on his back but he can be devastating with the bat and could yet redeem himself.
13:43
Quite an achievement after one innings for an Irishman to score a century, another to get four wickets and another to take best catch

— aidan o'hara (@oharaa) September 3, 2013
12:12
Our Darragh Maloney caught the sun-splashed scene at Malahide.
Lots of sunscreen needed in Malahide. Ground looks amazing for Ire vs Eng#rsachallenge pic.twitter.com/KMwkXfUWsH

— Darragh Maloney (@DarraghMaloney) September 3, 2013
10:27
Former captain Trent Johnson has a very simple message for the Ireland team.
10:15
Ireland
W Porterfield, P Stirling, E Joyce, N O'Brien, +G Wilson, K O'Brien, J Mooney, T Johnston, M Sorensen, T Murtagh, G Dockrell.
England
M Carberry, L Wright, J Taylor, G Ballance, *E Morgan, R Bopara, +J Buttler, B Stokes, J Tredwell, S Finn, B Rankin.