Miroslav Klose and Thomas Mueller will bring a grand total of 26 World Cup goals to the final on Sunday, a staggering tally for two of the most prolific strikers in the tournament's history.
Klose is the World Cup's all-time record goal scorer with 16 in four tournaments, while Mueller has 10 in two editions.
But the German duo's fearsome reputation on the field masks a good-natured and soft-spoken demeanour off it.
Both are consummate team players who altruistically express due appreciation to the fine assists they get from a superb pack of midfielders.
They might be famous around the world for their World Cup heroics but in Germany they're just two ordinary guys on Joachim Loew's team desperate for a first World Cup title since 1990.
"The only thing that matters to me is that the team is successful and we'll finally be able to lift the damn thing on Sunday," Klose told reporters.
"I'm just savouring every moment that I'm on the pitch," added the 36-year-old, who has started Germany's last two games after playing a reserve role before that.
"I'm soaking up all the emotions. Those are my special moments."
"I feel like I can drag my corpse around for quite some time"
Klose moved past former Brazil striker Ronaldo on the World Cup's all-time scorer's list with his 16th goal on Tuesday in the 7-1 demolition of the hosts.
Ronaldo, who scored in the 2002 final against Klose's Germany, watched on in Belo Horizonte as his record mark was surpassed.
A humble man standing 1.82 meters tall, Klose plays for Lazio after spells at Kaiserslautern, Werder Bremen and Bayern Munich. He was born in Poland and moved to West Germany as an eight-year-old in 1986.
Klose is Germany's all-time scoring leader with 71 goals for Germany in 136 appearances and he has no plans to stop no matter what happens on Sunday.
"Unfortunately," he said with a smile. "I feel like I can still keep going on. I feel like I can drag my corpse around for quite some time. I'll probably make a spontaneous decision at some point (to retire) but I'm not there yet."
Klose won the Golden Boot for most goals at the 2006 World Cup with five. He said he hopes Mueller will win the award for a second time after getting it in 2010 with his five goals.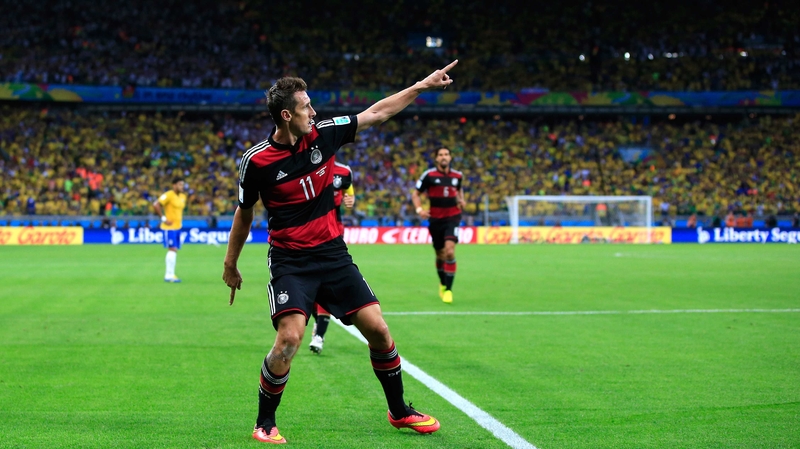 Even though he is only 24, Mueller already has 22 goals in 55 caps for Germany and his 10 World Cup goals leave him well set to one day catch Klose's mark.
"That's not something I'm thinking about at all," Mueller told reporters recently before repeating the mantra that every Germany player comes up with at news conference. "We're here as a team to win the tournament. Everything else is secondary."
But after getting his latest goal in the huge win over Brazil on Tuesday, Mueller allowed himself to joke about the possible feat.
"I'm hot on his heels now but he's got what feels like a 20-year head start on me," Mueller said with a laugh before praising Klose. "He's an indefatigable worker on the team, a real team player. There's no one better than him."
Mueller expects Sunday's final to be a much tighter affair than the Brazil rout.
"I don't know what kind of a game it will be, but I don't expect it to be 5-0 at half-time," the Bayern Munich forward said.
"That would be nice, but it's probably going to be tight like it was against Algeria or France."
Germany led Brazil 5-0 at the break on Tuesday with many members of Joachim Low's team admitting they had to pinch themselves to see if it was really true.
"It was about not trying to humiliate our opponents or showboating." - Mats Hummels
Defender Mats Hummels was quoted in the Daily Mail as saying the players had agreed during the interval not to go out and embarrass Brazil in the second half, and Muller confirmed such a decision was made.
"It was about not trying to humiliate our opponents or showboating," he said.
"We wanted to carry on playing normal football and not get arrogant, but that's quite normal - it was the players' initiative."
As a result, Muller says Germany were able to "concentrate on preserving energy and avoiding injuries" in the second 45 minutes against Brazil, a game that was also played 24 hours before Argentina's 120-minute encounter with Holland, which was decided by penalties.