France v Germany, Rio de Janeiro, 1700
Europe will see at least one of its representatives make their way into the World Cup semi-finals as France prepare to take on Germany at the Maracana.
Germany have been in tentative form following their initial 4-0 thumping of Portugal in the group stages - a match which saw their stock rise significantly - but their narrow win against Algeria means many are wondering if they peaked too early. They will need to be at their best to overcome a French outfit which, so far, has exhibited slick, attacking football.
Goals galore?
With 19 goals between them, this clash sees two of the tournament's most dangerous attacks go head to head. The nine goals that Germany have managed so far is bettered only by France's 10, Colombia's 11 and the Netherlands' tally of 12. Now that the standard of opponent is rising sharply, we'll soon discover which of these attacks can unlock stronger defences.
Attacking sharpness
Les Bleus' average of 18 efforts on goal per game is the most of any side in the tournament except Belgium, while Germany's 15 is the sixth highest. Not only have these two teams been keeping defences occupied, they're also two of the most accurate when in sight of goal. The Germans have hit 61.7% of their shots on target - the sixth highest at the finals - and France aren't far behind with 61.1%. While the forwards will be under scrutiny, it's the goalkeepers who should really be tested.
Accurate passers
After Italy, Germany have been the most accurate passers at the tournament, getting 90% of their passes to a team-mate, while only three other sides have exceeded France's own impressive 87% pass completion. This match should therefore be a masterclass in ball retention, with both teams eminently capable of keeping the ball out of the other's reach. The question is whether these sides can maintain this discipline while chasing a goal.
Summary
This clash sees Germany make their ninth consecutive appearances in a World Cup quarter-final and Joachim Low has a job on his hands if he is to reinvigorate his charges and take them at least one step further.
Their performance against Algeria generated much debate around his tactics and style, and a reported outbreak of flu in the German squad will not have helped preparations.
France will again be looking to prove their credentials, having played some attractive football throughout the tournament and performed much better than many would have expected.
A young Les Bleus side are being spurred on by the rapidly-maturing Paul Pogba, who will have the chance to show why he is so highly rated against one of the most formidable midfields at the tournament.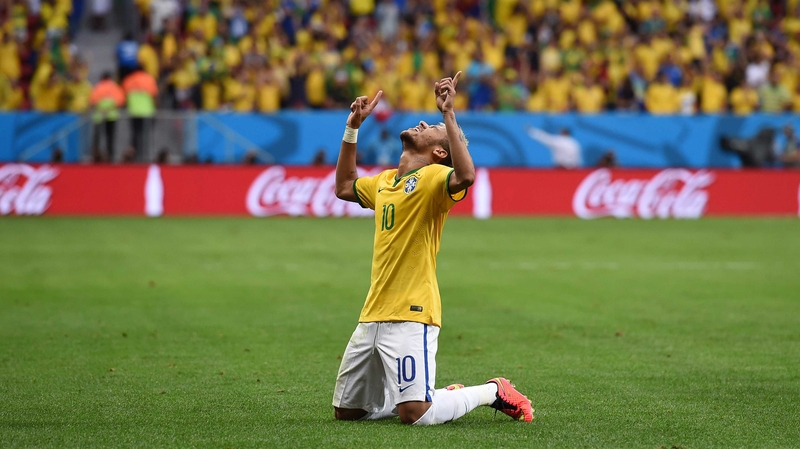 Brazil v Colombia, Fortaleza, 2100
Brazilian hopes rest firmly on the slight shoulders of Neymar, whose four goals have been the driving force behind Brazil's otherwise sluggish path to the quarter-finals.
One of the undoubted stars of the tournament is James Rodriguez. Leading the scoring charts with five goals, including several candidates for goal of the tournament, he gives Colombia genuine hopes of causing an upset in Fortaleza.
Can Neymar inspire the real Brazil to finally turn up, or will Rodriguez break a nation's hearts and fire Colombia into the semi-finals?
You can't see me
Surprisingly, this fixture pits two of the most careless passers against each other, with Brazil managing to complete just 83.4% of their passes, and Colombia 83.3%. This ranks both teams in the bottom 10 at the tournament for pass success rate and the least accurate teams to make the quarter-final stage. For Colombia, their average of just 313 passes completed per match is the fifth lowest in the competition, well behind Brazil's average of 394. Each side will need to take extra care to find their talismanic number 10s if they expect them to boss the game.
Why does it always rain on me?
Despite conceding just two goals, Colombia have allowed the third highest number of shots on their goal in the competition - a whopping 63. This averages out at almost 16 per game, which is coincidentally how many Brazil have been creating - the fifth highest at the tournament - so David Ospina will be in for a busy evening in the Colombian goal. While Julio Cesar proved his worth to Brazil in their penalty shootout victory over Chile, a defence led by the imperious Thiago Silva has allowed opposition a much lower average of 10.5 shots per game at the Brazilian goal. Given Colombia's relatively low volume of shots - just 9.8 per game - the host nation's defence can harbour realistic hopes of stifling their opponents' attack.
Just bring it
Brazil have dominated their matches so far, taking 60% of the shots in the games they have contested - the sixth highest share at the finals. Colombia on the other hand have often found themselves on the back foot, with only four sides having taken a smaller share of the shots than their 38%. It's likely therefore that we will see the Colombians sitting back in an attempt to soak up the pressure and hit Brazil on the break.
Summary
With the exception of Neymar, Brazil as an attacking unit have failed to impress, relying heavily on the Barcelona star to produce the goods when it matters.
Against Colombia they face a dangerous side capable of punishing their error prone defence - Colombia's shot conversion rate is the highest of the tournament at 28%, more than double Brazil's 13%. If Colombia can find a way to keep Neymar out of the game, they may well pave a route to the semi-finals and heap misery on the host nation.