Luis Suarez has apologised to Giorgio Chiellini and "the entire football family" and promised there will "never again" be another incident.
Suarez was sent home from the World Cup in shame after biting Chiellini during Uruguay's 1-0 win over Italy on 24 June.
The Liverpool striker, who had twice bitten opponents on the field of play before, was suspended from "all football-related activity" for four months by FIFA as a result.
After reflecting on the incident in his Montevideo home for the last few days, Suarez decided to release a statement on Monday apologising for his latest indiscretion
In a statement on his official Twitter account, Suarez said that after having "the opportunity to reflect and regain my calm... the truth is that my colleague Giorgio Chiellini suffered the physical result of a bite in the collision he suffered with me."
This evening, Giorgio Chiellini responded on Twitter, saying 'it's all forgotten' and he also expressed his hope that FIFA would reduce the length of the ban.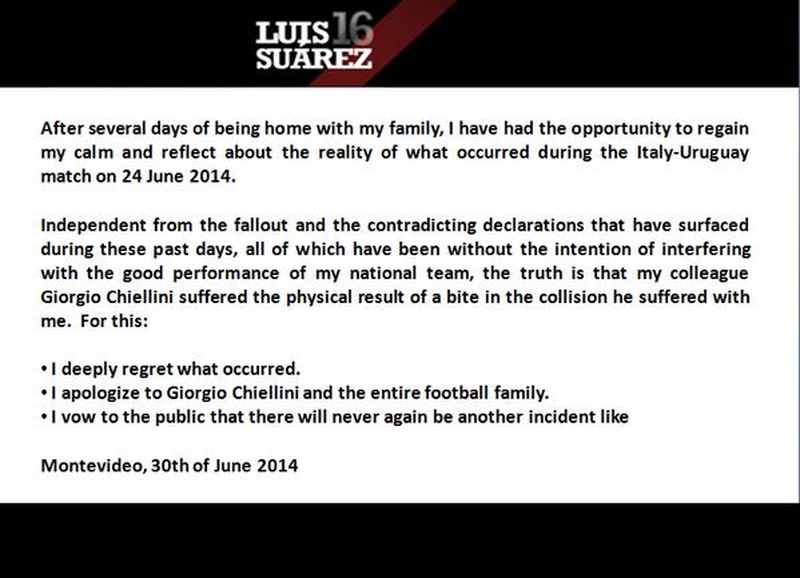 The Uruguayan Football Association (AUF) was outraged at the record length of Suarez's ban, and has launched an appeal.
Uruguayan president Jose Mujica was also dismayed at the length of the punishment, which also came with a €65,000 fine.
Mujica, who had said previously that Suarez was being punished by FIFA because of his humble background, continued his verbal assault at a reception for the Uruguay team after they returned home from the World Cup following their 2-0 defeat to Colombia in the last 16.
Asked by a journalist what his lasting memory of the World Cup would be, Mujica said: "FIFA are a bunch of old sons of b*****s."
The president then covered his mouth to feign shock at what he had just said, but when asked by the journalist if he wanted to rectify his comments, he responded: "Publish it."
.@luis16suarez It's all forgotten. I hope FIFA will reduce your suspension.

— Giorgio Chiellini (@chiellini) June 30, 2014
With Suarez's ban also affecting his future at club level, Liverpool are expected to consider offers - with Barcelona seemingly heading the queue.
The Catalan club claim they have the financial power to lure him to the Nou Camp this summer - but the same may not be true of surprise suitors KF Hajvalia.
The latter have offered Suarez a short-term sanctuary in Kosovo - not a full member of FIFA - while he serves his ban.
The club won last season's Kosovar Cup and finished sixth in the league and have made an opportunistic loan offer.
Director Xhavit Pocolli told Kosovan daily Sport Plus: "Suarez can't play in the next four months. As we are not part of FIFA yet, I think he can play in Kosovo, so we have an offer that we will send to Liverpool.
"We offered €30,000 and a salary of €1,500 for each month. This might sound ridiculous to him, but that is all we can do.
"If he is willing to come and play for us, he is welcome. As we are not part of FIFA, it would be ideal for him."