By Glenn Mason in Brasilia
This is far from the best Brazilian team we've seen at a World Cup, indeed it may even be one of the worst, but they still retain the unadulterated support of their fans if the scene at kick-off in Brasilia is anything to go by.
Rarely has an anthem been sung A Capella with such gusto as it was here in the Mane Garrincha Stadium. Sitting as a neutral among a sea of yellow jerseys it was hard not to be impressed and taken in by it.
The players were pumping the crowd up to such an extent that the reaction to Neymar's first touch was almost hysterical. It was a scene reminiscent of Beatlemania at its height.
The Barcelona forward is the undoubted star attraction and he lived up to the billing here with two goals and plenty of flicks and tricks to keep the fans happy. Sadly for those fans, the support cast is more Cilla Black than Roy Orbison.
Vociferous support like that at kick-off and goals from Neymar cannot paper over all the cracks. The defence looked shaky, the midfield almost non-existent in the first half, while front players Fred and Hulk are clearly struggling for confidence.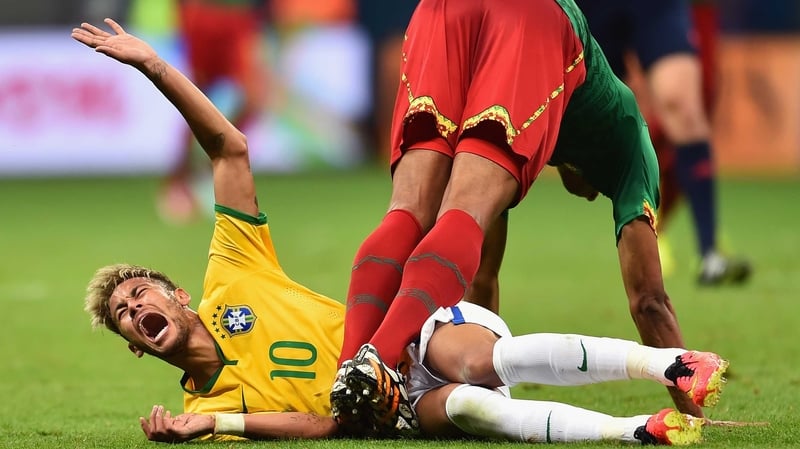 Fred, who was said by coach Luiz Felipe Scolari to be "anxious" before the game, was the target of most of the abuse that was meted out during the first 45 minutes.
His touch was poor, his passing wayward, his movement slow. The second half goal did little to quieten the abuse from fans. His status as a Fluminese player in a mainly Flamengo-supporting city such as Brasilia did him few favours.
Brazil's problems do not just lie with Fred, and while Scolari was happy with the improvement in the second half, he knows that a lot of work needs to be done in other areas before they play Chile in Belo Horizonte on Saturday.
It appeared that Neymar's opening goal, which left me covered in beer, as well as hugs and kisses from neighbouring fans, would see Brazil push on and be comfortable winners against a team that had already been eliminated after two poor performances.
However, Cameroon settled into the game and got some joy on their left flank as they targeted Dani Alves as the weak link.
Alves had already been caught out once before, when Allan Nyom got past him and squared for Joel Matip to tap in an equaliser. It was deserved and the crowd quietened as Brazil's vulnerabilities became all too obvious.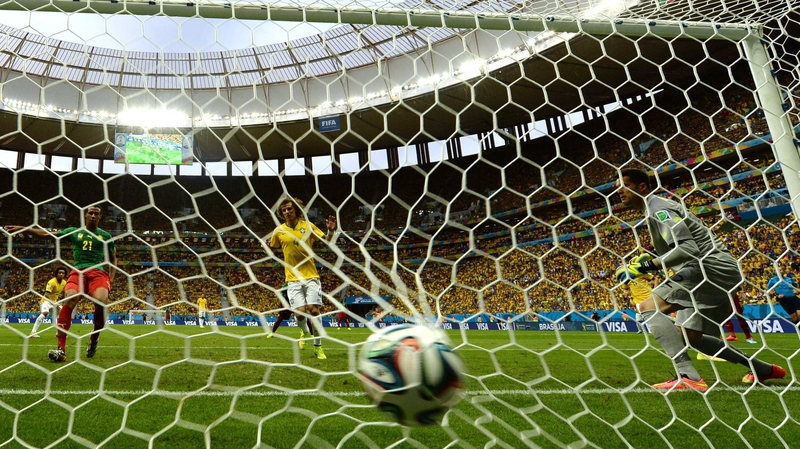 Brazil were struggling to pass through midfield and a number of players were caught in possession as they dawdled on the ball trying to find a team-mate in space.
With seemingly few options through the middle, Thiago Silva and David Luiz resorted to playing 30 or 40-yard balls towards Neymar and Fred. Neymar has the touch and skill to deal with that service, Fred didn't on this occasion.
Neymar's second goal and Scolari's half-time intervention changed matters. They were more fluid through the middle with Fernandinho replacing the ineffective Paulinho.
However, it must be said that Cameroon had switched off by then and were in holiday mode. Their coach Volker Finke admitted as much after the game.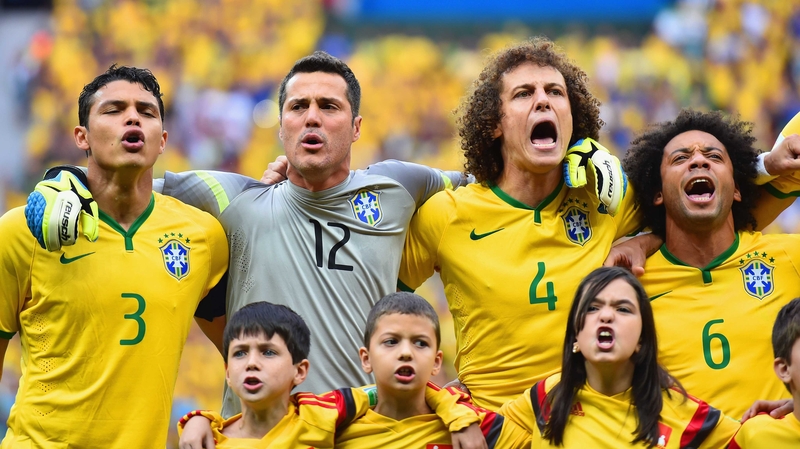 Scolari later said he would rather have played a team other than Chile, whose counter-attacking style will cause some concern in the next few days of preparation.
The coach believes the home support is helping his players overcome any mistakes they make in preparation, but judging by the banks of red jerseys supporting Chile in Sao Paulo, home advantage won't play as big a part.
At the moment you would have to fancy Chile to end Brazil's hopes of Hexocampeonato.
Scolari is a wily coach who has been here before and he will know that improvement will not be enough if it isn't complemented by another top notch Neymar performance.