Wayne Rooney has apologised to the England fans following their humiliating exit from the World Cup.
Rooney admitted he was "absolutely devastated" by the team's failure in Brazil as they were eliminated after only two matches, 2-1 defeats to Italy and Uruguay.
Italy's 1-0 loss to Costa Rica on Friday confirmed England's exit.
The Manchester United striker posted on his Facebook page: "Absolutely devastated to be out of the World Cup. Going into each game we had great belief in ourselves but unfortunately it hasn't worked out.
"Sorry to all the fans that travelled and at home that we haven't done better...gutted!"
Rooney was just about the only England player to come out with any credit from the Uruguay match, scoring his first World Cup finals goal only for Luis Suarez's late winner to sink Roy Hodgson's men.
England's final Group D match is against Costa Rica on Tuesday when they will be looking to salvage some pride from the competition.
Meanwhile, former England manager Graham Taylor has urged Roy Hodgson to continue putting his faith in youth as the Three Lions look to rebuild.
While backing Hodgson to continue in the post, Taylor told Radio 5 Live: "We wanted to see the young players and there is hope amongst that, there is no doubt about that.
"I honestly do believe that the media, in terms of Roy giving these youngsters a chance, were behind that, and I just hope that we stick at this development and letting the young players develop on the international scene.
"I think there is some future here in the English young players that we have seen."
Taylor, who was in charge of the national team between 1990 and 1993, does believe England need to address the defensive problems that have undermined their World Cup challenge this time, though.
"Defensively mistakes were made and you pay for it at this level," he added. "So it's alright me or anybody talking about young players, but you've got to have some strength at the back and you've got to be able to make sure that you're not going to give away silly goals."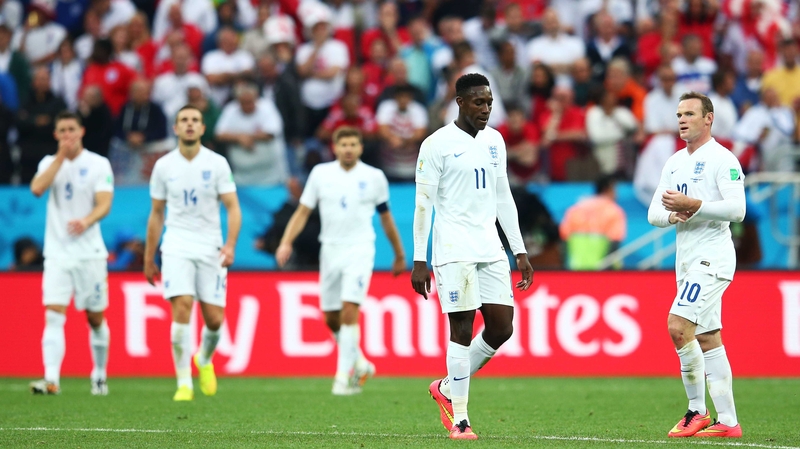 That was an opinion shared by ex-England defender Jamie Carragher, who believes Hodgson needs to find a leader at the back.
The former Liverpool stalwart wrote in the Daily Mail: "England are crying out for some quality in defence, players in the mould of Sol Campbell and Rio Ferdinand.
"But, more importantly, they need leaders like Tony Adams and John Terry, men who could lead by example and relieve the pressure when situations became demanding."
"There is not enough quality anywhere in England's midfield and they are incapable of controlling games." - Michael Ballack
Former Germany captain Michael Ballack was also scathing of the performance of the 1966 winners in Brazil.
He described England's defending as "poor", said their midfield are "incapable of controlling games" and feels that as a whole the players appear to lack trust in each other and themselves.
However, he described suggestions that Wayne Rooney should be dropped as "crazy", and said Hodgson needs to build his team around the Manchester United striker.
Writing in his column in the Times, Ballack said: "There is not enough quality anywhere in England's midfield and they are incapable of controlling games.
"The best teams at the tournament have midfield players who can pass the ball, hold the ball, make offensive runs and cover defensively, but England do not have one player who fits that description.
"Not one single player can run from box to box, although Ross Barkley maybe will be able to in the future."
On Rooney, whose place in the team has come into question, former Chelsea midfielder Ballack added: "For me the only player who looked like making a difference for England was Rooney. He is the only one who can hurt teams, and the only one who is really world class.
"Some people are saying he should be dropped, which is crazy."
He added: "Despite all these problems England look better than they did two years ago and Roy Hodgson should build his team around Rooney and tell his team to do everything they can to play for him."