By Glenn Mason in Sao Paulo
England are on the brink of another 'early' elimination from a major tournament and already the recriminations have started, with Wayne Rooney, captain Steven Gerrard and coach Roy Hodgson taking the brunt of the criticism.
Hodgson has admitted England's chances are now "unbelievably slim" but insisted he won't walk away from the job.
"I'm bitterly disappointed, of course, but I don't feel I need to resign, no," he said.
Gerrard had called for a better defensive performance from his side in the build-up to the crucial clash with Uruguay in Sao Paulo. It is somewhat ironic then that he was caught out in the build-up to both of Uruguay's goals.
He may have laughed when Roy Keane suggested England would struggle at the World Cup, but I doubt he will see the funny side when he reviews the games on his iPad.
The Liverpool skipper may clearly be a fading force, but England's defensive problems are deeper than just his mistakes here.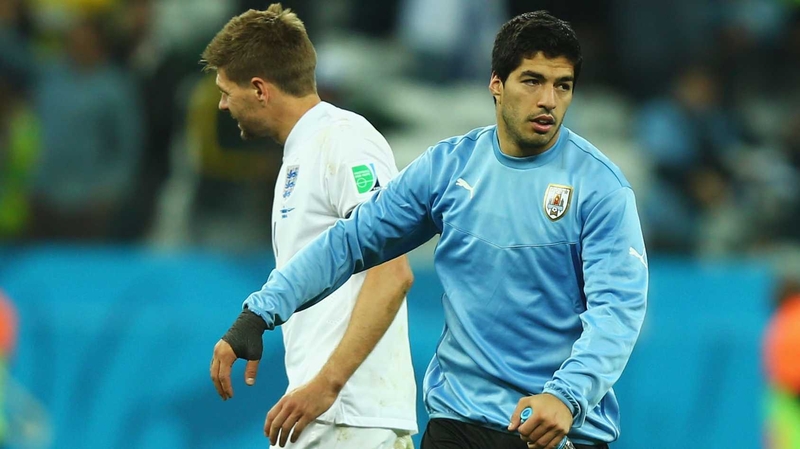 No side can expect to be serious World Cup contenders with a central defensive partnership of Gary Cahill and Phil Jagielka. It's not that they are poor players, but just not good enough to contain the game's top strikers.
They were both found absent as Mario Balotelli and Luis Suarez drifted simply in to space to head past Joe Hart in their respective contests.
England's two best defenders are still arguably John Terry and Ashley Cole and both, for various reasons, were watching this defeat on television.
They may not be without their faults, but their experience would have had a settling effect in the crucial final ten minutes when Suarez struck.
Full-backs Glen Johnson and Leighton Baines are clearly more renowned for the play in the opposition half.
Gerrard had also predicted before the game that England would continue the attacking style that drew so many plaudits against Italy in the opening game.
It was distinctly absent in white heat of competition here, despite a possession ratio of 62:38 in England's favour. Much of this is due to Uruguay sitting back in the second half as they led 1-0.
Young winger Raheem Sterling was typical of that exciting style against Italy - skilful, pacey and direct. His lacklustre performance against Uruguay summed up England's night and he was withdrawn just after the hour.
Goalscorer Rooney may argue that he played well, but he will look back ruefully on the two chances he failed to take in either half.
Hodgson's future as coach has already come under scrutiny, but the FA will have to assess whether anyone else could have done a better job with this group of players.
Perhaps, he could have changed the formation as England struggled to break down Uruguay with four attackers on the pitch.
But you can't praise a man before kick-off for employing a style and then hammer him afterwards when it doesn't work.
The fact that it was the weakest squad England have taken to a major tournament for some time is a long-term issue for those who pay Hodgson's wages.