By Glenn Mason in Sao Paulo
Uruguay coach Oscar Tabarez has said Luis Suarez has recovered well from his knee injury, but he refused to say if he will start against England in their crucial World Cup game in Sao Paulo.
The two nations lost their opening games in Group D and badly need a win to get their World Cup campaigns back on track.
Tabarez admitted that a failure to win tomorrow evening would mean his side was facing an early elimination.
Suarez, who sat out Uruguay's 3-1 loss to Costa Rica at the weekend, has declared himself to be fully fit after picking up his injury in training in May.
However, Tabarez was not quite as confident about his star striker's fitness in his pre-match news conference, even though he said he has been training with the rest of the squad.
"Tomorrow we will announce who will play and not before… He has recovered very well, but if he plays, we must consider the possibility that he's not as well as he was in the Premier League," said Tabarez.
Although in a warning to England, he said Suarez is still a great player when not fully fit.
Tabarez also praised Suarez's character, as well as his talent, in response to questions about his previous disciplinary problems.
As well as his high-profile issues at Ajax and Liverpool, Suarez was sent-off against Ghana for a deliberate handball on the line in the World Cup quarter-final in 2010.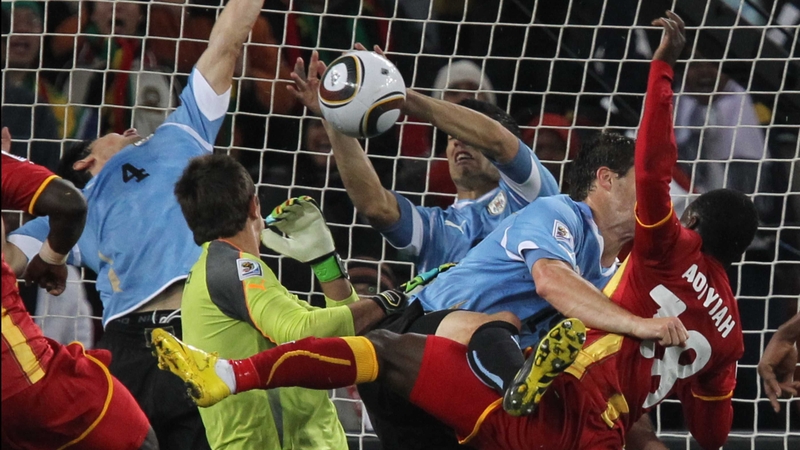 He was then captured on television celebrating when Asamoah Gyan missed the last-second penalty to put Ghana into the semi-final.
"Luis has always wanted to face all challenges in his career, not only for the national team but in other situations. He has always improved himself and his career is wonderful," Tabarez stated.
"Right now, he is playing in one of the best leagues in the world and has been able to overcome many different problems.
"Obviously he is a very important player for us because of his technical abilities and his personality.
"Please remember that football is played by human beings. So we need humility to accept that human beings make mistakes… It is not possible to start talking about things that happened four years ago.
"I think we have to concentrate on the future and not start thinking about something that happened four years ago."
Meanwhile, Tabarez has confirmed that captain Diego Lugano will not play because of a knee injury.
Tabarez said he took the decision to leave out Lugano today because of the pain he was feeling in his knee over the past few days.
The coach said the combative West Bromwich Albion centre-half could recover in time to play in their final group game against Italy on Tuesday in Natal.
Lugano's absence will be a blow to Uruguay, who are also without the suspended Maxi Pereira, but Tabarez has said the system and tactics will remain the same.
Tabarez went on to say he was impressed with England's attacking display against Italy but he thinks that does not necessarily mean they will put on a repeat performance in Sao Paulo.
"They played well but it doesn't mean they will play the same against Uruguay," he said.
"They have four very good, wonderful attacking players who are very fast, and are more than able to score.
"They were very direct and pragmatic. They are able to organise wonderful plays very fast."
Paris Saint-Germain striker Edinson Cavani has warned England that Uruguay are up for the match.
"If you want to win against us you have to fight," Cavani said.
"We have the tools to react. We are ready to face this situation. We have overcome similar situations before."