Injuries rattle Korean defence
German-based defender Park Joo-ho was called into the South Korea World Cup squad on Thursday after first choice left back Kim Jin-su was forced to drop out of the 23 after an ankle ligament injury.
Kim, 21, suffered the injury playing for Japanese club Albirex Niigata earlier this month, and the Koreans decided against surgery in the hope he could recover in time ahead of their opening game in Brazil against Russia on 17 June.
But those hopes were dashed late on Wednesday, leaving Mainz defender Park to battle Yun Suk-young of Queens Park Rangers for the starting position.
"We did our best to treat the injury till yesterday, but we concluded after a meeting last night that one of the ligaments won't be healed till the World Cup," team doctor Song Jun-seob told reporters in Seoul on Thursday.
Meanwhile, the Koreans received positive news about central defender Hong Jeong-ho, who was forced off in the 13th minute of Wednesday's 1-0 home loss to Tunisia with an ankle problem.
Hong left the field on a stretcher, but, after scans on Thursday, Song said he expected the Augsburg defender to be back within a week.
"He has a bruise under his skin. He was hit hard by the tackle and thankfully his ankle was not twisted," the doctor said.
The Koreans will be thankful that their leaky defence, which was badly exposed by the Africans, was not hit further.
Forward Zouheir Dhaouadi was given far too much freedom as he burst through the heart of the hosts from deep to score the only goal shortly before halftime to upset the 50,000 home fans who had come for the Seoul send-off.
Yun started the match at left back despite fears of jet lag after arriving late from England because of club commitments, but Park will attempt to usurp him in Brazil, where the Koreans also face Algeria and Belgium in Group H.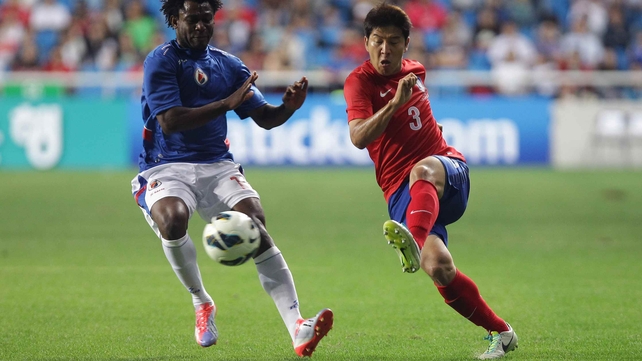 The Mainz defender had a strong first season in Germany after switching from Swiss side Basel, and his initial snub from the World Cup squad was one of the main talking points amongst fans and local media.
Head coach Hong Myung-bo said he left the 27-year-old out because he had been suffering foot inflammation since the conclusion of the Bundesliga season earlier this month.
"What is important about this injury, cellulitis, is whether it would recur or not and at the time the entry was made public the medical team was not sure if it'd relapse," Song said.
"But one week after the entry was announced on 8 May, we removed the stitches as it was fully healed, and since then Park has been working on the rehabilitation program under the guidance of our medical team and it's been successful."
Song said that everything has been cleared up and the fullback would be ready to play in their final pre-World Cup friendly against Ghana in Miami on 9 June.