1700 At 7.30pm, Argentina and Mexico face off in the second round and all signs suggest that Diego Maradona's side will not be denied. Assuming that this happens (dangerous), mark your diaries - Saturday 3rd July at 3pm, the World Cup quarter-final between the two best footballing sides in this tournament so far: Argentina vs Germany. I cannot wait. Thankfully there's lots more football between now and then. We'll be back with more text commentary from 7pm.
1655 No mincing words on all the panel - England were poor and were outplayed by a far superior German outfit. If you love football, regardless of where you're from (as long as it's not England), you should appreciate the pace, flair and intelligence of this German side. The key factor, for me, is their unselfishness and teamwork. In positions when the majority of attacking players would try and shoot, the Germans consistently looked for a teammate in a better position - they're a very together and smart outfit.
1650 Nice to see - both sets of players are chatting amiably and shaking hands. Although the Germans are smiling pretty hard.
Full time That's it. They think it's all over, etc. Germany have walloped England 4-1 in the second round of the World Cup and now we can all watch British TV without fear. Not that you'd need to, as the best coverage is right here on RTÉ.
90 mins SWP is played in down the right, but his cross is straight at Neuer. Almost walking pace now out there.
88 mins SWP comes on and there's no pointing, relaying of instructions or the like. There's no energy, no desire. England are beaten. To be fair, although the disallowed equaliser was pure nonsense, Germany have been far and away the better side and the English defence had no answer to their movement and clever passing. No one has yet, for that matter. A likely quarter-final against Argentina is a real footballing treat to look forward to, provided Maradona's side can get past Mexico this evening.
85 mins Germany maintaining possession and everyone knows the result here. England have given up. Shaun Wright-Phillips is about to come on to save the day.
83 mins Ozil is almost away again on the left but Glen Johnson bundles him over and is booked. Perhaps to preserve him from angry English types, he is then subbed off and Kiesling comes on.
81 mins More like it - Gerrard bursts into the box and is played in by Rooney. Gerrard tries to curl it past Neuer and it's heading in but the German keeper pulls a fingertip diving save out of the drawer marked 'wow'.
80 mins Ten minutes left and England are not displaying the necessary urgency. They're looking for a pass inside, waiting, waiting and wasting time. They need three goals for goodness' sake - get it up there.
78 mins Mario Gomes - an international flop if ever there was one - is sent clean through into the box but opts to turn away from nobody into Upson and loses it. Should have been at least a shot on target.
75 mins England look shell-shocked. They're losing possession in the middle and appear frustrated. Germany on the other hand, look like they can cut up the English defence every time they get it. That said, they're playing sensible possession football. This game is over folks.
72 mins Defoe off straight away and Heskey on - why not Crouch? Germany think this is over - Klose and Muller are taken off, Gomes and Trochowski come on.
70 mins Ozil nips away from Barry on the left wing and leaves him for dead. He's in behind the defence and is a picture of composure as he rolls it across for Muller to tap home.
GOAL FOR GERMANY
69 mins England right back down there - Gerrard's cross is blocked out for a corner, but that is nodded away by Khedira. Ozil nips in and robs Barry and...
67 mins Just like that. Lampard blasts into the wall and it breaks to Schweinsteiger who powers into the English half - it's three on three and this time there's no mistake. The midfielder waits and waits and plays in Thomas Muller on the right. He blasts it at James and it rebounds off his elbow to drop in at the near post. James might have done better there.
GOAL FOR GERMANY
66 mins Friedrich blocks off Rooney at the edge of the box - that's two since he was booked. Eep. Lampard to shoot again.
64 mins James Milner makes way for Joe Cole.
63 mins And back we go - Schweinsteiger shoots from 30 yards out and it's a low, hard drive, but heading wide. Klose nips in and is a whisker away from diverting it in. Close call.
62 mins End to end! Milner steals a yard on Boateng and drives in a great low and hard cross that Neuer gathers, but if anyone was near post - goal. Seconds later, Rooney rolls Milner into the box but he takes too long to shoot and Boateng gets back to block.
60 mins Muller receives it 25 yards out and the English defence all move off him expecting the pass, so he moves into the huge open space they've left and tries a toe-poke, but it's deflected out off Cole. The ref points for a goal kick. Hmm.
58 mins Panic at the back for Germany - Lahm tries to lay it off for Neuer to clear, but Defoe nips in and almost gathers, but for Neuer's lunging tackle. End to end stuff and a very entertaining game.
57 mins Shot on target from Gerrard from the edge of the area - he tries to curl it top corner, but it curls too much and straight into the grateful hands of Neuer.
55 mins Mistake by Terry - wayward pass in his own half - and Klose bursts through into the right channel. His cross is blocked down by Terry and the corner comes to nothing. Still some change to be had from the English centre halves though.
52 mins Hits the crossbar! Lampard may be destined not to score today. Germany not quite on the rack, but second best at the moment.
51 mins Friedrich bundles over Rooney - he's got to be careful. Chance for Frank to score - again - from 35 yards out.
49 mins Long ball bounces over Lahm and falls to Gerrard on the left. He drifts inside and tries to shoot back inside to the near post, but it's a daisycutter. England have started well.
46 mins First yellow of the day as Friedrich scythes down Defoe from behind on halfway. Free breaks to Milner, whose effort is scooped miles wide.
1600 Astute observation from Brady - the ref may feel compelled to give a major decision in England's favour in the second half. We shall see. Teams back on the pitch.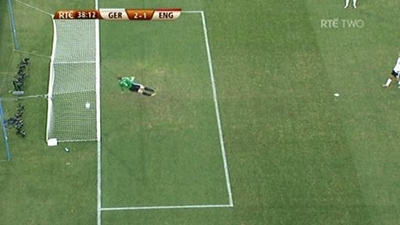 This may give you an idea of how far Lampard's shot was over the line. Everyone in the stadium could see it was over - not the officials.
1550 To be fair to the BBC, they're tearing into the England defence. Shearer: 'England could be four or five down.' Over on RTÉ, Liam Brady has a real go at Sepp Blatter for refusing to introduce technology. Giles reckons that this will be a catalyst for changes to occur in the immediate future - thank the good lord. Bad luck England, but great news for football hopefully. Anyway, England are suddenly playing well enough to get back in it.
Half time Wow. After 35 minutes, Germany appeared to have this game in the bag. Two to the good, with another two great chances only denied by James' heroics. England had offered little and looked nervous again. Then, out of nothing, Upson heads England back in it and then - in what will rival a certain handball for media coverage in the coming days - Lampard scores an equaliser but is denied by an incredibly bad call by the referee. Still, England are right back in this. Bring on the second half!
43 mins England right back in it now - they're striding forward with the ball and playing with renewed confidence and purpose. Germany look porous at the back all of a sudden, but they're still attacking with flair - there are more goals in this one folks. Replays show Lampard's effort was - no question - a terrific goal that you'll see a thousand times more if they go out today.
40 mins Germany break straight away and Podolski hammers one in from the right side, 25 yards out and it fizzes an inch past James' upright. What a game!
39 mins UNBELIEVEABLE! Lampard chips the stranded Neuer from outside the box - it hits the bar, bounces CLEARLY over the line before Neuer gathers - but the referee doesn't give it! The linesman was miles behind play and it's not given! 1966 revisited!
38 mins Short corner to Gerrard, who floats in a killer ball onto the head of Upson, who heads past the flailing Neuer to bring England back into the game.
GOAL FOR ENGLAND
37 mins Germans in again at the other end - a corner is not dealt with in the air and it falls to Klose's feet in the six yard box. He drags it back and frees up space, but James blocks well.
35 mins Good response by the English - terrific ball in low and hard by Milner across the face and Lampard slides in, connects well but Neuer spreads himself well and blocks at point blank range. There was a foul there anyway.
33 mins Great, great goal by Germany. Lahm flips a sweet ball over for Muller, he's through into the box and he unselfishly rolls it across for Podolski, who blasts it through James' legs from a tight angle.
GOAL FOR GERMANY
31 mins Chance at either end in the space of a minute. Khedira and Muller play a lovely one-two and then Muller cuts it inside for Klose to run onto - he's clean through on James, but the dreadlocked keeper slides out and keeps England in it. At the other end, Milner floats in a clever ball onto Defoe's head - he nods against the crossbar but he's offside.
30 mins As Trevor Steven points out in commentary, England are repeatedly trying to play killer balls in from deep, but they're all way off target so far. They'd be far better off building it up with short passes.
28 mins Milner is tackled by the ref - ie, he turns and bundles into the Uruguayan offical - but no doubt the tabloids will pick up on it tomorrow.
25 mins Good close control and tidy passing down the right wing free up Gareth Barry for a shooting chance 30 yards out in front of goal. He strikes it cleanly, but it's down Neuer's throat.
23 mins Terry intercepts, feeds Lampard, who plays it all the way into Rooney. Wayne drifts in from the left and tries a curler from 25 yards, but it's miles wide.
20 mins Neuer hoofs it all the way upfield, Terry lets it bounce, and Klose seizes his chance. He muscles his way past Upson and slides in to stab it past the hesitant James. Germany take the lead.
GOAL FOR GERMANY
19 mins Schweinsteiger loses possession in English territory and it breaks upfield, where Gerrard is bundled over the German midfielder, racing back to make up for his error. Opportunity for Lampard from 30 yards out goes straight into the wall.
17 mins Measured passing in the English half open up a chance for Khedira to try his luck from distance, but he snatches at it and it's high, wide and none too pretty.
15 mins Jermain Defoe, after being marked by the giant Cesar against Slovenia, is being marshalled by Mertesacker today and again anything off the ground will be easily dealt with by the German defender, who is about a foot taller than the Spurs striker.
12 mins England advance with a structured attack for the first time, nice short passes in and around a tightly packed German defence. One flick too many allows Mertesacker in and he plays Podolski out on a quick break - it's three on three with Ozil wide right in acres of space screaming for it. Podolski opts to blast it from the edge of the area and it's blocked easily by Terry.
9 mins England keeping it comfortably at the back, but their passing radar in the German half is malfunctioning. Germans look composed. The pace is surprisingly sedate so far. Feeling each other out, as they say.
7 mins The German management team's extraordinarily suspect clobber choices continue unabated. Grey sports jacket over blue v-neck T-shirt. Maybe it's all the rage in Berlin.
5 mins First chance for Germany, easy as you like, Schweinsteiger flips it over the back four and Ozil runs in behind them. His touch takes him to close to the end line and his shot is blocked by David James. That was alarmingly easy for Germany though. The corner goes straight into James' hands.
3 mins Three balls into feet for Defoe & Rooney, three times it's bounced off them like a wall.
1 min We're underway - Gareth Barry floats in over the top for the nippy Defoe to chase. He keeps it in, but Lahm breaks up the first attack.
1459 Xenophobia at the ready! All hands on stereotypes! It's England v Germany in Bloemfontein! Have it!
1457 The teams are out on the pitch, anthems are sung with determined passion. The players have the steely glare befitting the high stakes today. The camera's eye - which never lies - picks up on a small but important detail: the three stars above the German crest on their shirts.
1455 John & Liam predict a narrow win for Germany. Didi Hamann - back in harness for the day - declares that England will go through, probably not within 90 minutes. Crikey. Her Majesty's Customs must have his passport.
1453 John Giles on Ozil: 'He's the nearest I've seen to Liam.' Mr. Brady reaches for the water to drown out whatever he's about to say.
1450 Nice World Cup stats being wheeled out for today's encounter - Germany have made the last eight in every World Cup since 1938. Ahem. They also have the best record in penalty shootouts in World Cup history. Who has the worst? Guess.
1445 The panel point out that Germany are a very young side and that this will be the biggest game of their lives for many of them. That same thesis could have been applied to their first World Cup finalls match recently against Australia and you saw what happened there.
1440 No doubt with Vera Lynn and Elgar blaring in the dressing room, England could well rise to the occasion against their bete noire. Germany, a young, talented side, clearly one of the top sides in terms of performances in South Africa so far, merely have to maintain their consistent form - and who does consistency like the Germans? I have a sneaking suspicion that Germany are going to walk this, but frankly I'm hoping for a thrilling, open encounter (good luck with England on the pitch) that ends in penalties. There can only be one winner in penalties.
1435 Differences abound in television coverage of the game also. The BBC are strangled by the party line, reciting drilled positivity about England's chances, spouting jive about England's 'vastly improved' performance against pub side Slovenia. All statistics in favour of Germany are blithely glossed over. On RTÉ, the panel offer a more realistic view - Germany have been ace whereas England have been muck. German players like Ozil and Muller have produced scintillating football, while, as Liam says, England's stars are 'bang out of form.'
1423 What would an alien do? The betting on this game reflects just how ethnocentric punting is. The Three Lions have looked pretty toothless so far, but Capello's charges are 17-10 favourites for today's encounter, the draw trades at 21-10, while Germany are also available at 21-10. Few would argue that the Germans have been the more impressive side so far, but the impact of the jingoistic British media means favouritism was always going to go the way of England. Punting as a profession or even just a pastime is also far more popular across the Irish Sea than it is in Deutschland. But on all known evidence Germany should be favourites for this. If England do deliver, they'll be a pretty short price to advance against Argentina, so losses can be recouped quickly when Messi & co do the necessary.
1420 England have named an unchanged side for the first time in nearly three years, while Germany welcome veteran striker Miroslav Klose back from suspension. Cacau makes way for the big man. Midfielder Bastian Schweinsteiger has recovered from a thigh muscle injury and retains his place in the side.
World Cup Round of 16
Germany v England

Germany: Neuer, Lahm, Friedrich, Mertesacker, Boateng,
Schweinsteiger, Khedira, Muller, Ozil, Podolski, Klose.
Replacements: Wiese, Jansen, Aogo, Tasci, Kiessling, Badstuber,
Trochowski, Cacau, Kroos, Marin, Gomez, Butt.
England: James, Johnson, Terry, Upson, A. Cole, Milner, Lampard,
Barry, Gerrard, Defoe, Rooney.
Replacements: Green, Dawson, Lennon, Crouch, J. Cole, Warnock,
Wright-Phillips, Carragher, Heskey, King, Carrick, Hart.

Referee: Jorge Larrionda (Uruguay)