By Alan Cawley
Having been involved in football for over 15 years I can safely say that nothing surprises me.
Whilst it is one of the best industries to be part of, it also would have to go down as one of the strangest. Especially the managerial world.
Many of the decisions that are made in this department alone would not only leave you scratching your head for days, but would also have you beg the question - why would anyone in their right mind want to become a modern day football manager?
Now I'm sure all managers will tell you it's for the love of the game, the excitement, the satisfaction, and I totally get that because many times I've often thought I'd love to be a manager. But the flip side of that coin is the uncertainty, the pressure and the heartache it brings must surely be very difficult to deal with not only for the person in charge but also for his family too.
One such person springs to mind after the developments of the last couple of weeks and is Drogheda United manager Mick Cooke.
"Cooke has not only rebuilt the club but has also transformed their fortunes"
We all learned of the news last week that Cooke is to be relieved of his duties come the end of the season as the club will not be renewing his contract. To say I was flabbergasted when I heard this would be an understatement.
The job this man has done since taking the reins has been nothing short of fantastic. You have to remember the rebuilding that had to take place when he took over as this was a club that had been struggling for a long time. He has not only rebuilt the club but has also transformed their fortunes guiding them back towards the dizzy heights of yesteryear with cup successes and the return of European football. His reward for all this? The door.
Last season's second place finish may have been a huge over achievement but I put that success purely down to Cooke, as he got the best out of his players week in week out which is not an easy thing to do as the Airtricity league is very demanding both physically and mentally. He also guided his troops to success in the EA Sports Cup defeating Shamrock Rovers in the final last season.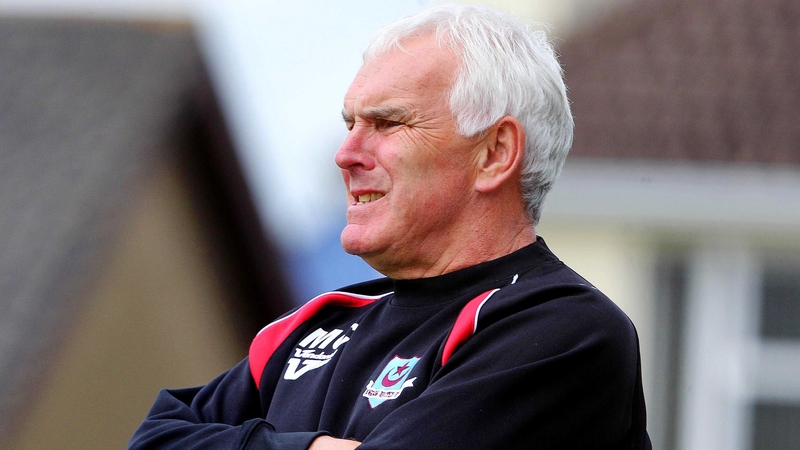 The fact that Cooke delivered the good times again, did that mean he had to improve on last year's finish and win the league this year to keep his job? It sure looks like that, now that the board have decided they will not be renewing his contract. I know success can enhance expectation but I'm sure even the most ardent Drogheda supporter was realistic enough to know winning the league would be a huge ask, I just wish the Drogheda board were realistic enough to know this.
Despite an indifferent start to this season's campaign he has led them to mid table respectability and to another two cup finals and still with a chance of reaching a third cup final. Although they have lost both finals this year it doesn't exactly sound like he is doing a mediocre job to me or one that justifies his contract not being renewed.
As I said earlier, the murky world of management would leave you scratching your head for days. All managers are asked questions on a daily basis as it's very much results orientated nowadays, which leads to impatience from board members and chairmen.
"Maybe a few questions should be asked of the people who came up with this brainwave not to renew his contract."
Cooke has more than answered these questions with his team's performances. Maybe a few questions should be asked of the people who came up with this brainwave not to renew his contract. A phrase that springs to mind which is more than appropriate for this situation is "the grass is not always greener".
The board have left themselves in a very precarious position now because whoever they do bring in to replace Cooke will have even more pressure on him than normal trying to out-do the success of the previous boss. More often than not a new manager is brought in to replace an under-performing one, not the other way round.
This situation though is most definitely an exception to the rule rather than the norm. I just hope for Drogheda United's sake they know what they are doing.
So where now for Cooke? I mentioned earlier the uncertainty a modern day manager can be faced with. This is exactly where Cooke finds himself through no fault of his own. With all he has achieved the last couple of seasons I have no doubt he will get another job but the problem with that is they are not always easy to come by.
The sad thing about this whole situation is that there is a real possibility Cooke could win the most sought after Cup on our shores and be out of a job the following day. Now wouldn't that be some story. Who'd be a manager nowadays?
Until next week,
Alan