As the old cliche goes "a week can be a long time in football" but for Shamrock Rovers and Trevor Croly they will have mixed views on that famous phrase.
After their convincing demolition job of Drogheda United in the Setanta Sports Cup final to pick up the first major silverware of the season, it was back to the bread and butter of league football last night and yet another frustrating and head-scratching performance against fierce rivals St Patrick's Athletic, which resulted in the Tallaght club picking up just a point for their troubles.
Both performances could not have been any more different.
In the Setanta Sports Cup final, Rovers played with a vibrancy and a zest that we hadn't seen so far this season. They were fantastic on the day, albeit against a dismal Drogheda United.
Some people may even think the extraordinary scoreline might have flattered Croly's troops, but not me, if anything it could have been more, that's how good they were on the day.
Following that terrific performance and emphatic result, it left us all posing the question: is this the springboard to kick-start Shamrock Rovers season?
I believed this would be the case, finally the real Shamrock Rovers had come to the party.
So how disappointed was I leaving Inchicore last night after witnessing yet another lacklustre display from Rovers?
The answer is very disappointed.
You could say it might have been a hangover from the cup final, plus you also have to give credit to St Patrick's Athletic who were excellent on the night.
By no means did I think Rovers would just turn up and win.
Inchicore is a very tough place to go especially this season when they have such a strong team but I expected so much more from Rovers.
The momentum and confidence that was gained from Saturday's result should have showed in abundance but it was sadly lacking.
I will give credit to them defensively, especially Jason McGuinness who was outstanding, and there was no lack of effort from the players which you would expect.
Defensively, I don't think they have a problem, they have conceded as few goals as all the main title challengers.
The most concerning thing for me was the lack of an attacking threat - it was non-existent. I just can't see where the goals are going to come from to propel them back up the league.
I like Karl Sheppard, he is a very willing runner but he was so isolated all night that nobody got within 20 yards to support him and I actually felt a bit sorry for him.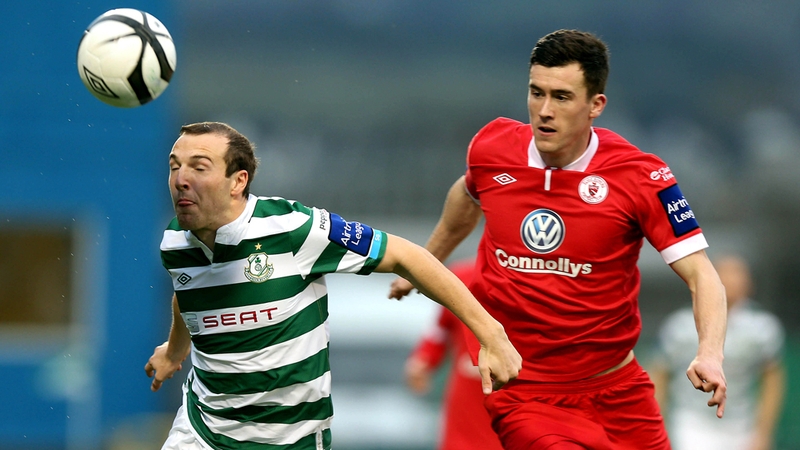 Croly is very set on this 4-3-3 formation, which is fine, but I would love to see him maybe go with two up top just to give them a bit more potency in attack.
Ciaran Kilduff is a handful at the best of times and I think Sheppard working off him may just compliment the two.
I must mention also that they have been very unfortunate with the injury to their marquee signing Mark Quigley.
Any team in the league would miss a player of his ability but sadly they must suffer on with the hand they have been dealt.
It's not all doom and gloom, they have a trophy in the bag and there is still a very long way to go in the season but they are giving themselves a mountain to climb in the league.
The question we posed earlier was, was the Setanta Sports Cup success going to be a springboard for the rest of the season?
I still think it could be, they have five very winnable games coming up now and to have any chance they will probably need to win those five.
If anyone is capable of going on a long unbeaten run, I think it is the Hoops so we will watch this space closely.
I wouldn't write them off just yet.
Until next week,
Alan