By Glenn Mason
When the nominations for the 2012 RTÉ Sports Awards were announced it came as little surprise that the international footballers were absent from the shortlists.
In a year of Olympic and Paralympic glory, as well as outstanding achievement in many other sports, there was sadly little chance of Giovanni Trapattoni's side getting a look in.
European Championship misery and Germany humbling
Their omission came despite a first appearance in a major tournament in ten years, which drew in massive television audiences and had the nation enthralled. It will be galling for the players, as many of them are still hurting after ending Euro 2012 without a point.
The European Championship woes were compounded by a 6-1 thrashing at home to Germany in the 2014 World Cup qualifier in October. That defeat had Trapattoni on the ropes, but he dodged the media's punches and rumours to keep his job.
Assistant manager Marco Tardelli remarked in November that it had been a fantastic year for the international team, but there are few people around the game who share his opinion. Indeed, Trapattoni admitted earlier this month that Euro 2012 had been "terrible".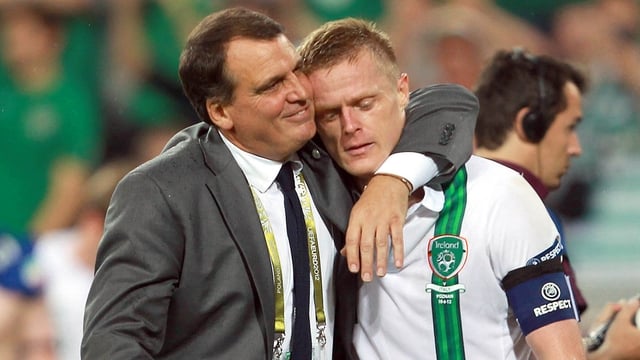 Speaking at his introduction into the Italian football hall of fame, Trapattoni said: "The year was definitely divided into two distinct parts for me. Obviously there was the big success of qualifying and getting to the Euros and the euphoria of doing so.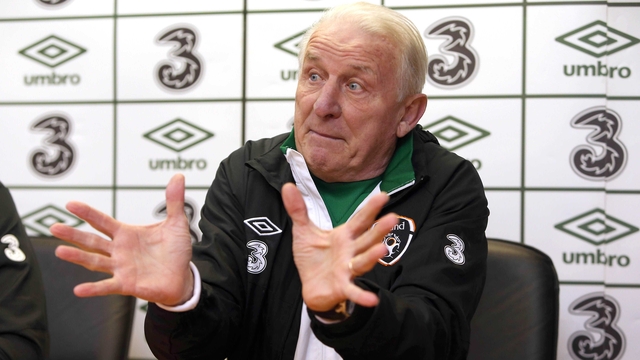 "But unfortunately it was a bad Euros, it was terrible. It didn't go the way we'd hoped."
A year which started with plenty of hope for the future
The year had started with Trapattoni and his management team basking in the glory of qualification, which was rewarded with another lucrative contract from the FAI, with the help of businessman Denis O'Brien.
Defensive solidity helped to build a 14-game unbeaten and there was some cautious optimism in the spring that the team could spring a surprise and progress from a tough group containing world and European champions Spain, tournament dark horses Croatia and an Italian team in turmoil.
Croatia could blow hot and cold, Spain had no striker, Italy were all over the place with another scandal, and "on our day … " and all that.
However, there were major doubts about whether an aging and injury-hampered squad could match the heights of previous tournaments, especially with a rudimentary 4-4-2 formation. Trapattoni believed that organisation and spirit could conquer our technically superior foes: not a chance.
Trapattoni's tactics exposed
The limits of the flat banks of four formation were exposed on a wet night in Budapest as Ireland chased shadows against a young Hungary side in their final warm-up game before the tournament.
Trapattoni bristled in the post-match press conference in the Ferenc Puskas Stadium when he was questioned about his tactical approach. The watching Croatia manager Slaven Bilic did not carry the look of a worried man.
There were further cracks that night when Aiden McGeady complained that the players were tired from the pre-tournament preparations, which had started for some of the squad on 17 May.
McGeady's comments earned a rest day for the players when they arrived in Poland, but a clear indication that all was not right in the camp and that preparation had not gone well.
As the thousands of Irish fans travelled to Poznan for the opening game against Croatia, most pundits and experts still gave Ireland a good chance of at least getting a draw.
It was not to be as Mario Mandzukic (two) and Nikica Jelavic strikes gave Croatia a 3-1 win. Sean St Ledger's equaliser brought a few moments of joy, but it was as good as it got for Ireland.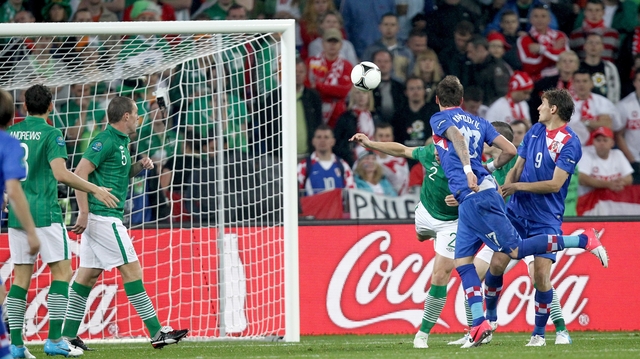 From that opening game it was clear that the stars of qualification, Shay Given and Richard Dunne, were short of fitness and form. Ireland could never hope to compete against such top-class opposition if their best players were not in top shape.
Moving north to Gdansk and the peerless Spanish, Trapattoni gambled with his selection of Simon Cox in midfield to try to combat La Roja's superiority.
In the end, it would not have mattered what formation or players Trapattoni chose that night, Spain were untouchable. It was a joy to watch the likes of Xavi and Iniesta knock the ball around at will in a 4-0 win, but a pity that it had to be at Ireland's expense.
The fans partied like it was the 1990s, but they and the team would be going home after the group stage.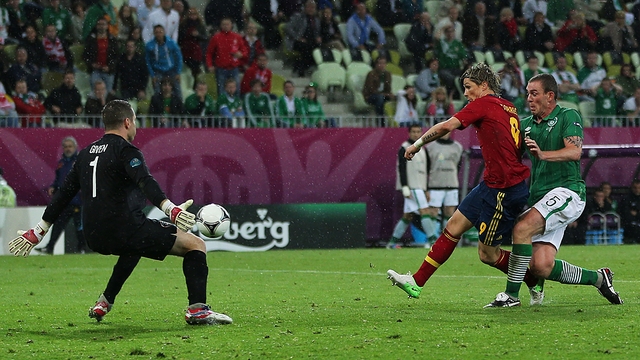 For the final group game against his homeland, Trapattoni was afraid to change, or as he saw it, weaken the team in case it drew the ire of the other teams.
In keeping his group rivals sweet, he upset several squad members who felt they deserved a chance to play in what could be their only tournament. It would have ramifications down the line.
Goals from Antonio Cassano and Mario Balotelli saw Ireland end the tournament with one of the worst records in European Championship history. It was a sad way for Given and Damien Duff to end their international careers.
Retirements and communication problems
As the dust settled, the four senior players (Given, Duff, Dunne and skipper Robbie Keane) took time out to consider their next move. Trapattoni said in August that he had spoken to them and was hopeful that all four would stay on. Given and Duff were gone soon afterwards.
It was not the first or last time this year that there would be communication issues between the Italian duo, the players or the media.
Not surprisingly, Trapattoni entered the World Cup campaign without Kevin Foley, who was still smarting at his late, late exclusion from the final Euro 2012 squad.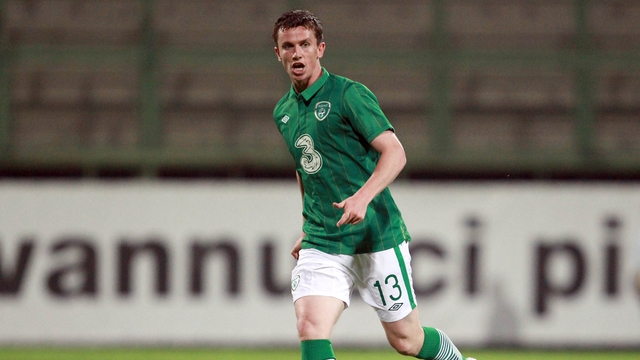 Trapattoni's reasons for choosing Paul McShane over Foley stack up, as the Wicklow man offers greater versatility across the back, but the decision should have been handled better.
A sulking Darron Gibson would also be absent from training in Malahide. Gibson's mood was clear in the final days at the team's base in Gdynia and he was one of those players angry at not getting any game time in Poland.
During the year, Trapattoni had used the word "idiot" to describe actions by both Given and Shane Long, while Tardelli had somehow managed to fallout with Stephen Kelly, one of the nicest guys in the international set-up.
The Road to Rio begins
The Road to Rio opened with a win, but only just, as a late comeback denied Kazakhstan in Astana. A Robbie Keane penalty and a volley from Kevin Doyle gave Ireland a 2-1 win. It was not enough for the watching James McClean, who labelled the performance and his absence from it as a "fuckin' joke" and "embarrassing".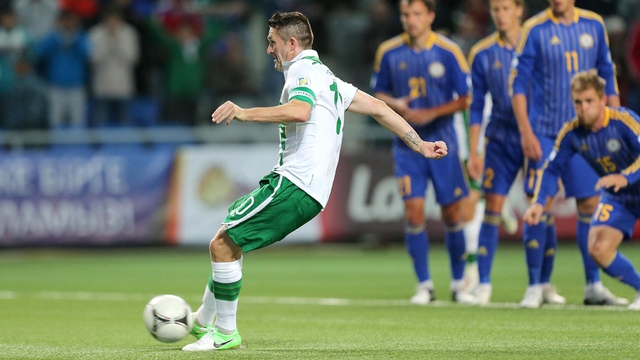 McClean later apologised for his Twitter outburst, but it was another clear example that the spirit and togetherness that Ireland teams of the past were famous for was missing with the current regime.
Germany devour Ireland in Rio 2014 qualifier
The nadir came on Friday 12 October as Germany inflicted the worst ever home defeat on a humiliating night for Irish football.
The knives were out for Trapattoni and not just in the media. The Irish Independent reported that a "senior FAI source" said the Italian would be relieved of his duties, regardless of the performance against the Faroe Islands the following Tuesday.
The players rallied and the minnows were dispatched 4-1, but only after Trapattoni was forced into a strong defence of his position and his record over the previous four years. Trapattoni's cause was undoubtedly helped by Keane's intervention at the pre-match press conference in Torshavn.
The veteran campaigner stood his ground, for which he was also heavily criticised in some parts, and the FAI blinked. After a "constructive meeting" with FAI chief executive John Delaney, Trapattoni's position was "reaffirmed".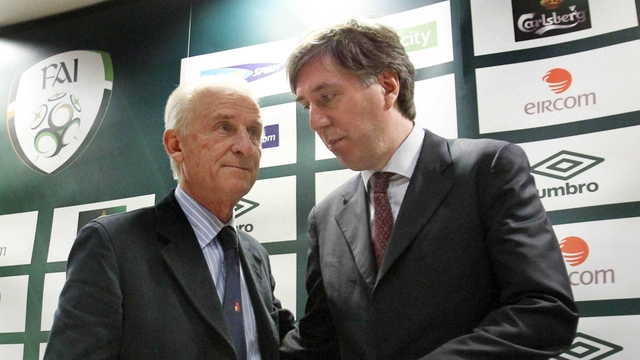 It was an internecine episode. Trapattoni had been undermined and the FAI looked foolish by allowing rumours to circulate as it refused to comment publically.
Young talent emerged in 2012
It was not all bad news in 2012 and the emergence of McClean, Robbie Brady and possibly Anthony Pilkington, as well as the continued development of Seamus Coleman and James McCarthy, offer hope for the future.
Gibson can still play a key role when his self-imposed exile ends. The long-awaited friendly with England also gives players and fans something to look forward to.
Despite their stunning collapse against Sweden, Germany look well placed to top the group and ensure automatic World Cup qualification. The fight is on for second place and Trapattoni points to six games from three games as evidence that Ireland are on track.
The real test comes in a five-day period in March when Ireland visit Sweden and host Austria at home. These are the games that Trapattoni himself has highlighted as crucial to Ireland's campaign.
Failure to achieve his own stated goals will see Trapattoni back in the firing line and increase the pressure on the financially-challenged FAI to act.
Twitter: @glennjmason