By Alan Cawley
As we approach the mid-point of this season's SSE Airtricity League, it is fair to say Sligo Rovers' title challenge is all but over.
They have been less than impressive up to this point, a season clouded by inconsistency.
The Bit o' Red have already lost six league games and when you compare that to the four teams above them in the table that have only lost two each, it more than tells the story.
There are other contributing factors too. Sligo have scored less goals than the four teams above them.
Assess the form in front of goal of Dundalk and St Patrick's Athletic, Sligo Rovers simply can't compete with it.
Sligo have nowhere near the attacking quality that those teams possess.
A lot of that comes down to their approach to games, they are far too conservative and cautious especially in the big matches.
I'm a big fan of Danny North but when I watch him play, he is far too isolated and ends up doing lots of work in all the wrong areas, running into channels and chasing lost causes.
He is a very selfless runner and will do his bit for the team. But you want a goalscorer like North doing his work in the confines of the 18-yard box, an area in which he comes alive.
North is also coming back from a long lay-off but because David McMillan and Anthony Elding have moved on and not been adequately replaced, the club are even more reliant on North.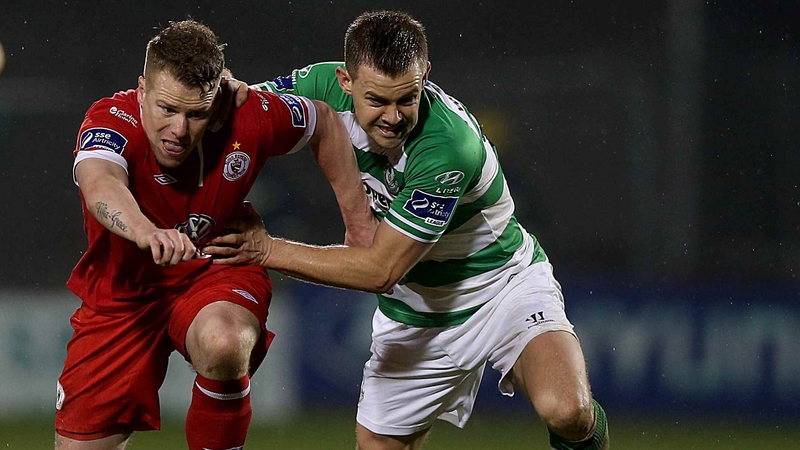 I watched Sligo on Sunday against Shamrock Rovers and in fairness they did do enough to get at least a point.
It was a scrappy affair with little quality from both sides but when Sligo Rovers were dominating the game in the second half, it was an ideal time to throw caution to the wind and maybe go two up top or even three.
It was a game in which they had to win, but whilst the manager Ian Baraclough did make three changes, not one of them were an out-and-out striker. Danny Ledwith, Kalen Spillane and Eric Odhiambo made little impact on the game.
A McMillan or an Elding would have definitely done it.
Defensively they haven't done badly, conceding just 13 goals on a par with all their rivals but they do lack a leader.
Jeff Henderson has done very well but he is still young and learning the game. The loss of club stalwart Gavin Peers has been huge. They are without not just an excellent defender, but a dominant and vocal one.
Something that struck me about Sunday's game was how quiet each player was. They were like mice.
Something that struck me about Sunday's game was how quiet each player was.
They were like mice. Every player was looking around at each other waiting for someone else to take the lead.
Baraclough's side have been unlucky with injuries, with three or four of their top players constantly missing.
The enigmatic Joseph Ndo may be getting on in years but they still heavily rely on his influence.
Again, it's not only his playing ability but also he talks and guides the players on the pitch.
Add in Raffaele Cretaro and Kieran Djilali and they are two of your most exciting, attacking players also missing heavy chunks of the season.
They could have given them a bit of spark in Sunday's game and changed things.
A club as big as Sligo Rovers, with such success in recent years, should have a squad good enough to cope with injuries.
I feel the signings that have come in haven't improved the team and it's highlighted even more because of the players absent.
With the exception of John Russell, the new signings just haven't stepped up to the mark.
You could argue that the players who have left the club, the likes of David McMillan, Anthony Elding, Danny Ventre, Lee Lynch, Iarflaith Davoren, are far better than what has come in.
They stand in fifth position in the table, 17 points off top spot, and this is a club that have one of the highest budgets in the league.
It isn't good enough. Part of the territory of successful sides is there is expectation and the people of Sligo expect them to be challenging at the top of the table.
This Friday night they head to Oriel Park to take on the most exciting team in the league, with Sligo's season hanging in the balance.
A defeat and it could be argued that their domestic season is over.
I really hope that it is not the case because I am a huge admirer of the work that has been done in The Showgrounds both on and off-the-pitch in the last few years.
It was a pleasure to walk into the ground on Sunday with such a lovely facility that has continually improved.
My fear is if the team does not perform on the pitch and fail to reach the heights both the management and most of all the budget dictates, the crowds will start to fall away and that is when all the great work of the past few years can be undone.