by Alan Cawley
Some fantastic football people have written themselves into the St Patrick's Athletic story.
Watch Sligo Rovers v St Patrick's Athletic live worldwide on RTE.ie and RTÉ Two on Saturday.
Live updates on Saturday Sport on RTÉ Radio 1.
Brian Kerr, Noel O Reilly, Pat Dolan, Paul McGrath, Eddie Gormley, Keith Fahey are just some of the names associated with the Saints. They are a strong club in this country and the current domestic standings proves it.
The class of 2012 are trying to emulate these great people and write their own history in the next few weeks.
Liam Buckley and his side have earned plenty of plaudits for their attractive football.
It has worked fantastically. The Saints were star performers in Europe this year, progressing through two Europa League qualifying rounds, and in these crucial final parts of the season they are in excellent form, having comprehensively progressed through to this year's FAI Ford Cup final with a 3-0 win away at Dundalk on Sunday.
(Pictured below: Ireland legend Paul McGrath served his apprenticeship playing for the Inchicore side)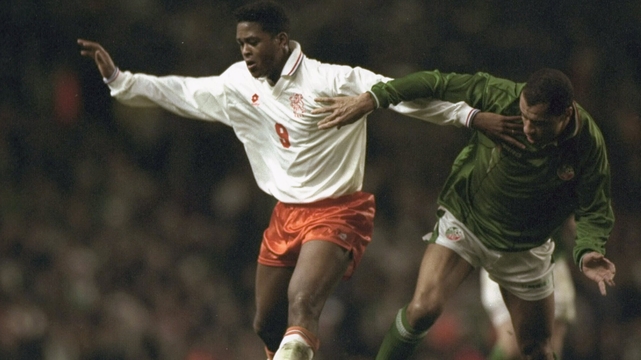 It gives arguably their best chance of ending the infamous FAI Cup drought which is now at 51 years.
Yes, that is correct, over five decades have passed with the Blue Riband Cup competition eluding a club as big as St Pat's.
For the current crop of players, it makes the Cup final so much more special, and they could soon find their names listed with the Kerrs and Faheys.
But for now all the excitement of the final talk will be parked because they still have a glimmer of hope in the league title race.
They travel to the home of league leaders Sligo Rovers on Saturday knowing that a win is the only thing that will keep them in it.
However, those potential three points could throw the Sligo challenge completely off track and given the Bit o' Red face Drogheda United and Shamrock Rovers in their last two matches, it really would be a major blow to Ian Baraclough and his players.
Sligo are still the red hot favourites to take the title. I can't see them slipping up and if they claim victory on Saturday they will officially be champions. But if there is a team in the league capable of going to the Showgrounds and taking maximum points, it is Saints.
They have hit a rich vein of form, have plenty of momentum and are unbeaten in 11 games. Form of champions? Perhaps. To counter, Sligo have not tasted defeat in 19 league games in The Showgrounds. It all points to a duel which could be the highlight of the season.
(Pictured below: Sligo star man Mark Quigley is one of the main reasons that the Bit O' Red are almost untouchable at home this season)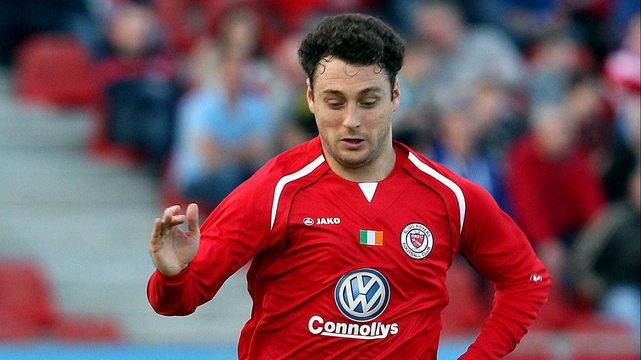 Boasting classy players like Chris Forrester, James Chambers, Greg Bolger and Christy Fagan, Sligo will be under no illusions as to how difficult this game will be and with a crowd of 5,000 expected, it really will be something to savour for the big-game players.
One of most intriguing aspects for me is how Liam Buckley will line up his side.
Will he though stick to his tried and tested 4-3-3 formation that is his preference, or will he be really brave and opt for a 4-4-2 and really go for it?
In playing his most used formation, it will match up with Sligo as they will unquestionably use that system.
The problem behind it for Saints is the lack of penetration that comes with it.
Christy Fagan (pictured below) usually plays the lone striker role and while he is excellent at holding up the ball and bringing others into the game, he can become a little isolated and they sometimes lack that threat of a ball in behind.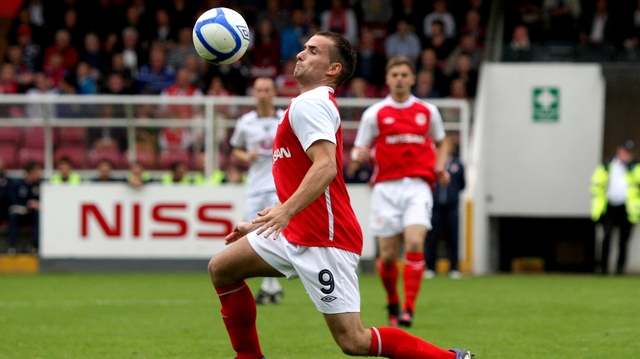 This means they become easier to defend against as all of the play is in front of the defence and we all know how good and how well organised Sligo's backline is.
John Russell was crucial for St Pat's in their 4-3-3 system because he has that ability of joining in and making great runs from a deep-lying midfield position. He returned to action in Oriel Park last week after a long injury absence and that could be a massive factor on Saturday.
In recent weeks I have seen Pat's play with two in the attack positions with Vinny Faherty and Anto Flood included.
It certainly gives them more of a physical presence and will pose a very different problem for Sligo Rovers.
Containment is pointless on Saturday - they need goals and a win and having two up front obviously gives them more of a chance of hitting the back of the net.
It might take away from their beautiful free-flowing football because Faherty and Flood are not as good technically as Fagan, but it is the dilemma Buckley faces on Saturday.
Certainly having the option of such a strike force is the reason they are in such a high position with just three games left.
I feel he will stay true to his beliefs to start with the three man midfield and the choice of change is always in reserve.
It is a very difficult game to call as both teams have excellent qualities and I'm leaning towards a draw.
What is certain, we are in for a fantastic game of football and with the weight of expectancy on Sligo Rovers' shoulders as they look to end a 35-year wait for a league title, it promises to be a fantastic occasion also.
The names of Forrester and Fagan are ready to be immortalised in Inchicore, just how much so will be revealed on Saturday.
Until next week,
Alan