By Ed Leahy
Lost in translation; a consistent theme throughout the tenure of Giovanni Trapattoni as Republic of Ireland manager.
Just like his defence-minded system, the not-to-be-tinkered-with 4-4-2 formation or his team selection, the Italian has always proved that he is continually consistent.
Trapattoni's communication skills, like his Ireland side, have barely evolved since taking over in 2008 and the former Juventus manager was back to his incomprehensibly best in the press conference ahead of tonight's vital clash with Austria.
This week Trapattoni told the assembled European media, "in Ireland there is no league."
Of course, we understood what the manager was trying to say, like we have, to a certain degree, with his many previous vagaries.
But at the same time Trapattoni's comments were both hurtful and disrespectful towards the League of Ireland.
Perhaps the manager should take a good look around his dressing room and ask many of his players how they got the move across to the money-rich leagues of England.
Such comments might actually embarrass the FAI into promoting the league properly and developing a domestic scene they can be proud of, but that's an argument for another day.
And while the Trapattoni comments were put down to linguistic limitations, the more worrying comments came from his trusty skipper.
"Ireland have never had a Plan B, we have had Plan A and that is it" - Robbie Keane
"We talk about Plan A and Plan B and all crap like that," said Robbie Keane. "Ireland have never had a Plan B, we have had Plan A and that is it.
"It is as simple as that and we always played the exact same way since I have been in the squad."
Keane's attempts to back the manager were admirable but, unfortunately for the striker, whose own league is unlikely to get too much coverage in Casa Trapattoni, his rhetoric was, plain and simple, wrong.
For the current Ireland captain was part of Mick McCarthy's team who qualified for the 2002 World Cup and that particular manager's brand of football was certainly a lot closer to the dictionary definition than the current custodian's.
Keane added: "We don't have the personnel to be like Spain and get the ball down and have 80% possession against teams. It hasn't changed since I walked in that door from the first day I got here. It isn't going to change for a while."
The most worrying element of Keane's comments was the implication that the manager appears to have convinced the current squad that they are not good enough to compete on a level playing field with their international counterparts and that the only way to progress is to follow the system.
The thoughts of telling an Ireland team over the past 20 years that they were not good enough to turn Sweden or Austria over is comical.
Granted, there is no Roy Keane or Paul McGrath in the current squad, but if memory serves, there was no sign of Roy Keane in those World Cup games in Japan where Ireland qualified for the knock-out stages by matching the mighty Germans, or in Korea when McCarthy's side dominated Spain before losing out on a place in the quarter-finals on a penalty shoot-out.
But consistency will dictate that Trapattoni's system will be employed once more at the Ernst Happel Stadion in Vienna tonight.
The starting eleven is not much different from the side beaten by Sweden on Friday night as Paul Green comes into the centre of the park in place or Glenn Whelan, while Anthony Pilkington steps in for James McClean. The 4-4-2 formation, of course, remains the same.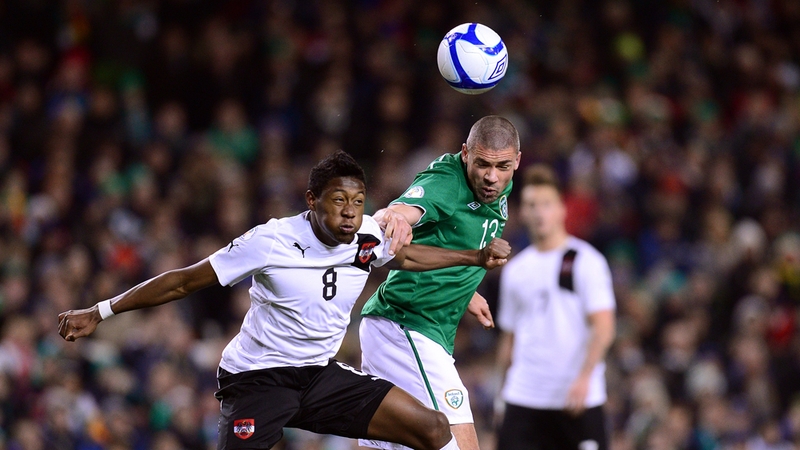 The Austrians are coming into the game on the back of a comprehensive defeat to Germany, yet they are unlikely to be harassed or hurried in the opening stages as Trapattoni will aim to alienate and frustrate the home side.
The Ireland manager expects a hopeful long ball or a mistimed clearance will pay dividends knowing that Keane or Shane Long are more than capable of latching onto a half-chance or conjuring up something out of nothing.
The disappointing factor in all of this is that Ireland are more than capable of beating this Austria side.
Trapattoni's eleven were the better team for 70 minutes in the home fixture, leading 2-1 after recovering from a sloppy early concession. But the negative mindset was employed for the final 20 minutes and was ultimately punished as David Alaba's deflected shot secured a point for tonight's hosts.
But a cautious approach to the opening exchanges will allow Austria large spells of possession, which will breed confidence in a side that have shown plenty of quality in this group.
Players like Alaba, Marko Arnautovic, Andreas Ivanschitz, Andreas Weiman and Martin Harnik will punish this Ireland side, which has looked vulnerable in defence and midfield in recent games and the hosts will be well aware that Trapattoni's system was breached six times by Germany earlier in the campaign.
Thankfully there should be a cup tie feel to tonight's fixture with both sides knowing that victory is essential to have any chance of securing second spot in Group C.
As a result, Trapattoni will have to loosen the reins on Seamus Coleman and Marc Wilson and encourage them to get forward, while James McCarthy must be instructed to take chances and put his stamp on the game from midfield.
Jon Walters and Pilkington both have an eye for goal so, in theory, Trapattoni has named a very attacking side, but the players have to be trusted to perform to their capabilities.
Trapattoni's side have risen to this sort of challenge before with that infamous night in Paris or the miracle in Moscow coming to mind, but recent form and results would indicate that the current side have not got such a performance in them.
Verdict: Austria
@Ed_Leahy