Damien Duff has revealed that in an effort to dissuade him from retiring from international football, Ireland manager Giovanni Trapattoni wanted to speak to the winger's wife.
The Fulham player, 34, who quit after Ireland's ill-fated Euro 2012 campaign, declined the request.
Speaking on RTÉ Radio 1, he revealed: "[Giovanni] wanted to speak to my wife, Elaine. I think he thought Elaine was making me retire, which I don't know where he got that from.
"It was all my own decision but he was like, 'Oh no, Damien, let me speak to your wife.' [I thought] that would be embarrassing and I didn't let him but he nearly got me [out of retirement]."
"Oh no, Damien, let me speak to your wife" - Giovanni Trapattoni
The former Chelsea player also revealed how he was asked to accept his commemorative 100th international cap at Wembley before the recent friendly between Ireland and England.
He said: "Roy Hodgson, my ex-Fulham manager (now England manager) rang me and said, 'I met John Delaney (FAI CEO) and he said we'd love to have you at the Ireland-England game in Wembley.
"Ashley Cole had his 100th cap so we'd like the two of you to get presented [at the same time]. It's lovely, it's a gold cap. And I was like, 'Gaffer, I just can't do it. I think you know me by now.'
"I actually did want to do it for him because I love him to bits... but for once in my life I have to look after number one and I said, 'Gaffer, no chance, it's not going to happen, so thanks but no thanks."
The Ballyboden native went on to reveal how he eventually got the special cap, after meeting Delaney by chance in London.
"I was with my da and we were in some scruffy pub in Heathrow and [Delaney] goes 'Effin' hell, Duffer, fancy meeting you here, look what I've got for you'. And he presented me with my gold 100th cap in some horrible pub in Heathrow.
"That's more me than getting presented with it in front of the whole world."
Duff is now an ambassador for Heart Children Ireland and spoke about how his son, Woody Luke, was diagnosed with a small hole in his heart 32 weeks into mother's pregnancy when his parents decided to have a 3D scan,
A successful operation was carried out when he was six months old.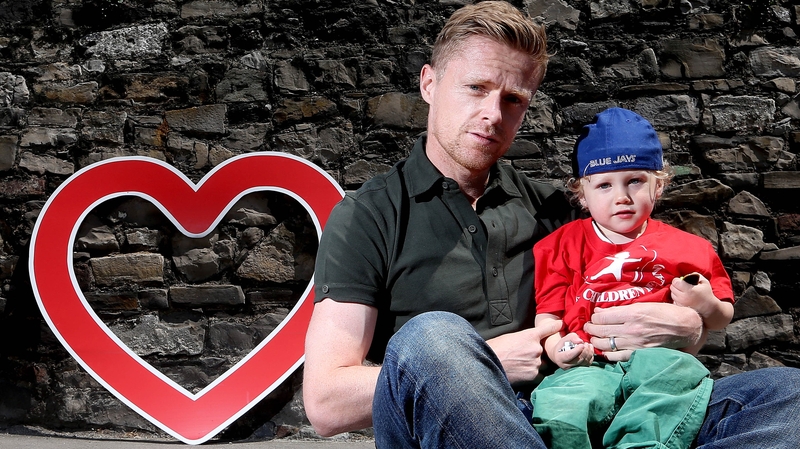 He paid tribute to the medical staff who looked after his son: "Doctors and nurses, they should be on the footballers wages, not us, because the things they can do nowadays is just incredible."
The former Blackburn wideman also said that after his playing career is over he plans to return to Ireland and get involved in youth coaching but ruled out managing his country saying the job was "too stressful".