By Glenn Mason
He has spent much of the last year contemplating life without football, but now Richard Dunne is looking to put his injury nightmare behind him and playing on for another few years.
The talismanic defender returned to the pitch as a second-half substitute in the Republic of Ireland's comfortable 4-0 friendly victory over Georgia at the Aviva stadium yesterday.
A persistent groin injury meant Dunne last played in Ireland's 2-0 defeat against Italy at Euro 2012 and he missed all of Aston Villa's disappointing Premier League campaign.
"Yeah, a few times, when you keep getting setbacks and different things," he said when asked if he thought his career was over.
"Things go through your mind, but thankfully the physios I was working with were very good and they just kept saying 'stick to the plan and we'll do alright'. In the end, we got it right."
Dunne would have settled for the week's hard training with the international squad in Malahide, but the 25 minutes on the pitch came as a bonus.
He said: "It was great. I really enjoyed it. It was the ideal match to come back in to as well the way it panned out over the day and the 90 minutes. It was just nice to get back involved and having the week's training. To finish it off with a game is really good.
"Ideally, you try to play games behind closed doors, but as games go I don't think it could go more perfect than today.
"It was important for myself to clear my mind of what's gone on in the last year. I feel now that I can progress and play again for a couple of years."
"The physios I was working with were very good and they just kept saying 'stick to the plan and we'll do alright'"
Ireland fans welcomed Dunne back with a standing ovation and manager Giovanni Trapattoni has hinted that he could start in the World Cup qualifier against the Faroe Islands on Friday.
Dunne's absence was keenly felt in Ireland's stuttering start to World Cup qualifying, notably in the 6-1 hammering by Germany.
He said: "Obviously, it's been so long I don't know how I'll feel. I might be stiff and sore in the morning, but it's nice that he's [Trapattoni] involved me at all, so I'm delighted with that. If I can get more games it will be brilliant.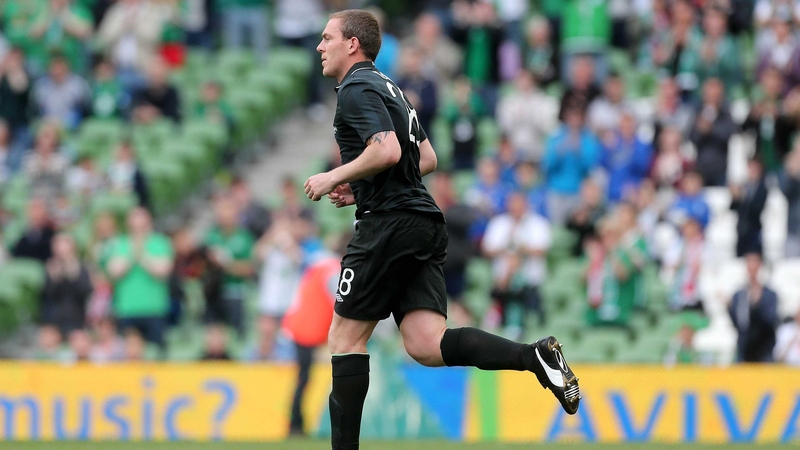 "I'm delighted to be able to play. It's been one of the worst injuries, where all I can do is run. So I just ran for the whole nine months. It's been the kicking of the ball that's been the problem."
Dunne is on the lookout for a new club, and although offers have been thin on the ground so far, he is hoping that he has shown this week that he still has a future at the top level of the game.
He said: "Hopefully today and what happens next week will put a doubt in people's mind about whether I'm fit or not. Something will come up over the next while because I'd like to play for another few years if I can."