By Ed Leahy
The chase for second place in Group C steps up a notch as Ireland battle it out with Sweden in tonight's World Cup qualifier at Stockholm's Friends Arena, kick-off 7:45pm.
And it is the hosts who currently hold the upper hand as they sit one point ahead of Giovanni Trapattoni's side following their impressive comeback against group favourites Germany, where they fought back from 4-0 down to earn a valuable away point in Berlin.
Ireland were also 4-0 down to the Germans in their opening group game, but instead of showing their usual pride in the green jersey and staging some kind of a fight-back, they rolled over and eventually went down 6-1.
A bad day at the office, for certain, for the Irish and now the manager's popularity appears to be at an all time low.
Although the team have shown some sort of revival of fortunes as they travelled to the Faroes and brought home a 4-1 victory, while their opening game of 2013 provided a 2-0 victory over a decent Poland side.
But first of all, let's be thankful for small mercies, as Signor Trapattoni named his starting eleven for the Stockholm clash at Thursday's press conference.
Otherwise, this article would probably have been extolling the virtues of James McCarthy's ability to maintain possession and play some important passes from midfield.
Or perhaps, we'd be mulling over whether Shane Long or Jonathan Walters would be given the role of right-sided midfielder, not to mention Sean St Ledger's welcome return to fitness in time to resume his place in the Ireland back four.
But once again, Trapattoni reminded us that he is his own man, and as long as he is in the job, he will do things the Trapattoni way.
The team selection has shocked many and baffled the rest. The defence and attack is as close to as expected, but the midfield four takes some explaining.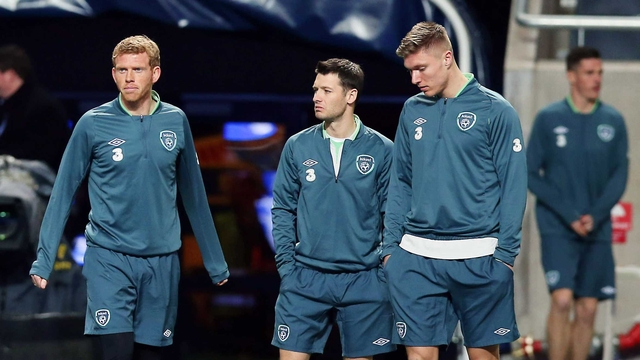 James McCarthy has proved through his club form at Wigan for the past couple of seasons that he is one of the best young midfielders in the Premier League, yet he is overlooked when the Irish midfield is crying out for a player with composure and an attack-minded perspective.
And while Trapattoni has shown signs of evolving the Ireland squad, introducing a wave of new talent, giving Wes Hoolahan his chance and enjoying a presence around the grounds of England, in reality, it's all a façade.
When it comes to the all-important competitive fixtures, Trapattoni reverts to type and his selection for this Stockholm fixture has shown that he has no faith in his players to go out and take on their opponents in a free-flowing game of football.
Two banks of four will sit across the away team's penalty box, the home team will be beckoned to come and attack and the manager will hope and pray that his last line of defence will not be breached.
So why should we be surprised? This is the way that the Irish qualified for the European Championships, this is the way we have moved up the FIFA rankings and this is what we signed up for as we attempt to qualify for World Cup 2014.
We, of course, being Trapattoni's paymasters at the FAI, rewarding the manager with a new contract for taking the country back to football's land of milk and honey in Poland last summer.
So while I really cannot abide the manager's approach to football and the disdain, in footballing terms, that he treats his players with, I will give him credit for sticking to his guns and rewarding players who buy into his philosophy and tactics.
And for those reasons, his team selection shouldn't really shock.
In fact, it should be applauded. Paul Green moving into that midfield to give fellow grafter Glenn Whelan a dig out in the engine room makes a lot of sense if the manager's game-plan is to come to fruition.
Green has been chosen as the scapegoat in all of this and the Leeds United midfielder has, unfairly, been branded enemy number one by the self-proclaimed best fans in the world.
The recent friendly fixture against Poland exemplified what Green can bring to the Irish set-up.
Arriving into a clueless Ireland XI at half-time, Green added much-needed steel into the middle of the park, broke down the play and allowed our players to play and go on to dominate the Polish to win 2-0.
My main concern with Trapattoni's team selection is the tentative naming of young Robbie Brady, apparently with conditions attached.
Trapattoni explained, as only he can: "I spoke with him. I said, 'Are you sure, are you okay?' "He said, 'Yes'. I wish to push him. I liked him against Poland.
"I said he must repeat this game. He promised me after the training (he would) and I will speak again with him. It is not a big problem, only psychological. I push him."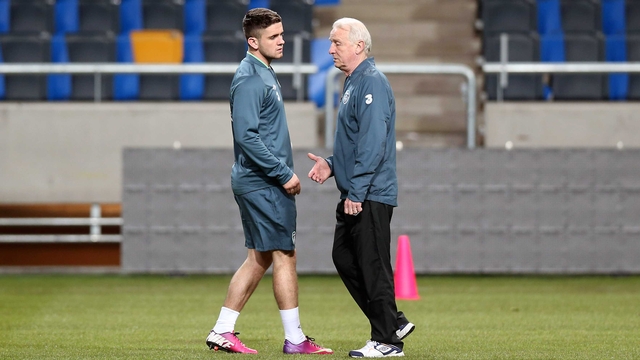 What sort of pressure is that to put on a young footballer at the start of his international career?
No player is going to turn down a place in the starting XI but now Brady knows that if he cannot live up to the manager's expectations he could find himself hauled off at half-time, or even before that.
What could that do to the confidence of Brady?
It's irresponsible by the manager and almost gives him an excuse to blame a player who, he might argue, 'probably wasn't ready'.
But what about the game?
Many have written off Ireland's chances going into this tricky away tie in Stockholm.
The basis of this would appear to derive from the Swede's impressive comeback against Germany when Erik Hamren's side scored four second-half goals to draw 4-4.
The form of Swedish superstar Zlatan Ibrahimovic is another major factor why the home side are considered too strong for this Irish team.
The Ibrahimovic factor is obviously a great cause for concern because on his day he is unplayable and can conjure up goals from the most unlikely scenarios with technical ability that belies his towering frame.
But Ibrahimovic has been known to go missing in games and there is only so many of those wonder-goals in even the best players' locker, so if Ireland can nullify the Zlatan factor, the playing field is levelled considerably.
Let's take a brief trip back to EURO 2012.
While the Irish were getting dumped out of the competition at the first stage in Poznan and Gdansk, over in fellow host country Ukraine, the other best-supported team of the tournament, Sweden, were suffering a similar fate losing their opening games to two average sides Ukraine and England.
Granted, the Swedes gave the yellow and blue masses something to cheer about finishing the group with a facile 2-0 victory over a French team that never showed up.
Ibrahimovic grabbed his wonder-goal that evening, but it was not enough to save the Swedes as they bowed out of the tournament.
Similarly, in that remarkable comeback in Berlin, Sweden only had four attempts on target throughout the ninety minutes and scored all four. While it has to be applauded as a sign of the heart that is present in the Swedish squad, it also has to go down as a fluke result overall.
And Sweden's form in Group C has hardly set the world alight, beating a poor Kazakhstan side 2-0 at home and having to come back from behind to scrape past the lowly Faroe Islands 2-1.
The game at Friends Arena will be akin to a Premier League clash, admittedly a mid-table one. It will be physical, fast-paced and, no doubt, strewn with errors and lots of possession wasted, particularly from the Boys in Green.
But that is the type of game that these Irish players will thrive on and as a result, are more than capable of bringing home a point, which would be seen as a major boost for Ireland's qualification chances and, of course, justification of the manager's philosophy.
The result may well be determined by which team makes the least amount of mistakes, or perhaps, by a moment of magic. And should it be the former, well then Ireland really do have a fighting chance of raising the (probably closed) roof at the final whistle tonight.
So to paraphrase a wily old Italian: "Ireland getting a result is not a big problem, only psychological."
Verdict: Draw