E-mail your thoughts and opinions to sportonline@rte.ie
By Rory Houston
2156 Ok folks, that is it for the night. Thanks for reading and for the huge amount of e-mails tonight. There was some great debate.
Well done to Ireland for the three points and going joint top. See you all again soon.
2155 Keiren Westwood said: "It's massive. We've got a lot of key players out but we worked hard and I thought we deserved it.

"I'm just happy to be involved. Sometimes you don't really want to touch the ball but I was delighted to make the save and happy to have contributed."
2154 Would the panel not agree that the FAI forcing fans to buy package deals for more than one match causing the small crowds. If I could buy a ticket for tonights game solely I would have gone, but I'm forced to buy a ticket for Uruaguay. Shame on the FAI for their high ticket prices and package deals. They care about their wallets and NOT the team. Shame.
Glen Forbes - Co. Dublin

2151 Trap states he will change the wingers for the friendly on Tuesday but not for qualification games.
2150 People will find money to support Ireland, but not when it is so poor to watch.
2146 I can't understand Brady's comments. I paid €35 to go to the Wales game. I might as well have tried to buy a bottle of Dreamysleepnightysnoozysnooze.
It's dull and we know the way games will go. It would be an amazing achievement to get more than 40,000 for games like this at such high prices.
2145 "Making very hard work of what is an average, if spirited, Macedonia side. What will be said by many football journalists in the coming days is also painly obvious to anyone who follows this Irish team: Our central midfield pairings to date are not working, its time for something new, especially with the many exciting options we have."
Keith Mahon

2142 Liam Brady gets very heated about Bill's comments about the poor crowd at the Aviva. Brady believes it is to do with the recession, calling it "below the belt" when Bill states it could be the poor quality of football.
It's clearly a combination. I don't think the Republic of Ireland are value for money. Further price cuts are needed.
2137 "It is great that we won but it is depressing with the way we played". Eamon Dunphy.
2135 This is a massive win for Ireland. A great night, despite some shakiness in defence and a nervy end.
2134 Ireland have seen it out. Three points and a massive relief. Ireland go level on points with Slovakia and Russia.
Full-time: Rep of Ireland 2-1 FYR Macedonia
90 + 2 min Long appeals for a penalty after some great control and exchange with Aiden McGeady. The Irish fans sing "I just can't get enough". It's 30 seconds more folks.
90 + 1 min Pandev picks it up again with Ireland getting numbers on the striker and cutting out the danger. Damien Duff is named man of the match. Experience, talented and a still a major player for Ireland.
90 min Lovely play by Ireland, proving they can pass it around and not play a negative game. Eventually it falls to McCarthy in the area, with Macedonia getting in front of the ball. There will be three minutes added and the away side have a free just inside their own half.
88 min A couple of loose passes from Ireland and nerves are jangling. Pandev wins the ball in the area but a combination of Dunne and Foley get it away.
87 min James McCarthy is an Irishman! He's on for Keane.
87 min Robbie Keane, in his final act of the game, gets set to shoot after brilliant work by Shane Long. Keane's low shot is blocked by the Macedonian defender. That was a great chance.
86 min Fahey fires the free over the bar. James McCarthy is warming up, with crowd getting a bit excited. The more attacking players the better I feel in the final few minutes.
85 min McGeady is brought down on the edge of the area. It is a similar spot to where Keith Fahey scored against Wales in the Carling Nations Cup.
84 min O'Dea jumps with the goalkeeper after the free, with the defender fouling his opponent.
83 min Keane does well to hold it up in the corner, with Ireland enjoying most of the play now. Popov fouls once more with the crowd calling for a yellow card. The referee is happy with just giving the free.
81 min Ireland are on the front foot with Kilbane challenging from a Fahey free and Long now winning a throw-in. It's all about keeping the ball and pinning back Macedonia so this is encouraging.
78 min Fahey will bring some composure to the Ireland. Popov pushes Duff and that will be an Irish free. Popov has already been booked and he is lucky to get away without another booking. From the free, Keith Fahey sends in a curling cross but it's only Robbie Keane in contention and the away team clear.
76 min Keith Fahey has come on for Darron Gibson. Hit and miss from Gibson tonight.
75 min Westwood makes a crucial save as Trichovski gets in on goal from a long punt forward. It was Foley that was slack there. He let the man go and Trichovski controlled brilliantly. Westwood was sharp and got out in time to make the save.
"Basically we're playing with 9 men and once again without a centre midfield, hence the amount of possession that a poor nation like Macedonia are currently enjoying. Furthermore, it's the end for Kilbane who has dropped down the divisions to get first team club football, and his passing and distibution have been terrible.....we need to sort this postiion out before we next play the Slovaks and Russians. Lets hope he brings on James McCarthy in midfield instaed of replacing Keane like he had intimated earlier during the week, Trap OUT!"
Daniel Doody.
74 min O'Dea clears from another Macedonia corner. The crowd have gone silent. Trap has to make a change. Ireland are sitting back now and playing on the break.
73 min Ireland are playing a dangerous game, leaving gaps for Pandev and company to exploit at the back. The Inter Milan man is desperately searching for a good through ball because he has the beating of Dunne here.
72 min Macedonia look dangerous going forward. Ireland are much better off defending through attack because they look shaky in the back.
71 min There has been some poor passing in this half. Whelan gives it away with Dunne making a crucial interception soon after as Pandev looked to beat the offside trap and get in on goal.
68 min McGeady is causing problems again, with a dipping cross just about dealt with by Macedonia as Long got ready to pounce. Ireland really need this third goal. Nerves are starting to creep in already.
67 min Naumoski heads over from the resulting free.
"Wow, I mean really, wow. Robbie, the greatest Irish striker of all
time?
"What a sweeping statement and one dripping with idiocy.

"Robbie has scored a huge amount of his goals in meaningless friendlies against minuscule nations.
"If Brady, Cascarino, Sheedy or Aldridge had as many games against such rubbish teams, they would be out of sight in terms of goals scored for Ireland.
"He is at best a journeyman, a mercenary, who has delivered so little this season that he does not deserve his automatic place in this team. Overhyped and overpaid. And yes, I send this knowing he has scored another wondergoal tonight."
Sean in Galway.

66 min Pandev goes on a mazy run on the left wing, holding off Dunne. The defender pulls back Pandev and the referee awards a foul. Dunne is booked and will miss the next game in Skopje.
65 min What a chance. Duff wins it in midfield from Popov and Ireland are about to have a man over with Keane and Long ahead.
Duff gives it to Keane but he can't pick out Long. The Reading man is in acres of space, with Keane trying to pass it through the defender's legs. Macedonia clear. That is frustrating.
63 min Macedonia win a corner, with Westwood coming to claim the ball. Good work from Westwood.
61 min Ireland on the attack once more as Whelan fouls on the edge of the area when looking to win the ball and shoot. Keane was beaten in an aerial battle from a high Kilbane cross previous to that. James McCarthy for Robbie Keane is a change likely around the 75th minute mark I reckon.
59 min Demeri is injured so Popov puts it out. There'll be a break in play, with the midfielder able to get to his feet almost immediately.
58 min Duff's shot from 25 yards is blocked once more. McGeady has it on the left and manages to chip a ball back for Duff who control and strikes it with his right foot. It goes just outside the post. That was better by Trap's men.
56 min A sensational tackle by Gibson 30 yards from his own goal sees Ireland win it back. McGeady tries a shot but it is blocked by a Macedonian defender. Ireland need a bit more conviction in attack.
55 min Foley gives the ball away after a passing move with Keane and Duff on the right wing.
55 min Slovakia have clinched a 1-0 win in Andorra. Not convincing but three points.
54 min Long is back on the pitch with a head bandage as a result of that earlier challenge. Macedonia are coming into this game, they look more confident.
53 min Demiri blazes over from distance. Ireland would like a clinching third goal. Andorra threaten a late equalising goal but Slovakia will hold out.
52 min Keane is forced out of play as he looks to get a shot in on goal.
50 min Yellow card for Grncharov as he basically kicks Long in the head when going for the ball. That was a reckless tackle on the halfway line and it could have been red. That could have been red.
47 min Pandev places a shot wide of the post from a cross from the right. Andorra are trying to get the ball upfield with two minutes left.
2046 The stadium in Andorra reminds me of Finn Park in Ballybofey. Needless to say the pitch is a lot better in Donegal.
2045 The second half is about to get underway in the Aviva.
2041 I'm watching the Andorra game now. The pitch is in a shocking state. There is barely any grass in one half of it. It must be impossible to pass the ball and may explain why Slovakia are only a goal up.
2038 It really was a lovely goal by Macedonia. Richard Dunne will be disappointed with how easily he was fooled by Trichovski.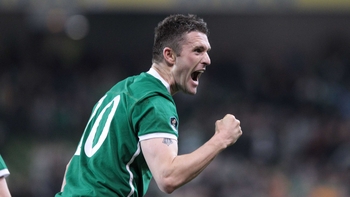 Robbie Keane celebrates Ireland's second goal
2032 The referee blows for half-time soon after the goal. After such great work, Ireland will now be under pressure in the second period.
Half-time - Rep of Ireland 2-1 FYR Macedonia
45 min Pandev shows his class by slipping a lovely ball through to Trichovski who turns Richard Dunne and places the ball past Westwood and into the corner. Really disappointing for Ireland. To be fair, the away side probably deserve that as Ireland have let them have the ball.
GOAL- REPUBLIC OF IRELAND 2-1 FYR MACEDONIA
43 min Again, little happening with Macedonia knocking the ball about on half-way.
42 min With 22 minutes left in Andorra, there is still just a goal between the teams.
Phil Mitchell has called for Ireland to get a few more goals against what he believes is poor opposition. You'd hope that will be the case.
41 min Ireland allow Macedonia time on the ball because they don't look like finding a telling pass. It has gone a bit flat in the last two minutes.
39 min Shane Long heads on Westwood's kick-out. The ball falls to Robbie Keane and he takes it first time, on the volley, with the ball going well over the bar.
37 min Macedonia win their first corner of the night. Ireland will want to get to half-time with this lead. Whelan's heads away well from the corner.
36 min McGeady is being tracked by two men now so he will have to work a bit faster when receiving the ball. He loses possession on the right and Macedonia come away with it.
"Listening in on radio, sounds like great match. With a Russian slip up we need to get the goals tonight and its working.........come on Ireland"
Alan Corr.
34 min Long puts a cross in when under pressure from Popov. The defender's persistance means the former Cork City man's cross is weak and the goalkeeper can claim. And he actually does claim it this time.
33 min Demiri gets ahead of Duff and with Westwood at full stretch, the ball goes inches wide of the post. That is a warning for Ireland. They can't afford to switch off.
32 min Dunne gets a foot to the corner. The away side manage to clear the ball. Duff wins it back with more great work. He's putting in a great shift tonight.
31 min McGeady wins Ireland a corner. He's been very good so far and Macedonia are struggling to cope.
30 min Tony O'Donoghue confirms it is a knee problem and it looks fairly serious.
28 min Macedonia have had spells of possession without threatening the Irish goal. Composure is the key now. Ireland can pass it, keep it and see this game out in comfort. They can't afford to drop back.
26 min Chloe is wondering about Doyle's injury. It was a knock to his knee.
"Looks like trap wants to be our 12th player tonight someone give him a pair of boots! Come on shane long!" Chloe.

25 min I think that was the best Irish passing move since.....well I don't remember a lot. Keane's deft look puts Long free. He gets into the area, cuts back on his left foot but the shot is sliced wide of goal.
24 min This has been a gift for Ireland. They now are knocking the ball around with confidence.
22 min I repeat. I repeat. Ireland's greatest striker.
Gibson shoots from the free. It is a rubbish effort but Nurerdinoski spills it once more and Keane manages to beat the goalkeeper to the loose ball and converts. See 1745.
GOAL- REPUBLIC OF IRELAND 2-0 FYR MACEDONIA
20 min Long wins a free kick 25 yards from goal. Gibson or McGeady will step up it seems....
18 min Long comes on for Doyle. Jim Beglin points out that Robbie Keane will probably have to play 90 minutes now that we have used our only available striker on the bench. Robbie said he was ready for it.....
17 min Long is warming up and the Irish players are gesturing that Doyle will have to leave the game. Trap has called Gibson over to the touchline to give him some advice. Doyle limps away.
16 min Uh oh. Kevin Doyle goes down injured and looks to be in a lot of pain. It looks like he will have to go off.
14 min The corner is overhit by McGeady and it goes out for a goal-kick. It is important Ireland do not let this tempo drop. They are on top in many areas of the field without having too much of the ball.
14 min Grncharov heads it out for a corner with Dunne looking to connect with the ball.
13 min Lovely bit of trickery from McGeady. He wins a free that once again will be whipped in. A second goal would put Ireland well on the way to three points.
13 min Popov fires a shot well wide from 30 yards.
12 min Zinedine! Kevin Kilbane puts in a fine cross that Kevin Doyle heads towards goal but Robbie Keane can't connect with the ball. It's a corner as the goalkeeper pushed it out. Richard Dunne fouls the keeper. Trap will be thrilled with this start.
10 min Duff puts pressure on Popov beside the corner flag at the North Stand end, with the left-back coming away with the ball.
8 min It is half-time in Andorra with Slovakia ahead 1-0. The Irish singing section in the South Stand is in fine voice.
7 min The cross comes to nothing as Ireland start to build again. The ball is worked to Duff, who puts in a relatively poor shot. Once again the Macedonian goalkeeper makes an error but he manages to claim the ball before Kevin Doyle can pounce.
6 min A trademark run by Damien Duff means Ireland have a free near the touchline. This will be flighted in towards Dunne and Kilbane.
4 min Macedonia have possession after the goal but no threats towards goal. O'Dea makes a great challenge after Pandev has a teasing run. That's a good start for the defender.
2 min What a start for Ireland. Aiden McGeady receives the ball outside the area after a pass from Kevin Doyle. McGeady checks and fires a low shot towards the corner of the goal which the goalkeeper should deal with but he can't keep it out and Ireland lead! That is McGeady's first goal for Ireland.
GOAL - REP OF IRELAND 1-0 FYR MACEDONIA
1 min The game is underway, with Westwood getting an early touch.
1941 Robbie Keane roaring the national anthem in a noteless fashion is an institution of Irish football.
1940 The Irish team are standing for the national anthem. The Aviva is half-empty at this stage. Half-full if you are from the FAI.
1938 The players are making their way onto the pitch.
1937 John Giles and Liam Brady have backed Ireland to win. Eamon Dunphy is "very worried".
1935 10 minutes to kick-off, going for a 2-0 win to Ireland with Robbie on target. I may have stated that already.
1934 Robbie Keane has spoken of his pride at captaining Ireland for a record 41st time.
1927 "Colm Maguire here in the south of France. Surely Ireland have better talent than Kilbane available and better tactics than 4-4-2. I can remember Mr Dunphy being over the moon at the appointment of Trap, as I was at the time. But the old man has old ideas. If we get roundly whipped by Macedonia tonight, it wouldn't surprise me. We have to win this group, anything else with the player available, given the opposition we are facing, is failure. I really hope it's a good result, then a good performance."

1925 Slovakia have made the breakthrough against Andorra. It took 23 minutes. Booooo.
1924 Just kidding.
1923 Interesting. Trap did an interview with Tony O'Donoghue yesterday and spoke in Italian throughout to explain his tactics better. How hard is it to say "a lack of creativity in the centre of midfield is how we will win"?
1921 This is a big night for Whelan and Gibson. With the defence looking weak, it is crucial they perform in this game.
1920 Liam Brady has played down the threat posed by Goran Pandev. He's about 10 times better than the usual opposition Kevin Kilbane and Darren O'Dea come up against in the lower leagues.
1917 "No doubt Macedonia will defend and try to get out of Dublin with a point, so it is important that Ireland be attack minded. The tactics are more important than the selection of the perfect striker. Play three up front, or bring one of the midfielders into attack to keep pressure on Macedonia, play in there end of the field. Gibson will be influential if allowed to come forward."

Brendan from Vancouver
1910 "Hoping to see some of James McCarthy today to see what all the fuss is about! Delighted Duff is back in the team, he's been so unlucky this campaign with his injuries but has been looking sharp in the past few games for Fulham."
Paul, Boston

1906 Eamon Dunphy thinks Ciaran Clark should have started ahead of Zinedine Kilbane. I have to say I agree with that.
1905 Live streaming of the game is available now to users in the ROI. Radio 1 stream is available worldwide. The links are above.
1858 Shane Long is the only striker on the bench.
1857 Republic of Ireland: 1 Westwood; 2 Foley, 4 O'Dea, 5 Dunne, 3 Kilbane; 7 McGeady, 6 Whelan, 8 Gibson, 11 Duff; 9 Doyle, 10 Keane.
Subs: 16 Forde, 12 Kelly, 13 McCarthy, 14 Long, 15 Clark, 17 Lawrence, 18 Fahey.
FYR Macedonia: 1 Nurerdinoski; 2 Shikov, 3 Popov, 4 Noveski, 15 Grncharov; 8 Shumulikosi, 17 Demiri, 16 Tasevski, 7 Trichovski; 10 Pandev, 11 Naumoski.

Subs: 12 Bogatinov, 5 Metreski, 6 Georgievski, 9 Risticj, 13 Despotovski, 18 Lazevski, 20 Gjurovski.
1855 "Let's remember that Long didn't look up to much against Man City in the Cup recently. Big difference between scoring 20 in the championship and Premier League or at International level."

Jerry (Grass Valley CA)
1852 The best Georgia result since Miss Salpa wore an Ireland jersey?
Georgia 1-0 Croatia is a full-time score in Group F. Big win for Georgia.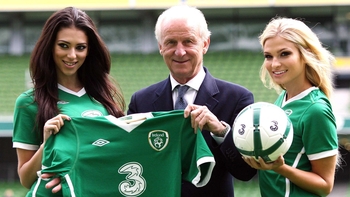 1848 "Great to see we at least now have options up front with walters and long very unlucky to miss out. Both good options to come off the bench. Would have loved to have seen Coleman out there as well. St Ledger needs that move to a better club and would have to be worried about O'Dea and Kilbane. Saw O'Dea come on and struggle for Ipswich against Leeds a few weeks back and Kilbane god bless him, well, his best days are behind him. Nevertheless lets see a 2 0 win for my beloved boys in green!"
Raymond Healy - A proud Galway man in Liverpool.
1846 I think that just about sums it up Seamus.
1845 "Robbie Keane's goal scoring record for Ireland speaks for itself. It is disappointing when so called Irish fans give out about him. Nobody can question his pride and the commitment he gives in every Ireland performance. Sure he has missed a few chances but he has scored a hell of alot of important goals for Ireland."
Seamus Gorman

1844 "Let us not forget the embarrasment of April 1997, those dog ugly orange jerseys, the awful display, the ruined qualification chances. The Russian result today means that nothing but a convincing win will do, ball is in our court for once, lets play with it!!!"
Ciaran (Long Island, New York)

1843 I don't think Trap picks players based on form!
1840 "Ireland to win tonight 3-1. Re the Keane saga, I thought all players were picked on current form ? If so then why not Shane Long ?, 20 goals this season. I think traps blinders are on. Keane is not fit so should not start!"
John Lambert
Conway ,Arkansas.
1803 Duff is in great form. He could be key for Ireland tonight.
1802 "Damien Duff will score tonight in a 2-0 win for Ireland with Robbie getting the other goal."
Tony McGrath
1753 Infatuation? 45 goals in 104 caps probably means Robbie deserves a bit of loyalty.
1752 The arguement below really makes me wonder. Robbie Keane is the greatest Irish striker of all time.
Statistically, in terms of ability and I believe in terms of effort, Keane is our finest. I don't see what trophies have to do with it.
He missed a chance against France? He also scored against France when Ireland needed an equalising goal in the tie at the time.
He's scored goals for us in a World Cup, he is our most experienced striker and just because Shane Long has had a good season in the Championship does not mean Keane should be dropped.
I also remember a time when we didn't have anyone to put the ball in the net against these "weaker" nations. Robbie changed that, and has also scored against the more talented countries.
1745 "I hope to God he proves me wrong but I just can't understand why there is a big infatuation with Robbie Keane.
"He had the chance to stand up in France with chances to send us to the World Cup and FAILED.
"He missed a peno against Slovakia and good chances.
"If we don't get to Euros he is to blame. Shane Long is a better player. Fact. What has robbie won? Nothing, I watch him time after time he lets Ireland down more times than enough.
"Start Longy and maybe Robbie will put some pride back into the jersey."
Damian Co. Derry.

1740 I think Robbie Keane will produce for the Republic once again. You have to worry about a defence that consists over Kevin Kilbane and Darren O'Dea. I'm going for 2-1 to Ireland.
1738 I've had to amend my statement about Ireland going above Russia tonight. It's head-to-head that counts, not goal difference. Anyway, the important thing is Ireland win. What are your predictions?
1707 So, Slovakia kick-off against Andorra at 7pm. I think we can rule out any more favourable results for Ireland in Group 3 today. I'll be building up to the Ireland game from here on.
1653 It's a good result for Ireland in terms of the chances of winning the group. Armenia are now very much in contention for the play-off spot though. They'll be happy with the result.
1651 Russia drop points away to Armenia, meaning the Republic of Ireland can go level on points with them in Group B with a win tonight.
Full-time: Armenia 0-0 Russia
1648 Three minutes to be added.....
1647 We're in the final minute. Arshavin threatening still but no sign of the breakthrough.
1641 With seven minutes left on the clock this game looks like finishing level. Russia are lacking a bit of urgency.
1637 Arshavin curls a shot wide from just inside the area. The goalkeeper looked to have it covered.
1635 Pavel Pogrebniak comes on for Russia as they go in search for the three points.
1632 Zhirkov goes close with a shot from 20 yards. Russia are cranking up the pressure with 15 minutes left on the clock.
1629 Alexander Kerzhakov's penalty appeal is turned down. He was set to shoot when one-on-one with the goalkeeper when under pressure from two Armenian defenders when he went down.
1627 There are 20 minutes left and Russia really haven't threatened in this second period. They are seeing more of the ball but Armenia are keeping their shape well.
1625 "My friend, Hansberry, has held a grudge against Keith O'Neill ever since Macedonia scored THAT equaliser against us all those years ago. He has said he'll write to Keith to formally forgive him if Ireland get the win tonight. I'm sure Keith will be pleased. The Daz-Man, London."
Ah memories. Horrible, horrible memories.
1619 If any team looks like scoring, it is Armenia. We've hit the hour mark in Yerevan.
1612 Yedigarian drags a shot wide from just outside the area for Armenia.
1611 Armenia have gone very close to opening the scoring but a shot goes just wide of the post from eight yards. Worrying times for Russia.
1606 Remember, Ireland won in Armenia thanks to Keith Fahey's goal. It would be a huge boost for Ireland if the Russians dropped points here.
1605 The second half is underway in Armenia. Russia came into the game in the last 15 minutes of the first half and had nine corners. It is a bit flat in the opening minutes of this period.
1550 Good news for Ireland in Armenia so far. Russia have been held scoreless after 45 minutes. For the next hour, I'll be giving updates on that game.
1545 Ireland kick-off their Euro 2012 qualifier with FYR Macedonia in four hours time. It's a must-win game for the Irish.