Dani Alves' unconventional handling of the racist abuse he suffered during Barcelona's Primera Division match at Villarreal received growing support on social media on Monday as his fellow professionals posted images of themselves posing with bananas.
The likes of Sergio Aguero, Neymar and women's superstar Marta took to Twitter and Instagram to show their backing for the Brazil defender's actions, which took place during the second half of Barca's dramatic 3-2 comeback win at El Madrigal on Sunday night.
In response to a banana being thrown onto the pitch in front of him as he prepared to take a corner, Alves nonchalantly picked it up, peeled it and took a bite before continuing with the game.
The 30-year-old has been the victim of racist abuse before during his time in La Liga and he said after the match: "You need to take these situations with a dose of humour. I've spent 11 years in Spain and it's been the same for 11 years. You need to take it almost as a joke and laugh at these retards."
Tw Neymar: " #weareallmonkeys " [@neymarjr] pic.twitter.com/1IdqzZ8eO7

— barcastuff (@barcastuff) April 27, 2014
Alves' unusual reaction to Sunday's incident has hit the headlines and seen him receive increasing support from the world of football.
His Barca and Brazil team-mate Neymar led the way after posting a picture on Instagram of himself holding a banana on Sunday night while writing "We are all monkeys", and on Monday that image had been replicated by several other players.
Argentina and Manchester City striker Aguero followed suit with a picture of him and Brazil women's superstar Marta taking a bite from bananas, accompanied with the message: "With my colleague Marta from Brazil we say #NoToRacism. We are all equal."
Tottenham duo Nacer Chadli and Moussa Dembele were also pictured eating bananas with a message supporting the fight against racism.
Togo and Tottenham striker Emmanuel Adebayor said on his Twitter account: "Massive respect to danid2ois, there is no place for Racism in Football. #saynotoracism."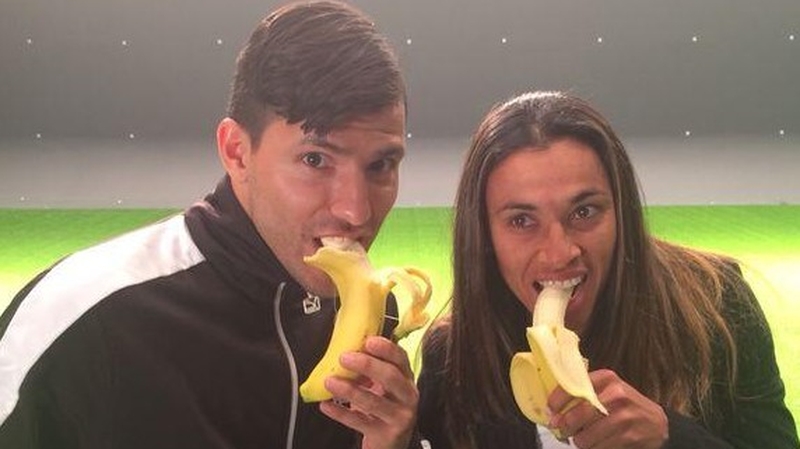 Former England captain Gary Lineker, meanwhile, described Alves' reaction as "utterly brilliant" on Twitter while adding "Treat the racist berk with complete disdain!".
The racist incident, which occurred in the 75th minute of the match when Barca were trailing 2-1 and in the middle of a comeback from 2-0 down, was also condemned by Barca in a statement released on Monday which saw the Catalan giants give Alves their full backing.
The club said it accepted the insults were not related to Villareal, and said Villareal's "immediate condemnation of the incidents is a step in the right direction to firstly isolate and then eradicate completely from the sporting arena this kind of behaviour".