Jose Mourinho believes Chelsea must learn how to unpick opponents who throw 10 men behind the ball or miss out on the Premier League title again.
The Chelsea manager admits his Stamford Bridge side fell short in last term's title race due to a lack of final-third quality.
Mourinho believes new recruits Cesc Fabregas and Diego Costa will help solve that problem, with Chelsea opening their league campaign at Burnley tonight (20.00).
The Portuguese boss admitted Chelsea have worked extensively in pre-season on unpicking opponents who set out solely to nullify his side's threats.
"We need more quality in our football," said Mourinho. "When you have matches with space and time it's much easier to play football.
"When you don't have space and time because a lot of football is based around tactics and systems: in a very simple way, everything depends on space and time.
"And when you don't have space and time to play, you need more quality. We are working exactly in that direction.
"We have worked on exactly that in training, expecting a team to be defensive and try to close every road to goal."
Last term, Mourinho's first season in his second managerial tenure at Chelsea, ended with no silverware reward.
Defeats like the galling 1-0 home reverse to relegation-battling Sunderland left Mourinho defending his top stars at the time.
Now though the Chelsea manager has conceded only sharper build-up play will allow the west London club to break their trophy deadlock.
Mourinho has admitted he will face a big test to keep both goalkeeping rivals Petr Cech and Thibaut Courtois happy this term - but did not foresee similar issues in the Blues' midfield.
The Chelsea boss believes Fabregas will offer a new dimension in midfield play this term to complement a host of box-to-box runners.
The former Real Madrid and Inter manager said none of his midfielders will command automatic selection - but neither will any be out in the cold.
"That is not so tough, because we play 60 matches in a season," he said.
"In this first two weeks it's one match a week, but after that starts the cups, the Champions League and the national team.
"So you have to adapt, nobody will feel they are first or second choice.
"Mikel, Matic, Ramires, Fabregas, Schurrle, Van Ginkel: so everyone will play, everyone will feel useful, important. On the field we have a very good balance."
Mourinho will keep Courtois and Cech guessing on which goalkeeper will start Burnley tonight.
Striker Didier Drogba is expected to shake off an ankle problem to be passed fit for action, with Diego Costa and Fernando Torres also in contention.
Chelsea thinned out their squad on Monday by allowing midfielders Josh McEachran and Marko Marin to leave on loan, to Vitesse Arnhem and Fiorentina respectively.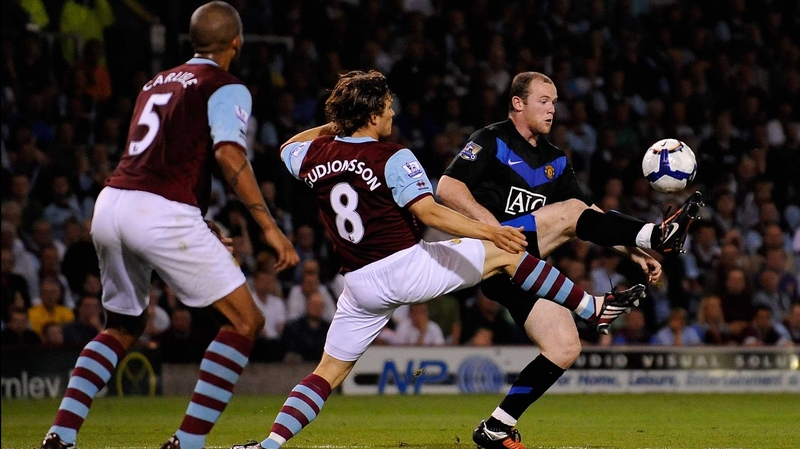 Meanwhile, manager Sean Dyche is offering no promises to Burnley fans hoping their return to the top flight can be as spectacular as the first time Turf Moor hosted a Barclays Premier League game (pictured).
That was in 2009, when the Clarets announced themselves by beating Manchester United 1-0 - Robbie Blake scoring the goal and Brian Jensen saving a penalty.
Burnley were relegated at the end of that season but earned a surprise return after four seasons in the Championship by finishing second last term.
Dyche said: "What we are looking to guarantee is that we're ready, we're able, we're certainly mentally and physically motivated to go and deliver performances. Where that takes us we'll only know once the season gets off and running.
"There's always confidence because you believe in how you work, your staff's work and your players' work. That's what coaching and management is about.
"But you can only get to that point when you're ready. When that whistle blows, it really is down to players and how they perform. That's the magic moment.
"We're obviously looking to show we can at least be competitive, give good performances and see where that takes us."
Burnley make their return to the Premier League with a virtually fully-fit squad.
Only striker Sam Vokes, who ruptured the anterior cruciate ligament in his left knee in March, definitely misses Monday's clash against Chelsea at Turf Moor.
Summer signings Lukas Jutkiewicz, Michael Kightly, Steven Reid, Marvin Sordell and Matt Taylor will hope to make their debuts.