Question: So much has been said about David Moyes in his first six months in charge. How do you feel he has done?
McGrath: "I think he is finding it a little bit tougher than he hoped. I think it is just the transition from Everton who are maybe not as big a club as Manchester United. He would have been prepared for this by Alex Ferguson, that is what I don't quite cop on to.
"Sir Alex must have sat down with him a few times and said 'now you understand that it is going to be a bit of a culture shock to be at Manchester United'.
"I feel for him a little that he is finding it so hard. When teams go to Old Trafford and they don't see Sir Alex on the bench, I think they get a little more frisky and actually start believing they can win games which they have done."
Question: How do you compare David Moyes to Alex Ferguson?
"They are very similar men. I think that is why Sir Alex went for him. David is a very studious man in football. He thinks about things the way Alex would have done.
"What he did at Everton was amazing. To not spend the amount of money that other teams do, and still be able to compete at the level of those teams, was incredible.
"He has done a magnificent job for them. But then he comes into a situation where Manchester United is a little bit of a step up. It is a horrible situation yet it is what every manager wants because they want to manage one of the best teams in the world.
Question: Did you think it always going to be this difficult? Could anyone take up the mantle without major hurdles?
"First of all you have to win the fans over. That is so important.
"Sir Alex is the one man where this will never be done again, you are winning trophies year-in, year-out.
"For any manager coming in this was going to be difficult. It's a world brand, it's a massive, massive club. But on the ground, on Saturdays and Wednesdays, what the supporters want is for the team to win. And not only win, but to win in style.
"They won the league last year but not in style. Everyone wants to see them win. When you're a Manchester United supporter you need to see the team doing well and winning games in a certain way and they are not doing that at the moment.
Question: They are in the lowest position in over 20 years at this stage of the league. How are fans reacting to it?
"A few tweets I have had, they don't want to give him time! Sir Alex had been in a similar position himself. He will be telling David Moyes he will get time and obviously David is going to get the time he needs. I have said that after a couple of years, you can start judging how he is doing.
"Obviously some supporters are wounded already because they don't get the likes of West Brom coming to Old Trafford and rolling them over.
"Swansea in the FA Cup, you don't get them coming to Old Trafford and walking away with Manchester United out of the Cup.
"It is unheard of. Now it is happening."
Question: There must be such pressure on David Moyes. If you were in his shoes now, what would you do?
"I'd take them off and leave the club! To be honest, I would never want that sort of pressure but some are built for it. Sir Alex was one of those. Anyone that stepped out of line, you were gone. It could happen once or twice but you didn't get a third chance. It takes a hard man to do that.
"Even if you're a good player, if you mess him about he will mess you about. The player will be the loser. That is what got him the success that Manchester United got and he deserved. You wonder about David if he is the same, if he is going to give the face-to-face confrontation with the players that do step out of line.
"Also, he brought Marouane Fellaini to Manchester United, one of his best players at Everton, and he hasn't settled in. Everything is going against him.
"To me he is a tremendous manager and given a little bit of time to bring in his own players, I think he will turn it around."
Question: What small or obvious mistakes do you think David Moyes is making?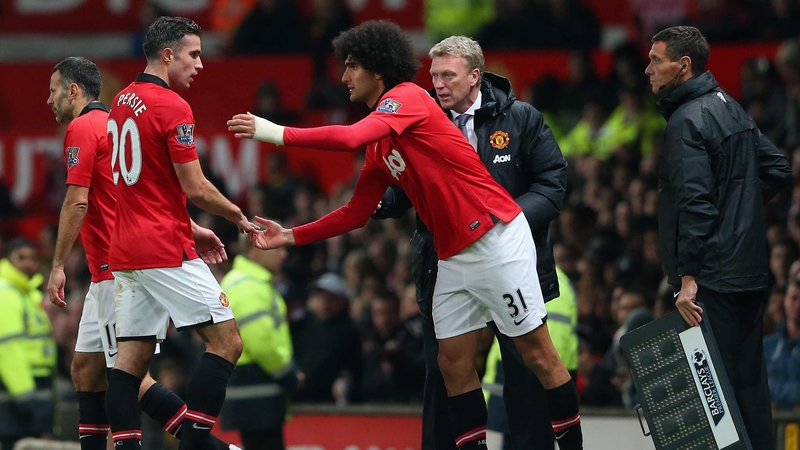 "The one I have just mentioned was an error. If you're going to bring Fellaini into Manchester United's set-up, then you have to have a position for him to play in. I thought he was better annoying centre-halves being a striker and putting himself about.
"He is 6ft 3, knocking people around, and Rooney would have thrived on that. But he tended to put him in midfield and places where he wasn't as comfortable on the ball as most of the even United reserves are. It has started to make him look bad as a player, I feel for him as well.
"Once he started looking bad I don't think he wanted to go on the pitch. Once people start booing you and saying can you not hold the ball up or do this or do that, I think the player himself becomes a little insulated in himself."
Question: Do you think Alex Ferguson's presence at matches is hampering David Moyes? Roy Keane said everything is about control and power with Ferguson.
"To get where Sir Alex got you need a massive ego. You need that thing of always wanting to be correct, always wanting to be right about things.
"But I genuinely think when he wrote the book criticising certain players that were still at the club, I just thought it was a little bit too far.
"Why couldn't he have given David Moyes a couple of years grace and then write the book?
"It's always going to sell. It's Sir Alex Ferguson writing the book, it's always going to sell. I thought it was a little bit shabbily done."
Paul McGrath was speaking on The John Murray Show to Miriam O'Callaghan on RTÉ Radio 1.