Manchester City captain Vincent Kompany is now looking forward to a "special" derby against Manchester United buoyed by his side's successful start in the Champions League.
City's third attempt to make an impact in Europe's top competition began in impressive fashion in the Czech Republic with a convincing 3-0 defeat of minnows Viktoria Plzen.
The result was the perfect morale boost after a sequence of indifferent performances in the Barclays Premier League and with arch-rivals United due to visit the Etihad Stadium on Sunday.
Kompany, who made an impressive return from a groin injury against the Czech champions, said: "Until now the derby was not a priority at all but obviously now it is the next game.
"We will make sure we are in the right condition for the game.
"It is a special game. It is becoming one of the most sought-after fixtures in the world and it is always great to be involved in such games. I never take them for granted."
City were laboured in their goalless draw at Stoke last Saturday, after which Potters boss Mark Hughes suggested they paid the price for prioritising the wrong game.
All that was forgotten at Plzen's modest Doosan Arena as City won at a canter through goals from Edin Dzeko, Yaya Toure and Sergio Aguero in the space of 10 minutes early in the second half.
The victory was what City needed in the context of their previous European struggles, most notably last season's dismal failure to register a single victory.
Champions Bayern Munich, who comfortably beat CSKA Moscow in their opener, are their next opponents in Group D.
"I was probably more happy than anyone else to be on the pitch." - Vincent Kompany on his return from injury
Kompany said: "It is a great way to start the Champions League.
"You can't underestimate the result but you can't overestimate it as well. We did our job.
"It is always easier to say it than do it but we did exactly what we came to do.
"I think the first goal was important. We had a couple of good chances to score in the first half but the great thing is we didn't panic.
"We stayed really calm and in the end we have got the players to make the difference. As soon as it came off it was a lot easier for us."
The game was also significant for the return of Kompany at the heart of defence.
The 27-year-old had missed the previous three games after limping out of the season-opening win against Newcastle.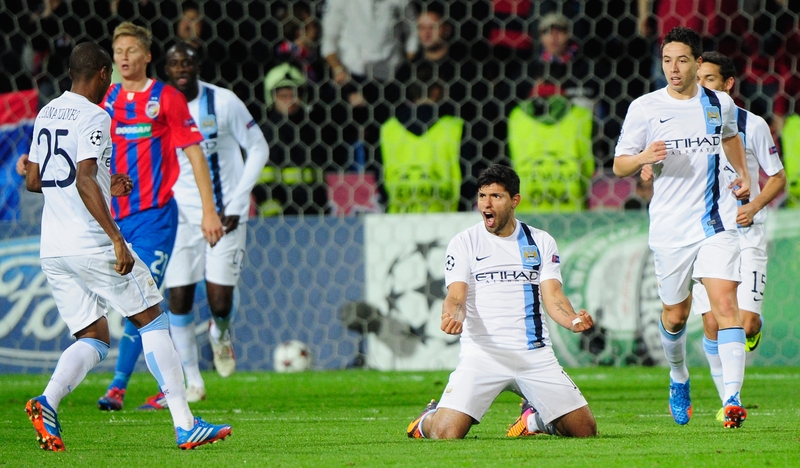 Although manager Manuel Pellegrini insisted he had the squad to cope, defensive resources had been stretched with Micah Richards, Martin Demichelis and Gael Clichy also sidelined.
Despite clean sheets in the two games prior to Plzen, questions had been asked of the back line but Kompany's commanding return to action appeared to end any uncertainty.
Kompany said: "I was probably more happy than anyone else to be on the pitch.
"It feels great. I am really happy to be back with the guys and I work hard every single day to make sure I can play as many games as possible."
Pellegrini is hopeful playmaker David Silva, who missed the trip with the thigh injury that kept him out of the Stoke game, will be fit to face United.
Richards and Clichy, who have both had hamstring problems, will be assessed in the days leading up to the game.