Republic of Ireland defender John O'Shea is tipping Manchester City for the title but thinks the strike partnership of Luis Suarez and Daniel Sturridge gives Liverpool a fighting chance.
Speaking to RTÉ Sport, the Sunderland man said:"I think Man City's squad will see them nick it.
"I was surprised they didn't go and beat Arsenal [last Saturday].
"They started the game so well, as they did against United, that I thought they were going to win comfortably. But credit to Arsenal, after getting a lot of stick, they stood up and were counted in that game.
"Liverpool's goals... I couldn't believe someone was going to outscore Man City this season. But Liverpool have done it so far.
"It really is going to go down to the wire and Liverpool have Chelsea and City at home. Chelsea will still think they have a chance but I just think Man City [will win it].
O'Shea believes that Liverpool could turn their lack of title-winning experience to their advantage, however, and that the 49 league-goal partnership of the 'SAS' makes them genuine contenders.
"Liverpool have that hunger of not winning it, and that can be a huge motivation," said O'Shea.
"I'm sure that will be a lot of Brendan Rodgers' team talks, because with the history of the club and the number of years that they haven't been involved in the title race until the end, they're now going to use that as motivation.
"The combination that Suarez and Sturridge have shown this season has been amazing.
"The quantity of goals and consistency, given that Sturridge missed a while through injury and Suarez was suspended at the start of the season, has been fantastic.
"If they do go on to lift the title that will be the reason why, but also the back-up of players like [Jordan] Henderson, [Steven] Gerrard.
"Obviously Gerrard has done it for a long time but Henderson has stepped on and shown that he's a top player."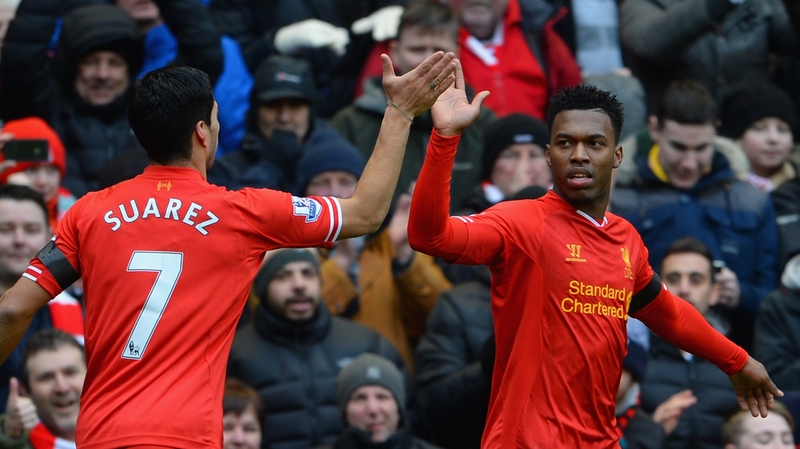 As for former club Manchester United, who have endured a difficult first season under David Moyes, O'Shea is surprised to see them so far off contention (10 points) for the Champions League.
"It's a surprise that they're not in the top four but it was always going to be a huge impact of that one voice [Alex Ferguson] leaving, that was in control for so long," he said.
"Obviously, for someone new coming in, it was never going to be as easy, but it has been a surprise they haven't been able to maintain the top-four position.
"But that shows that the competition in the Premier League at the moment is so intense.
"You know how the players are feeling. When I was there, if you lost one game it was a crisis, if you lost two the empire was crumbling, and that was when you were winning the league or second in the league.
"I think most of the United fans are fully aware of what's in motion, a massive restructuring of the squad, and time is going to be needed. How long will be given is the question.
"But I think they'll stay with David Moyes[next season] for sure."
O'Shea, who is closing in on 100 caps for the Boys in Green is optimistic about Ireland's chances of qualifying for Euro 2016, with the new management team of Martin O'Neill and Roy Keane at the helm.
"It was just gone that little bit stale and the boost has been huge," he said.
"The draw for the Euros, and the fantastic games we have to look forward to and the challenge we have to qualify, has got everyone's taste buds going again.
"You know what he [O'Neill] is going to bring and bringing in Roy alongside him will be a masterstroke, because that determination and desire to be a winner is what we're going to need for this qualifying campaign."