Team Profile: Scotland
Updated: Tuesday, 22 Jan 2013 13:36 | Comments
By Brendan Cole
There is not much to be hopeful about in Scottish rugby.
A disastrous home loss to Tonga in November brought a sudden and painful end to the Andy Robinson-regime. The sense that a period of slow, gradual progress over years had been wiped out by a embarrassment on the narrow and small pitch at Pittodrie is hard to avoid.
Scotland's sense of itself as being one of the premier nations in the game had been secure after several years of progress.
They had beaten Australia, Tonga and Samoa this summer and had a historic series win against Argentina in 2010. Before November, Scotland actually had a chance of getting into the top eight in the IRB rankings. But the loss to Tonga put an end to all that.
Despite that setback, Scotland will be a danger to the big teams in this tournament, if only on a one-off basis.
Scotland look set to back youth
Their opponents can expect a freshened-up approach.
New head coach Scott Johnson has picked a slew of young, relatively unheralded players in his extended squad and if he sticks with youth, Scotland could reap the benefits.
It will take more than a change of personnel to change Scotland's fortunes.
Even as Scotland made progress over recent seasons, their focus became more and more negative and attritional under Robinson. The game itself also changed, with an emphasis on rewarding positive play filtering down from the very top of the IRB.
That trend has not suited Scotland.
The talent in the squad is focussed in a few areas.
The wings and full-back are particularly good with Tim Visser a proven tryscoring threat and Stuart Hogg bringing flashing speed and a counter-attacking instinct to the full-back role. Max Evans is a dangerous and inventive attacker and is capable of playing multiple positions.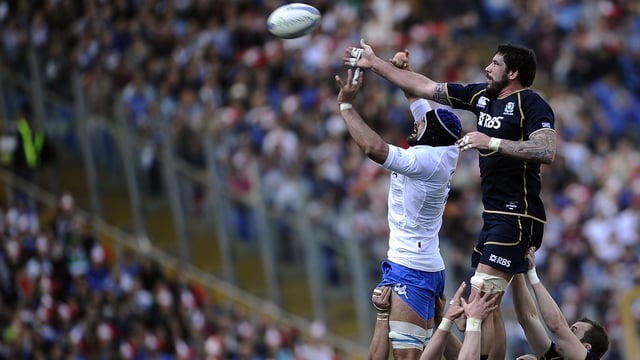 The back row, so often the key to Scotland, is also potentially strong, even with John Barclay on the injured list. Kelly Brown, Johnnie Beattie and Alasdair Strokosch are proven Six Nations performers while the likes of Roddie Grant and Richie Vernon give Scotland more options.
In the tight five, Richie Gray has not set the world on fire with an underperforming Sale side in the Premiership but he is always effective for Scotland and is the type of powerful and dynamic front-five forward the rest can rally round.
And despite their low playing base, Scotland rarely find themselves short of a decent prop or two. That remains the case with Euan Murray, Geoff Cross and Moray Low back for more and 27-year-old Ryan Grant a late-emerging talent on the loosehead side.
Ritchie Gray: a player others can rally behind
As ever, the midfield and half-back are problem areas. The retirement of Mike Blair and Nick de Luca's eye socket fracture deny Johnson some experienced options while Joe Ansbro is also unavailable after suffering a serious neck injury late last year.
Familiar names like Chris Cusiter, Rory Lamont and Scott Lawson are also set to miss at least some of this competition.
In the centres, the powerful Matt Scott could also be plucked from the ranks to start at 12, while Sean Lamont could be asked to continue as a manufactured outside-centre.
At out-half, Duncan Weir offers an excellent kicking game but has limited running and passing ability. Greig Laidlaw and Ruaridh Jackson are the playmaking options though with Blair no longer available, Laidlaw could end up at nine with Jackson alongside.
That said, Jackson has had plenty of chances at international level and Bath reserve out-half Tom Heathcote could also get a chance if Scotland are forced into a deeper re-engineering of the team at any stage.
Johnson's background in skills coaching should be a help. Few teams have ever knocked on as much ball as Scotland did this November. Something different is needed.
But Scotland have the guts of a decent XV and are still entitled to be considered favourites against Italy at home. They will also fancy their chances in home matches against Ireland and Wales.
The trip to France on the final day looks a hiding to nothing but experienced Six Nations watchers will also take a keen interest in their outing against England at Twickenham in the first week.
Scotland squad:
Backs: P Murchie, S Hogg, S Maitland, T Seymour, S Lamont, T Visser, M Evans, M Scott, A Dunbar, P Horne, D Weir, R Jackson, T Heathcote, H Pyrgos, S Kennedy, G Laidlaw.
Forwards: A Dickinson, R Grant, D Hall, P MacArthur, R Ford (Edinburgh), E Murray, G Cross, M Low, A Kellock, R Gray, J Hamilton, G Gilchrist, K Brown, R Harley, R Wilson, J Beattie, D Denton, R Vernon, C Fusaro.