Team Profile: Ireland
Updated: Tuesday, 22 Jan 2013 19:07 | Comments
By Brendan Cole
Ireland are at a crossroads after a period of gradual decline since 2009. In a bid to stop the slide, Declan Kidney has made what he will see as a call for the future by selecting Jamie Heaslip to captain the team.
It is a calculated gamble by the coach, and one that shows Kidney intends to be around for the long term. Those harrowing losses to England and New Zealand in the last 12 months linger in the background, despite a good win against Argentina in November.
Selecting Heaslip is nothing if not a strong move as Ireland bid to 'move on'.
But a good Six Nations is needed if talk of a change of regime is to be silenced for the summer. What will qualify as good?
In an ideal world, Ireland would challenge for a Grand Slam this year. The schedule makes that feat possible, with England and France both set to visit Dublin and a Wales side in apparent disarray up first.
In pragmatic terms, three wins with at least one at home, along with no embarrassments, would probably be enough for everyone to buy in again.
39 Man squad with 6 new caps. @jamieheaslip to captain. More to be added on Monday #irishrugby #wolfhounds

— Irish Rugby (@irfurugby) January 17, 2013
Ironically, a strong season from deposed captain Brian O'Driscoll could be vital in sustaining the nascent Kidney/Heaslip combination.
Many in Irish rugby feel O'Driscoll is owed better after 14 years of extraordinary service and the likes of Shane Horgan and Reggie Corrigan have not been slow about criticising the decision.
Again, in an ideal world O'Driscoll would exit the squad and the captaincy on his own terms.
On the playing front, Heaslip's elevation is notable for bringing Ireland into line with most other nations by making a forward captain.
The captain is, in theory at least, the only player allowed to communicate directly with the referee and in that sense, Ireland may reap some rewards around the contact area.
Heaslip has been a successful leader at provincial level and will bring his own brand of charisma and self-confidence to the role, for all that his 'take it or leave it' approach can rub some people up the wrong way.
The suggestion is that something new and exciting happened in November, and that Kidney hopes to coax those flickering embers into something more substantial.
It is true to say that Ireland looked good, particularly against Argentina.
Evidence of a better partnership between Jonathan Sexton and the still-improving Conor Murray, the brilliance of Craig Gilroy on the wing and the emergence of Chris Henry as a genuine option at openside are major positives.
But will the attacking ploys that opened up the Pumas work against the big guns in this tournament?
On the basis that South Africa found Ireland's attack relatively easy to cope with, they may not. More generally, the South Africa game is probably a better guide to Ireland's prospects.
Going through the squad, tighthead prop remains the biggest concern. Mike Ross is still the only reliable scrum cornerstone and lack of solid back-up remains a potential Achilles heel, particularly against England and France.
Michael Bent has looked capable of surviving a scrum or two late in the game, but has shown nothing more.
For Ireland to have a good Six Nations, Ross must start every game. Hopefully, he will have the fitness to last past the 70th minute.
The rest of the front row is strong despite Richardt Strauss' unfortuante injury, with Rory Best and Sean Cronin both capable performers at hooker.
At loosehead, the good form of Cian Healy, the emergence of Dave Kilcoyne and the significant improvement shown by Tom Court this season all go down as major positives. Ireland have rarely been as strong in the position.
After tighthead, second row is the next worry. There is a shortage of proven international level players in the position in the country, particularly in Leinster, while Paul O'Connell's ability to make big, match-influencing interventions will be missed.
However, if both stay fit, Donnacha Ryan and Mike McCarthy offer a nice blend of strongman and playmaker and could be a success at the heart of the pack.
Donncha O'Callaghan's form remains good and he could yet have an important role in this tournament. Iain Henderson, still just 20, also has lots to offer.
Back-row: an area of strength for Ireland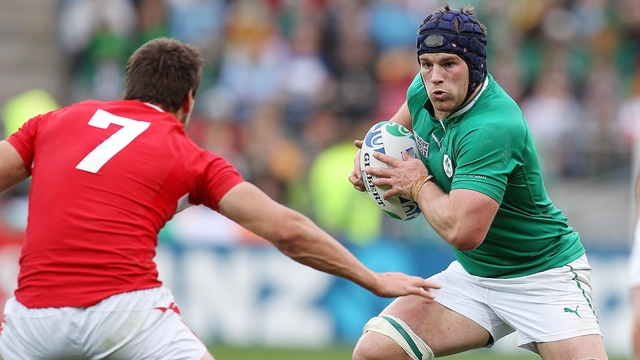 The back-row is a potential strong area with plenty of options available, though getting the mix right will be challenging. Heaslip must start as captain, and as a specialist number eight in good form deserves to do so.
Sean O'Brien is also close to a 'must play' on the basis his talent and ball-carrying ability. But should he play at six or seven?
That may come down to a head-to-head between Peter O'Mahony and Chris Henry. O'Mahony is probably ahead in the eyes of many and probably has greater sheer talent.
But Henry has shown great ability at being a legal nuisance at the breakdown for Ulster. The Ulsterman's decision making – when to be a nuisance and when to go for a turnover – and willingness to sacrifice other elements of his game could yet tilt the call in his favour.
What will happen when Stephen Ferris returns? The reality is that Ireland need a strong corps of at least five back-rowers to cope due to the likely injury profiles in the position.
In terms of the availability, form and health of individuals, the backline is full of positives.
Murray and Sexton are still developing. In the centres, Gordon D'Arcy is in excellent form and using a much greater range of passing this season, while O'Driscoll showed flashes of the familiar attacking brilliance against Exeter last week.
At full-back, Rob Kearney has looked as good as ever since returning from injury.
Despite the absence of Tommy Bowe, Ireland also have a good selection dilemma on the wing.
Simon Zebo and Craig Gilroy have both shown themselves to be exceptional talents for province and country, Keith Earls remains a highly effective attacker while Andrew Trimble's raw power gives Kidney a different option.
Gilroy in particular is developing in to a special talent and may demand selection by the end of this tournament.
The issue is size and power. The Irish backline is full of ball players and steppers but has no crash ball merchant or truly destructive defender.
That could be a problem against the likes of Manu Tuilagi, Jamie Roberts and George North. The 'choke' tackle is all very well for gaining control of the ball, but that lack of raw tackling power makes it hard to create the dynamic turnovers that can stretch even the best defences quickly.
Ireland have fallen into the trap of mimicking their opponents or simply seeking to 'win the collisions', but need to play smarter. If Kidney cracks that code, the green shoots may just sprout into something more substantial over the coming months.
Ireland squad:
Backs: I Madigan, P Marshall, C Murray, M McCarthy, F McFadden, D McSharry, S O'Brien, D O'Callaghan, B O'Driscoll, R O'Gara, P O'Mahony, E Reddan, M Ross, D Ryan, J Sexton, L Stevenson, D Toner, A Trimble, S Zebo, J Coughlan, T O'Donnell, M Sherry, D Varley, I Keatley, R Ruddock, K McLaughlin.
Forwards: M Bent, R Best, I Boss, D Cave, T Court, S Cronin, D'Arcy, K Earls, L Fitzgerald, D Fitzpatrick, C Gilroy, C Healy, J Heaslip (capt),I Henderson, R Henshaw, P Jackson, R Kearney, D Kilcoyne.