Ronan O'Gara: Twickenham not the place to 'give a fella a go'
Updated: Monday, 15 Feb 2016 17:33

| Comments
Ronan O'Gara says it would be wrong to throw inexperienced players into the cauldron of Twickenham when Ireland visit England in a fortnight.
Joe Schmidt's team are back-to-back Six Nations champions but a draw against Wales and a loss to France means there's no hope of retaining the crown.
The ex-Munster out-half recalled how he dodged a bullet back in 2000 when injury kept him off an Ireland side, which included Brian O'Driscoll, thrashed 50-18 by England in London.
The RTÉ analyst would go on to make his bow two weeks later against Scotland but says the repercussions of a debut hammering could have consequences down the line.
So far Schmidt has resisted the temptation to name Stuart McCloskey or Garry Ringrose, both in-form centres with Ulster and Leinster respectively, in match-day squads. Ringrose has trained with the squad but is not in the Six Nations panel.
Even with the championship now out of reach, O'Gara has warned against any major changes.
"Players have to earn the jersey," he told RTÉ Sport.
"You can't wreck their heads, as in 'I'm giving this fella a go' – you don't give a fella a 'go' in Twickenham. Life doesn't work like that.
"There's a battle between the 30 players that go to Carton House [to train] and you earn the right to be picked.
"There's another three games to be won. I don't think Ireland is ever in a case where you can experiment. It's too competitive.
"There's something that you take massive pride in as a player is going out and playing for your country.
"I feel you've got to earn that and you earn that by playing well for your club for six, nine months, a year. Then you get recognition.
"I think the case of putting in players at a young age, they have to do that [in some cases].
"The reverse side of that is that if it goes wrong you can destroy a young fella's confidence.
"So yeah, if he's a superstar and he has the capacity, no problem at all, but I don't think Twickenham is the way.
"From my own point of view I was lucky because I got injured, and I was probably meant to start and England put up 50 points and then there were five changes after that.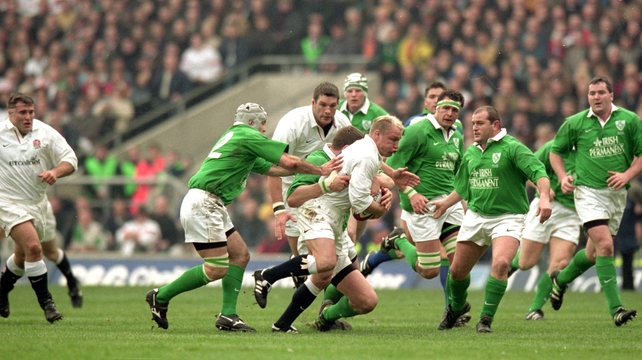 "But if I'd played in Twickenham, do you think I would have made a difference in that game? Not a hope, and I mightn't have played again."
England and new coach Eddie Jones will be looking to make it three wins from three having already seen off Scotland and Italy.
Schmidt may be without a number of probable starters for the 27 February game with Johnny Sexton, Mike McCarthy, Dave Kearney and Sean O'Brien all forced off against France.
Prior to that Ireland already had a long list of injuries to contend with.
But O'Gara has urged Ireland to keep cool and says there's a "soft underbelly" to be exploited in the England camp.
"The trick is, you have to give them the genuine respect they deserve, but they are the same players that play for Northampton, Bath and Harlequins every week," he said.
"They obviously become a little possessed when they play for England because it's at home and they get an awful lot of self-belief, but I still think there's a soft underbelly there."