The Six Nations Championship always get the juices flowing, but this year is even more intriguing because we are headed into the unknown.
Most seasons we tend to have a fair idea of the pecking order, so to speak, even if you couldn't have predicted last year's sensational finale on Super Saturday.
This year's tournament sees new coaches, new players and a whole load of questions.
Let's start with Ireland – which way does Joe Schmidt go?
Does he go to war against a Wales side that is very stable and strong with the guys he has gone to war with down the years and have the battle scars to match?
In going down that route he is trusting them for what they have done rather than what they are doing. This is the biggest question every coach will ask themselves because when you make that change there is very seldom any going back.
If you bring in the new they have to get a run of games, they can't just be jettisoned straight away.
Will we see a midfield of Stuart McCloskey (below) and Robbie Henshaw, with Jared Payne at full-back? I think not, but we will see.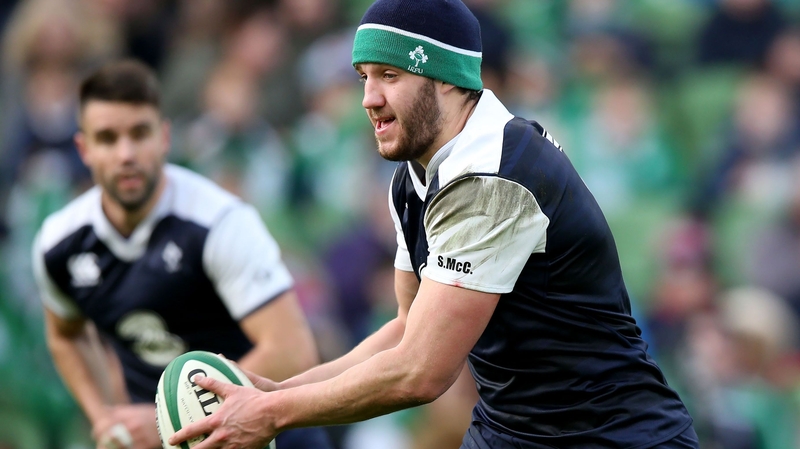 Will we see CJ Stander in the back row for Jamie Heaslip, or with him and Sean O'Brien?
Ahead of Friday's team announcement there are a number of questions to which we don't know the answers already, and that in itself is a good thing.
The other side for Ireland is mental. Let's remember this is the team that is going for the three-in-a-row in the Championship, the team we all thought would make our first World Cup semi-final before everything was derailed when we were dumped out and beaten badly by Argentina.
It is since that RWC quarter-final that all the questions have been bandied around and the provinces, Connacht apart, have underperformed in Europe.
Joe is getting a group into Carton House that won't be bubbling with confidence but they will have to find it.
Sport is not about how you are when you are successful; sports people are defined by how they react to adversity or challenge, that marks the great from the good.
There is no Paul O'Connell to rally them so it will be down to the new captain, Rory Best, and his lieutenants like Sean O'Brien, Johnny Sexton, Jamie Heaslip and Conor Murray.
To be honest it is the need to have guys who have been there before who have ridden the waves of good and bad that points me towards going with those fellows and trusting them. They are great rugby players and have loads more to give.
Ireland aren't the only side we are looking at and wondering about because none of us know what England team will hit this Championship.
"Sports people are defined by how they react to adversity or challenge, that marks the great from the good"
The clubs are doing well in Europe and there is a burning desire amongst the players to succeed driven by the hurt of the World Cup and that is a powerful driver that makes them dangerous to say the least because to me they will have a rabid hunger to win.
They have a new coach in Eddie Jones, a new captain in Dylan Hartley but face a massive test in Murrayfield first up against Scotland.
A match-up in itself that is intriguing because Scotland are cock-a-hoop about their own chances because of their performance in their losing quarter-final against Australia.
But they did get whitewashed last year in the Championship and lest we forget almost lost to Samoa in their pool at the RWC having struggled versus Japan as well.
I wouldn't over-egg this Scotland team just yet but they have exciting players and threats to take people on; Murrayfield first up couldn't be a harder task for England.
France are next up and Guy Noves is taking them down a route that should excite us all, if not put the fear of God up everyone.
It looks to me they are going to go out and play, he has picked players to play the French way, in the French tradition and that can only be good for the Championship.
The question for Noves is can he turn some of the squad into guys who will buy into that way when they play differently for their clubs? How quickly they can make that transition is another question but they are ready to play.
Italy's campaign is their last under Jacques Brunel and they have chosen to bring in a number of fresh faces, but they will look to tap in to the performance levels we saw against Ireland in the World Cup.

That is the Italy team people will want to see week in week out. Zebre are becoming more competitive and they have in Carlo Canna a player who could be the answer at 10 for them.
If they kick their goals and perform with the energy and commitment they showed against us last October, underestimate them at your peril. Look out for the ever-developing Leonardo Sarto on the wing and obviously that bloke who players number eight for them called Parisse is pretty special.
Last but not least for me are the Welsh, the most stable group of the them all but still a young group and they are my tip for the Championship this year if they can come to Dublin and do a job.
They have Scotland, France and Italy all at home and with the players they have I think they can do a job away from home against either England or Ireland. If anything Warren Gatland is keeping incredibly quiet about things, which must mean he knows they have a massive chance.
For me the winner of the Championship will come from the match-up this weekend in Dublin, but we are heading into one of the most exciting Championships for years because of the unknown.
Ireland v Wales is live on RTÉ2 and RTÉ Radio 1 from 2pm on Sunday and there will be a live blog via RTÉ News Now and RTÉ.ie.