Six Nations preview: France v Ireland
By Tadhg Peavoy |
Updated: Sunday, 05 Jul 2015 17:12

| Comments
By Tadhg Peavoy
Paris: the graveyard of Irish rugby dreams. Since 1972 Ireland have won just twice in the City of Light, making the city the most inhospitable of destinations. Since then, Ireland's tally comes to 19 defeats, and two victories.
But damn all that to hell, statistics are there to be altered, and on the basis of their performances in this Six Nations, Ireland's squad should full well believe that they can account for France and secure a championship in the process.
Schmidt's side has looked comfortably the better of the two teams over the last four matches, and will be brimming with confidence as they go to Stade de France, following their seven-try demolition of Italy at the Aviva Stadium.
France, by contrast, have been a stuttering, under-performing team, that is struggling to find rhythm under head coach Philippe Saint-André.
Their two-point victory over Scotland last week was more testament to their staying power than any conviction in their playing abilities.
If one thing is likely this weekend, it is that France will be much better than they have been in their last two outings, against Wales and Scotland.
If one thinks back to the first two rounds of the championship and their home victories over England and Italy, France were a far more assured, confident team, displaying swagger and revelling in their home support.
It's hard to imagine them not getting much of that gusto back this weekend and raising their game to a sufficient level that they make this a very close battle.
Being clinical and accurate
How do you beat France in Paris? I think Cian Healy gave the answer very concisely when talking at Carton House this week: you beat them by being clinical and accurate.
Ensuring parity in the scrum in Paris is famously hard. The props in France are the rock stars of the team, and bayed on by the partisan home crowd, this becomes a battle ground for the visiting props, that if lost can lead to disintegration of other areas of the game as the hosts concede penalties and find themselves pinged back into their own half with place-kicking.
The lineout is similarly crucial. A sloppy lineout, with badly presented ball to the halfbacks puts the visitors on the back foot, and with the France backline impressive in its pressure on nines and tens, this causes huge pressure at a critical juncture.
France thrive on loose, spilled ball and devour opportunities from that position. Ireland need to ensure they gave as little of this as possible to Les Bleus for the duration on Saturday evening.
Sexton versus Machenaud
The fact that Johnny Sexton and Maxime Machenaud play together at Racing Métro adds extra spice to the occasion; whoever manages to impinge on the other's game more could gain a vital upper hand that will swing dominance in the halfback position, one way or another.
Both players will be briefing their compatriots on their club team-mate, and dossiers on how to disturb them best will be of paramount importance. It's a fascinating sub-plot to an already hugely intriguing encounter.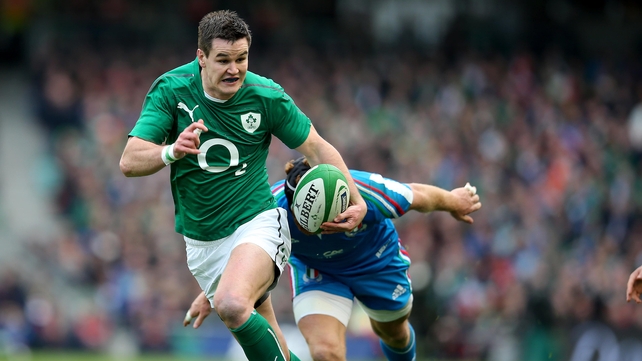 France's scrum and lineout last week was abysmal against Scotland. They lost eight lineouts out of 14 and two scrums out of four on their own put-in.
If those stats continue against Ireland, one would imagine that whatever their backs do, Ireland will triumph. In truth, they are almost certainly not going to be that poor in the set-piece.
Szarzewski and Picamoles both back for France
Hooker Brice Mach has been dropped from the match day 23 following his throwing nightmare, and Dimitri Szarzewski is into the XV in his place. Immediately, France are strengthened in the No 2 jersey.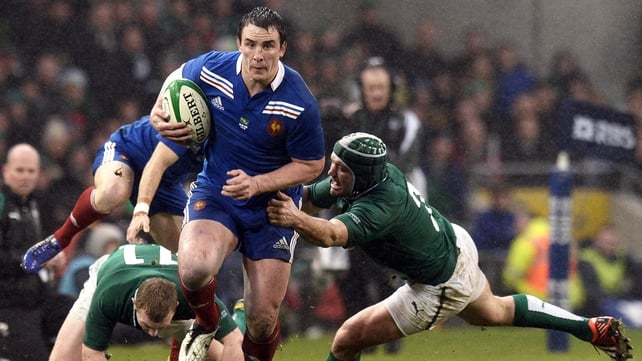 Add to that Louis Picamoles returning to the backrow at blindside flanker, and France have reselected two of their three most influential forwards; the other being lock and captain Pascal Papé.
Looking out towards the back divisions, there are so many intriguing battles across the park.
Tales a weakness at number ten?
The half-back battle has already been alluded to, with the other interesting call being Remi Tales in at No 10 for France.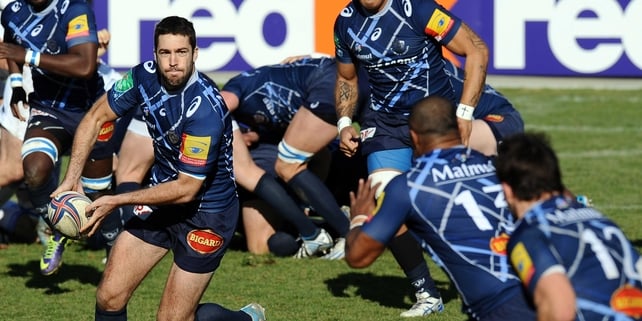 Jules Plisson has been the starting 10 for all of France's previous four championship ties, and parachuting Tales in at this late stage is a massive tactical switch.
How well he can gel into a team at such late notice is going to be pivotal, and Ireland will target him early on in a bid to unsettle the stand-off and put him under the kind of pressure that will lead to confidence diminishing mistakes.
The French backline will be attempting to protect him and stop this happening, which could in turn lead to weaknesses around the breakdown area that Ireland's pack will hope to exploit with broken field pack runners.
To that end the scrum will also be crucial; any strategical wheels by both props will give Chris Henry and Jamie Heaslip that crucial edge space-wise as they attempt to close down Tales before he has time to kick for possession, carry, or offload to the centres outside.
Midfield tackling more important than ever
And that brings us to Mathieu Bastareaud and Gael Fickou in midfield. The former has been criticised for the duration of this tournament as overweight and over-rated; I disagree with this assessment.
Sure, he is heavyset and very route one, but that makes him extremely difficult to stop and as a result he pulls in defenders creating space for the men outside to exploit. Chop tackles are the order of the day here, and jackal tackles also.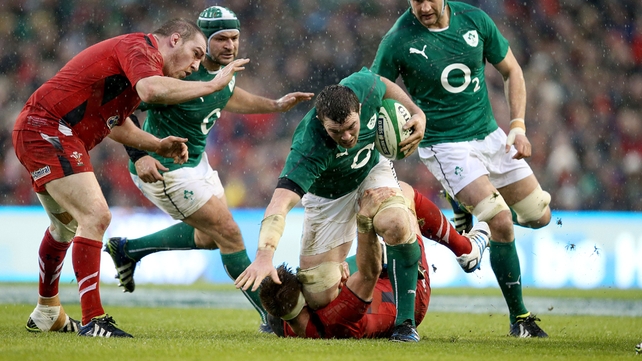 Stop him dead, and attempt to get the missile at the ruck to snaffle possession back. This is where Peter O'Mahony performed so well in the first three matches of the championship and where he can come potentially come up with the goods again.
One of Bastareaud's finest hours in a France jersey came in 2010 when he did O'Driscoll with a sensational underarm outside pass while he held off the Ireland centre, who failed to chop, or choke.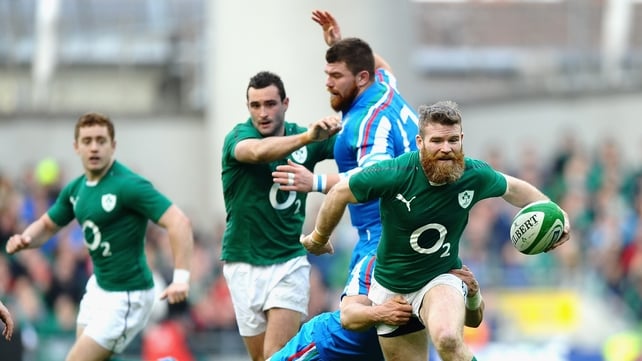 O'Driscoll, aided by his backrow team-mates, need to stop that happening again. The challenge for Gordon D'Arcy at first centre is a different one. He faces the electric and inventive Fickou, who possesses the pace and lines of running to do terrible damage to Ireland in midfield.
The challenge here is to prevent him getting space to run into in and around the backline; if he is allowed space, time and freedom to roam then I would worry about his ability to offload to supporting French runners in space.
He is the classic example of French flair and containing him is crucial to Ireland. Similarly the back three of Brice Dulin, Yoann Huget and Maxime Medard are, on their day, a superb trio that can devour teams in broken play.
Paul O'Connell highlighted this week that the kick-chase is an area that will be crucial on Saturday.
If the French back three aren't met by Irish jerseys up at pace on the rush defence they will take lines that cut holes in the Irish defence and create space and broken play to do damage within. Ireland will be aiming to get all of the above elements close to perfect play-on-play, but their own attacking game is where the game will ultimately be won.
Ireland will spread wide and stretch the French defence
You would be inclined to think that Ireland will need to score at least one try, maybe two, in order to win the match in Paris.
Being more creative and out-thinking their opponents is clearly the way this Irish team will gain those crucial five to 10 points. Spreading wide early on, and stretching the French pack with regularity, attempting to tire them and create gaps is the way forward.
It's far easier said than done, and fitness will play a factor. The accusation of late is that the Top 14 is producing athletes that are not as fit as the Pro12 or Premiership players, and if Ireland can prove that to be the case then it could be a crucial factor on Saturday evening.
What impressed about the Ireland attack against Italy was the manner in which they varied their attack channels, spreading wide with regularity, but not failing to see gaps around the breakdown, which was best demonstrated by Fergus McFadden's excellent try late on. However, Italy were poor in Dublin, and France's rearguard in their own '22 will be a far more concrete unit to demolish.
France have put a six-two forward-back split on their replacements bench, and to that end I believe they are anticipating Ireland's superior agility and attempts to run the pack out of the game. Schmidt's team need to be wary of a forward-dominated upsurge from a freshened France pack late on.
A further element is the crowed, that crucial 16th man. If Ireland go behind in the first half, then the French crowd will back their team. But if the reverse happens, and Ireland can gain a foothold, this crowd can work against their team and become an asset to Ireland.
For that reason a good start is essential. If Ireland can get that start, maintain the set-piece dominance they have had in 75% of their championship matches thus far, and find the spark in attack they were largely missing against England in London, then they should win this match.
Verdict: Ireland to win by four.
Follow Tadhg Peavoy on Twitter here: @TPeavoy