Ireland U-20s captain O'Brien has appetite for more
Updated: Friday, 14 Mar 2014 14:00

| Comments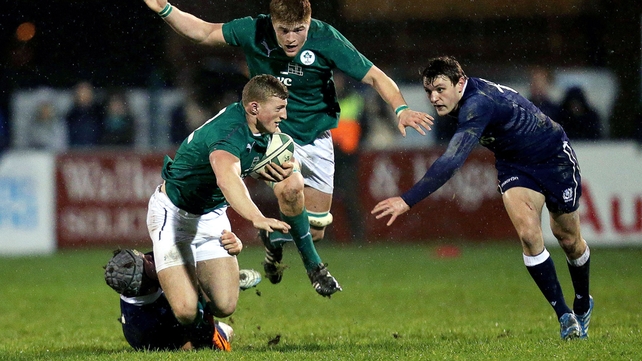 Ireland Under-20s captain Sean O'Brien knows there's a long way to go before he can emulate his namesake in the senior side.

In the absence of injured Dan Leavy, Galwegians' player O'Brien will lead Mike Ruddock's side for the second time against France in Tarbes tonight (7.55pm, Live on RTÉ Two).

Ireland are out of the race for the Six Nations title but a win in the south-west of France would round off the five-game tournament nicely, adding to victories over Scotland and Italy.

And the high-intensity games have given O'Brien an appetite to go even further.

He said: "I suppose we are not too far off [the senior side] but at the same time there is also a very long way to go.

"There are a lot of people who play Under-20s but don't go any further. It is good to see that we are getting closer and it just gives you more of an impetus to keep going and give it absolutely the best shot that you can and see if it works out."

The Connacht academy second-row added: "It just makes you proud to represent your country. It is great representing your family and friends and knowing that they are proud.

"It is an unbelievable feeling to go out wearing the green jersey and I am always so proud running out onto the pitch in it."
IRELAND Under-20s: 15 C Kelleher (Lansdowne/Leinster); 14 A Wootton (Garryowen/Munster), 13 D Goggin (Young Munster/Munster), 12 P Robb (Old Belvedere RFC/Leinster), 11 A Byrne (UCD/Leinster); 10 C McKeon (Lansdowne/Leinster), 9 J Cullen (Bruff/Leinster); 1 P Dooley (Lansdowne/Leinster), 2 M Abbott (Cork Constitution/Munster), 3 R Burke (Cork Constitution/Munster); 4 S O'Brien (Galwegians/Connacht, Capt), 5 R Molony (UCD/Leinster), 6 P Timmins (UCD/Leinster), 7 R Moloney (Buccaneers/Connacht), 8 J O'Donoghue (UL Bohemians/Munster).

Replacements: 16 S McNulty (UCD/Munster), 17 D Coulson (Lansdowne/Leinster), 18 O Heffernan (Lansdowne/Leinster), 19 S Gardiner (Lansdowne/Leinster), 20 F Taggart (Belfast Harlequins/Ulster), 21 N McCarthy (UCD/Leinster), 22 R Byrne (UCD/Leinster), 23 D Busby (QUB/Ulster).

Live television coverage of the U20 Six Nations meeting of Ireland v France from 19:35 on RTÉ Two and RTE.ie (Ireland only).