Women's Six Nations Analysis: England v Ireland
Updated: Friday, 21 Feb 2014 21:03

| Comments
By Joy Neville
After over a decade of dedication to rugby, I came to an extremely difficult decision to retire from a sport that has given me endless challenges, great entertainment, sweat, blood, tears, laughter and amazing memories.
That decision was based on the fact that I had given everything I could possibly give. The commitment required from me as an international player and missing out on family and loved-ones' special occasions also played a role.
Top women players today may as well be full-time professionals as behind-the-scenes the amount of hard work that goes in matches that of their male counterparts.
After winning the Grand Slam title last year, it felt like it was the right time for me to hang up my boots.
As difficult as it was for me to stop, it did not mean that rugby would not still be a significant part of my life as I'm currently working for the Munster Branch as a rugby development officer in the Limerick Institute of Technology.
Many people ask me what impact last year's success has had on the team. It is important to realise that Ireland did not just burst onto the scene with a flash-in-the-pan success in 2013.
Progress has been happening behind the scenes for the last decade with ongoing funding from the IRFU meaning we had better access to coaching staff, team management, facilities and technical support like video analysts.
That support drove our success. During that time, Philip Doyle has been a crucial advocate for us and has played a key role in getting the girls in green the support we needed to achieve what we aspired to.
As a result, Ireland are the defending the Grand Slam champions.
They have never been in this situation before, but I believe that this special group of players will rise to the challenge.
Ireland's style of play has evolved dramatically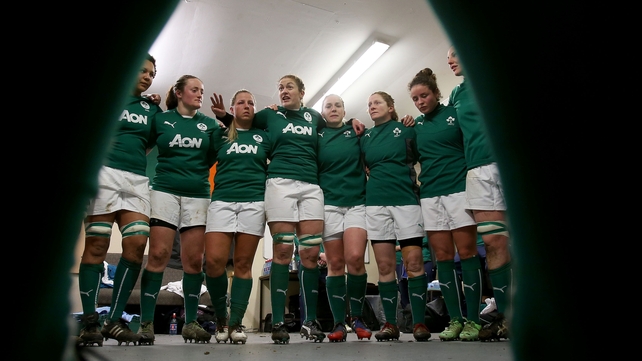 Confidence levels are high, the players are mentally and physically stronger than in the past, and the women's game here has become much more professional. The style of play has also changed dramatically: Ireland's skill levels are significantly better and have evolved hugely over the last decade.
The days of Ireland suffering heavy defeats are long gone. Also long gone are the days of battered bodies defending the Irish line for 80 minutes, mentally deflated and with only one real option: up-the-jumper rugby.
The strong foundations that have been put in place allow Ireland to play a much more skilful, expansive and explosive style and that is what I expect to see on Saturday.
Historically, Ireland v England has provided great entertainment and a battle to the end. Last year, Ireland took a historic win at Ashbourne.
There were some players absent from that English side last year due to their decision to commit some of their squad to sevens rugby, but they still had an abundance of experience on the field that day with well over 400 caps in their squad. In my view, it did not take from a very comprehensive 25-0 Irish win.
But England will be gunning for victory as they look to shake off the disappointment of losing to France three weeks ago. They would have planned on coming into this game with two wins from two, but now have to beat Ireland if they want to keep their hopes of winning the Six Nations alive.
In contrast, Ireland are unbeaten and have the Triple Crown in their sights. The team now has an impressive record of having won ten of their last 11 games in the Six Nations.
But they haven't had things all their own way this year, and had to battle for a tough victory over Wales two weeks ago. That match will have given the team plenty to think about in terms of the areas that they need to improve.
Ireland will have been concentrating on their set-pieces over the last two weeks as they appeared to struggle in both scrum and lineout. It was also evident against Wales that Ireland has trouble at the breakdown, failing to ruck past the ball. That resulted in messy slow presentation for our scrum-half Larissa Muldoon and will have to be addressed.
Two changes to the starting XV that beat Wales have been made with Ashleigh Baxter coming in on the wing for Hannah Casey and Gillian Bourke replacing Stacey-Lea Kennedy at hooker.
Those decisions suggest that Ireland have gone for experience in the front row and pace over power in the back line.
Experience a key advantage for Ireland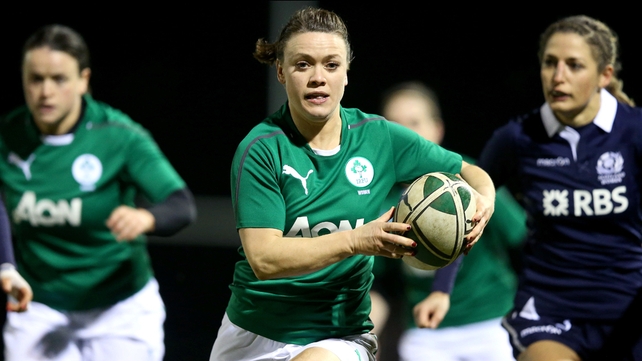 In fact, Ireland have huge experience across the pitch with the likes of Lynne Cantwell and Fiona Coghlan providing the backbone of the team having accumulated well over 140 caps between them.
Other players to watch out for include talented fullback Niamh Briggs, who kicked Ireland to the Grand Slam last year, and Alison Miller, who exploded onto the scene and picked up a hat-trick of tries against England in their clash last year. Siobhan Fleming at blindside flanker is another key player - a grafter who gets through a lot of hard work.
On the English side, they have made seven changes to the team that played against Scotland two weeks ago and that just goes to show the strength and depth of their squad.
Notable selections include the return of the very talented openside flanker Margaret 'Maggie' Alphonsi, who has 67 caps for her country and was Player of the Tournament at the 2010 World Cup. She's an explosive runner and Ireland can't afford to give her any space.
England out-half Katie Mclean is another key player for them. England's chief playmaker and points-scorer and a mainstay of the team, she is so important that their coach Gary Street calls her his "eyes on the pitch". England's counter-attack is particularly dangerous and Ireland will have to be clinical in order to shut it down.
Overall, I envisage a fast, expansive game that should be a crowd pleaser. I think it'll be tight on the scoreboard, but Ireland may have just enough to take a win and a second Triple Crown in two seasons.
Joy Neville played for Ireland women 70 times in a ten-year career and won the Grand Slam last year. She will be co-commentator on RTÉ's coverage of the Women's Six Nations: England v Ireland on Saturday.
Live television coverage of the Women's Six Nations meeting of England v Ireland from 18:15 on Saturday 22 February on RTÉ Two and RTE.ie (Worldwide). Live radio coverage on Game On from 18:00 on RTÉ 2fm and RTÉ.ie (Worldwide).