Column: Sky is the limit for Women's rugby
Updated: Thursday, 20 Feb 2014 17:11

| Comments
By Rosie Foley
I will be an immensely proud and excited Irish woman when the team takes the field to defend their Grand Slam against one of the strongest sides in the world on Saturday evening (6.20pm).
England won seven titles in a row before Ireland took the Grand Slam last year, so the scale of the challenge should not be underestimated.
Personally, there will be a lot of nervous anxiety, but I will also feel privileged to have been part of the story.
From small beginnings in UCD and Trinity in the 1970s, Irish women's rugby has come a long way over the last 40 years.
The formation of the Irish Women's Rugby Football Union in 1992, the first ever international match against Scotland a year later, the start of the Women's championship, and our Grand Slam success in 2013 have all been hugely significant milestones along the way.
The future also looks bright with Rugby World Cup qualification, the formation of a new Sevens squad and ever increasing interest in the game indicating that it is only going to get bigger.
Personally, what has happened over the last few years has been a dream come true.
Rugby has played a huge role in my life and my family's life. I come from a sporting family with my dad Brendan playing for Shannon, Munster and Ireland after starting out with St Mary's RFC in Limerick. He was capped 11 times by Ireland and was on the Munster team that beat the All Blacks in 1978.
'From the first time I saw rugby, I wanted to play'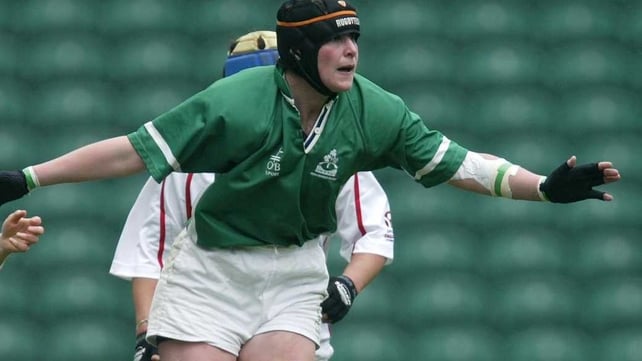 My brother Anthony also played from a young age, starting with Killaloe/Ballina RFC and going on to represent St Munchin's, Shannon, Munster and Ireland. We played on the same day and at the same venue twice during our international careers.
GAA was huge for us as well. I played for Smith O'Brien's in camogie, Meelick in Ladies' Football and the Clare Junior Ladies football team and was lucky enough to have plenty of success with those teams along the way. I also qualified as an Irish Water Safety Examiner and Instructor and swimming teacher.
But from the first time I saw rugby, at a mixed charity game my father was involved in, I wanted to play. I was about seven or eight years old at the time.
I finally got the opportunity when I went to UL as a Physical Education student in 1996. With the help of the college sports officer Dave Conway, we set up the UL Ladies' Rugby Team and played our first game in 1997, taking on DCU. I played at number eight (we won!). Ian Costello, who now works with the Munster squad, coached us with my dad helping out on the sideline.
"Athletes on the pitch, ladies off it"
From then on, I was well and truly hooked and went on to play with Shannon, Munster and Ireland over the coming years.
There was a certain amount of opposition to be overcome at various stages but while we made sure our views were heard, the teams I was involved with also took pride in conducting ourselves with dignity at all times: "athletes on the pitch, ladies off it".
It wasn't always easy but nothing worthwhile ever is. I can say with certainty that it was definitely worth it in the long run.
And as well as the occasional obstacle, rugby gave us great opportunities. At UL, it took us to three All-Ireland College's Cup victories and also to Paris for a Universities competition. We were also often invited to university events by the then President Roger Downer.
With Shannon, we travelled the country and won the All-Ireland Plate and the All-Ireland League in quick succession. Shannon also brought women's rugby onto the games committee and gave us great support. With Munster, came next and I was lucky enough to win five interprovincial titles in a row and have the privilege of captaining Munster to win some of those titles. Munster Rugby also gave great support.
My first international cap came against Spain in 2001 on a day when Anthony played against Italy in Rome. That was the first of 39 internationals taking in the Six Nations, European Championships and two Rugby World Cups. Myself and Anthony played for Ireland at the same venue on two occasions.
The Irish Sports Council, the International Rugby Board and the IRFU also gave crucial help to women's rugby along the way.
Olympic Sevens - fresh impetus for Women's Rugby
I now teach second level Physical Education at St Anne's Community College in Killaloe, coaching rugby and camogie. My kids play rugby with Killaloe/Ballina RFC, GAA with Smith O'Brien's and also do running with Derg Athletics Club, along with Anthony's and Keith Wood's children.
So the cycle begins again, only now the option of rugby is there for more young kids than ever.
My only hope is that the story will continue to develop and that there will be more success over the next few years.
The ingredients to make that happen are there. We have already seen a surge of interest and numbers playing in this country. Globally, there are over 1.5 million women's rugby players with 112 Unions involved in the game. The addition of sevens to the Olympics should add even more impetus to that growth while the enhanced profile women's rugby has gotten in media will also add to the appeal of the game for young female players.
Could Ireland be world champions, win another Grand Slam or become Olympic medallists in Rio?
If the support continues, the sky is the limit.
Rosie Foley was capped 39 times for Ireland during her international career. She will be an RTÉ analyst for Women's Six Nations: England v Ireland on Saturday from 6.15pm on RTÉ Two and RTÉ.ie/sport.