Six Nations Preview: Italy v Ireland
Updated: Saturday, 16 Mar 2013 16:07

| Comments
By Brendan Cole
Ireland face into a final weekend of RBS 6 Nations action with their stock in international rugby lower than it has been for a decade.
After a bright start against Wales, defeats to England and Scotland and last week's draw with a France side that is poorly coached and managed mean this clash with Italy is a bit of a sideshow.
This is very much the undercard bout before the main event in Cardiff.
At the half-way point in the Wales game, few would have predicted that Ireland would be so peripheral at this stage in the tournament.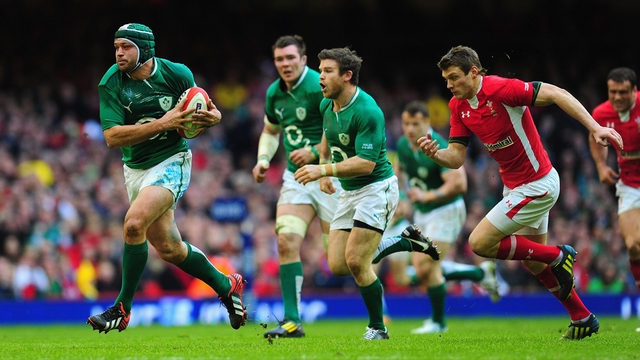 But since that energetic opening salvo it has become increasingly clear that Ireland's preparation and playing philosophy have missed the mark.
Injuries and a series of poor second half performances have dogged the squad and management. The high tempo but conservative style has been largely nullified since the Welsh game.
To what extent are Ireland's obvious issues self-created?
It is worth remembering that at the beginning of this campaign, the two main goals were be Test-match ready a week early and to start matches faster.
Those factors should not be ignored when Ireland get around to working out why they have so many injured players, or why they have been outplayed on four consecutive occasions in the second half.
As it was at RWC 2011, the main focus remains on 'winning the collisions' with a few strong carries before letting the ball out the backs. The main evolution is that Ireland's carriers occasionally pop up between the centres.
The underlying assumption continues to be that if Ireland get their game right – a few carries and quick rucks followed by a backline move - the opposition will stand aside and let it happen.
It hasn't panned out that way, not least because Ireland's risk-aversion when attacking has made it easier for their opponents since the Welsh game.
Passing out the pack
An astonishing stat unearthed this week showed that Sergio Parisse has passed more often than the entire Irish pack.
Parisse is, of course, a special case and the fulcrum of much of Italy's play with ball in hand.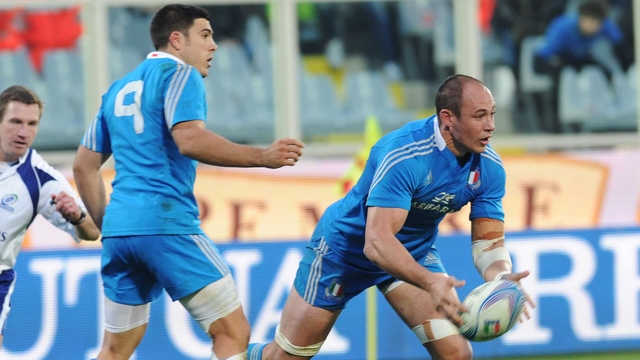 But it is clear that Ireland use the forwards in the old-fashioned way as a ball-factory for the backs, rather than as part of a 15-player attack capable of offering a varied threat.
It is hard to see Declan Kidney's men changing much this week. That means the main question is whether the Italians have the tools to stop Ireland playing their sporadically effective style they are using.
They probably do not.
Inconsistent Italy
This Italian team has been great to watch when on song: committed to attacking, to offloading and to picking a genuine playmaker at out-half in Luciano Orquera.
But they have been inconsistent, underperforming against both Wales and Scotland. For his part, Orquera was dropped for the former and dreadful in the latter.
They are not as physically powerful across the pack as England or France, nor do they have the same number of practiced nuisance artists as Scotland.
Ireland should be able to produce quicker ball.
They will also struggle to threaten Ireland's set piece and despite the reputation of Italian scrimmaging, Ireland could well prove a valuable platform against a weak looking Italian tight five in that contest.
Ireland should also benefit from the expected warm and dry conditions.
Italy have a strong back-row, with the brilliant Parisse ably supported by Simone Favaro and Alessandro Zanni, and a backline that is relatively strong. Andrea Masi, Gonzalo Canale and Giavambattista Venditti are a handful when on the front foot.
Murray is key
Fast, accurate rucking and good speed of delivery from Conor Murray at scrum-half have been the key to virtually all of Ireland's flashes of good play and Ireland look capable of producing just that.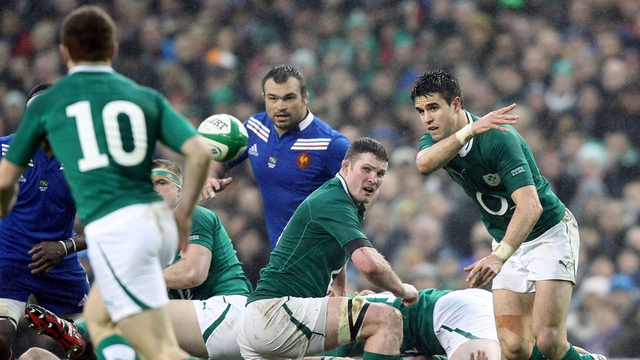 Ireland look set to have the physical and set-piece edge they need to produce just that. If they do, the centres could yet deliver the type of dominant performance they have promised in flashes.
From good quality ball, Luke Marshall may be ready to start turning those incisions into scoring plays.
Outside him, Brian O'Driscoll's wizardry has always been particularly effective in this fixture over the years.
Ireland may need some luck, and cannot afford to have too many wobbles, but their gameplan looks well suited to this particular fixture.
Prediction: Italy 13-25 Ireland
Ireland XV: Rob Kearney, Craig Gilroy, Brian O'Driscoll, Luke Marshall, Keith Earls, Paddy Jackson, Conor Murray; Cian Healy, Rory Best, Mike Ross, Mike McCarthy, Donnacha Ryan, Peter O'Mahony, Sean O'Brien, James Heaslip.
Replacements: Sean Cronin, David Kilcoyne, Stephen Archer, Devin Toner, Iain Henderson, Paul Marshall, Ian Madigan, Luke Fitzgerald.
Italy XV: Andrea Masi, Giovanbattista Venditti, Gonzalo Canale, Gonzalo Garcia, Luke McLean, Luciano Orquera, Edoardo Gori, Sergio Parisse, Simone Favaro, Alessandro Zanni, Joshua Furno, Quintin Geldenhuys, Lorenzo Cittadini, Leonardo Ghiraldini, Andrea Lo Cicero.
Replacements: Davide Giazzon, Michele Rizzo, Alberto De Marchi, Antonio Pavanello, Francesco Minto, Paul Derbyshire, Tobias Botes, Tommaso Benvenuti.