by Brendan Cole
Brian O'Driscoll has criticised Ireland's discipline and the failure to keep the scoreboard ticking over when in the ascendancy during the RBS 6 Nations defeat to Scotland on Sunday.
Ireland dominated possession and territory but a failure to convert opportunities after Craig Gilroy's try put them eight points ahead. The concession of key penalties in the second half saw Scotland claw themselves back to grab a victory that even they could hardly believe.
Speaking at the launch for Adidas Boost in Dublin, O'Driscoll told RTÉ Sport: "It's a Test match we should never have lost. In Test rugby if you don't take those chances teams are able to stay with you.
"They grow in confidence, and that's exactly what's happened with Scotland. The indiscipline in the second half killed us. They kicked their goals, and the rest is history unfortunately."
O'Driscoll did not shy away from criticising team-mates for conceding needless penalties after Ireland had failed to turn their dominance into points, referring to the fact that the players are well aware of what to expect from referees.
He said: "It's not as though we are going into games blind. We know what to expect from referees. The stupid ones that you wouldn't see at schoolboy level are unacceptable.
"You just can't have that. I think the guys that were responsible for them know that and feel silly for having given them away."
But Ireland's problems go deeper than their indiscipline.Team captain Jamie Heaslip opted not to go for kicks at goal on two occasions in the first half, and Ireland subsequently failed to score with attempted lineout mauls, allowing Scotland off the hook.
O'Driscoll, who was Ireland captain until last November, said: "You have to keep the scoreboard ticking over when you have momentum and territory. When you have pressure on the opposition, you need to put points on the board."
Asked Ireland's decision making on the field, he added: "I can help Jamie when he needs it, that's what I'm there for. I'm a senior player, albeit not captain any more. But I'll certainly add my tuppence worth in certain situations.
"Ultimately, I have to respect that he is the captain and that he has the final call on those decisions. That's the way we are working it. I don't see how anything is going to change in that regard."
The out-half selection has also been the subject of much comment since Ireland's defeat. And while while Jackson missed three of four attempts at goal, O'Driscoll was quick to praise the impact he and fellow Ulsterman Luke Marshall had in general play.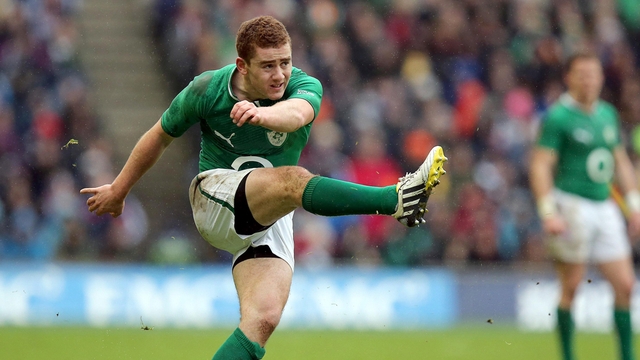 He said: "Paddy didn't have a brilliant day with his goalkicking but I thought the rest of his game was exceptionally good. He ran it well, he took the ball to the line himself, he put people through gaps.
"Himself and Luke in the centre acquitted themselves really well. Paddy is a lovely footballer. He threatens himself and brings defenders onto him. He had a lot of really good involvements."
O'Driscoll also refused to be drawn on Declan Kidney's future, which has been the subject of much speculation since the defeat.
He said: "We have two games left in this Six Nations. I know Declan is contracted until after the summer tour. If we are looking beyond that now, we are in trouble.
"We have got ourselves in a hole having started so well, and then the last two games have been so disappointed. We need to focus on France next week and not concern ourselves with what is going to happen in future.
"We need to dig in collectively as management and as a squad and start focussing on our next game because beyond that there is not much to worry us if we continue to keep losing games."
He did, however, agree with full-back Rob Kearney that the head coach could not be blamed for Ireland's failure to take opportunities.
He said: "Declan's not responsible for us not being clinical and not taking opportunities. He doesn't have any hand or say in that. From that point of view it has to be put firmly on the players."