Flashback: Ireland 44-22 Scotland
Updated: Friday, 22 Feb 2013 20:46

| Comments
by Brendan Cole
Ireland had not beaten Scotland since 1988 when the two sides met on one of those perfectly fresh and sunny Six Nations aftenoons back in 2000.
Things were bad.
The 1990s had been a write-off as a decade, culminating in the debacle against Argentina at Lens that ended the 1999 Rugby World Cup campaign.
A 50-18 defeat to England in the opening round of the first ever Six Nations seemed to suggest that Irish rugby could expect little better in the ten years to follow. It was the kind of result that had many English commentators wondering if the Six Nations would be good enough for their time for too much longer.
If memory serves, one co-commentator went so far as to suggest that Brian O'Driscoll would "rather be playing in white" during the humiliation.
The game was at a low ebb.
But it was Lansdowne Road and it was a Six Nations weekend. The crowd is raucous, generous and, against all logic and reason, optimistic.
It's springtime, the sky is blue and the sun is shining.
Part of that optimism is down to the fact that head coach Warren Gatland has picked five new caps and made eight changes in total from that disastrous, record-breaking thumping against England.
But Mick Galwey is there, along with Peter Clohessy and the game itself turns out to be a hybrid of the old and the new of sorts.
In essence, it is one of the last old style contests, flaming into life for breathless passages before a knock on or a thump into touch. Backs are scrawny, forwards are knackered. Walking is still permitted.
As an aside, at the very moment this game was being taking place, the Australians had already ruined it with a thuddingly dull, possession based style. But that's all in the future.
In Dublin, the most obvious signs of the new game are superficial. Shoulder pads and incongruous scrumcaps abound. Every Irish player's jersey is too big and it is still about ferocious rucking, firing quick ball out behind you and shifting it quickly in the hope that "something will happen" out the backline.
In Jim Sherwin's commentary, the talk is of whether Ireland have found a 'genuine openside' in Kieron Dawson, who is on his seventh cap.
Some things never change.
Peter Stringer - key to Ireland's "new dawn"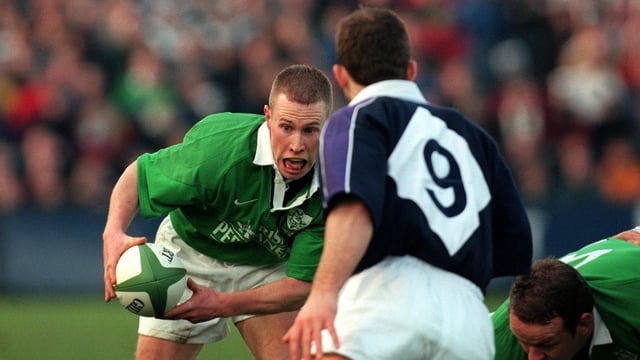 Looking at the footage, if there is any "new dawn" in this match, the key to it is Peter Stringer's quick-fire pass. All day long, there is extra space in the wide channels.
But there are large slices of luck as well and at least half of Ireland's 44 points accumulate by accident.
In classic "Five Nations" tradition, the referee is an emphatic Frenchman (Joel Dume) who has learned a couple of phrases in his phrasebook before kick-off and is intent on using them no matter what.
He likes the play to flow - his shouts of "fine, fine, fine!" are both a cry encouragement and an adjudication.
The rhythm is the stop-start of the old game. Everyone enjoys the spells when the game bursts into life.
Scotland get off to a flyer, scoring 10 early points through Kenny Logan, who scores a penalty, a sweet try off a perfect Gregor Townsend pass, and a conversion.
Ireland struggle, with their young out-half making constant errors. Ronan O'Gara had quietly been "expected" among the rugby cognoscenti for a number of years but his debut is largely a disappointment, albeit punctuated by the odd touch of class.
A hand-off in the face from Martin Leslie and a powerful drive by Gordon Simpson that leaves him flat on his back presage a career of excitable back-rows bullocking in his direction at every opportunity.
Brian O'Driscoll scores in trademark style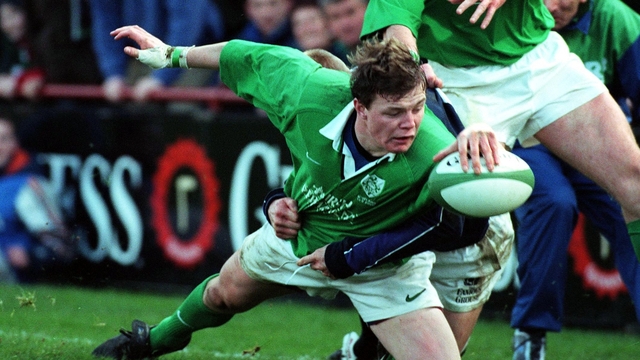 Aside from Stringer, the two outstanding players in the Ireland side are Brian O'Driscoll and Keith Wood.
Wood is all action, lofting a kick over his shoulder from the scrum-half position one minute, galloping over, through and around gangs of Scottish tacklers out on the wing the next. He hits every ruck like it's his last.
O'Driscoll plays exactly the same game that will light up Irish rugby for the next 13 years, jagging past tacklers at will, defending like a lunatic and showing barely believable ball skills. Doing things Irish had not done within living memory.
Little gaps constantly open for him to squirm through.
Ireland get back in the game with a Malcolm O'Kelly try after a few harem-scarem rucks in the Scottish 22. O'Kelly looks almost embarrassed at the attention. O'Gara stitches the conversion from the touchline and minutes later, rifles what will become a trademark bouncing kick into the corner. He then shows the Lansdowne crowd what will become a trademark, a little one-handed show followed by a wide and beautifully flighted long pass.
He lands two penalties in the half and Ireland go in to the dressing room 13-10 up. But nobody is kidding themselves: Scotland have been the better side.
The second half begins with an outrageous piece of luck in Ireland's favour, and a dreadful piece of refereeing.
Girvan Dempsey, up to then playing a blinder as a youthful 'Mr Perfect', knocks a ball on less than 10 yards from his own line. He picks it up and hoofs it disconsolately down the pitch. A Scot catches it and begins to run.
"Advantage" shouts the ref. A second later, the ball is on the deck and Ireland are haring down the pitch in a move that will end with Shane Horgan scoring in the corner.
All of a sudden, it's 20-10.
The wonderfully understated Mick O'Dea announces over the tannoy that David Humphreys has replaced Ronan O'Gara.
Dropped after the embarrassment against England, the young Ulsterman proceeds to give a miniature masterclass.
Ireland are in the ascendancy, and soon after O'Driscoll races into the corner and scores with his trademark one-armed finish.
Humphreys lands the conversion and then a huge penalty from out on the 10 metre line. A few minutes later, another Scottish drop allows the Ulsterman to fly-hack down the field, toe-poke over the line and dive on the ball for another Irish try.
Just like that, it's 44-10 and game over, though the final 10 minutes see Scotland cross the line twice more through Glenn Metcalfe and sub prop George Graham.
But it's Ireland's day. A record breaking win, breathing space for Gatland and his young team and hints here and there of what is to come.
A low, orange sun glints off the roof of the stands.
Of those new caps, Stringer is by far the most influential and the abiding impression is of extra space created by his whipping delivery. Ireland barely know what to do with it.
Of the rest, John Hayes is a powerful presence in a dominant Irish scrum and Shane Horgan is awkward, enthusiastic and effective out on the wing.
Scotland, who had already lost to Italy, will go on to improbably deny England a Grand Slam on the final day, avoiding the wooden spoon in doing so.
For Ireland, great exploits await in Paris, where, entirely inspired by O'Driscoll, a 27-year hoodoo will be broken in a game that looks much more like the one we know now.
A remarkable decade has begun.