By Tadhg Peavoy
All the positivity and steps forward from the Argentina and Wales games were drowned on a soggy, greasy Aviva Stadium pitch against England.
The free-flowing, confident game Ireland had played was gone and, in truth, was replaced by an error-strewn mess.
Yes, the conditions were awful that day, but still, as captain Jamie Heaslip said, that was no excuse; Ireland failed to deliver either a solid forward platform or a back display of guile.
That game also brought with it a multitude of injuries: Simon Zebo, Jonathan Sexton, Gordon D'Arcy and Mike McCarthy are all in the sickbay post defeat to England.
But with injury comes opportunity, with Ulster duo Luke Marshall and Paddy Jackson being given the glorious chance to make their full debuts against Scotland in the championship.
Opportunity abounds in this game for older heads too, with Donncha O'Callaghan and Keith Earls afforded the opportunity to show that they deserve regular starting berths in Declan Kidney's first XV.
The attempt to rebuild chances of an overall championship victory start at Murrayfield today; in order to make victory over Scotland a reality, Ireland must address certain issues.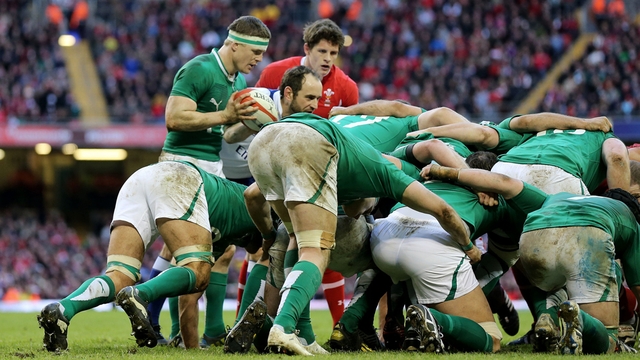 More solid scrum
The scrum is the first port of call that must be better.
While Ireland did gain some change from England in Dublin, there were still issues.
Four scrums won on their own put in, and three stolen against the head by Ireland shows a surface victory.
In fact, Ireland often won their own scrum going backwards and they need to ensure the egg is won with a stable platform for scrum-half Conor Murray to feed outside him.
This is especially true given that Jackson will be under all sorts of pressure from the Scotland back row, who will be looking to devour the Ulster stand-off in the tackle at every opportunity.
Props Tom Court and Mike Ross must attack their opposite numbers at every set piece.
Against Joe Marler and Dan Cole, too often Ireland were put on the back foot on their own put-in and England's.
The Scottish props of Ryan Grant and Geoff Cross should not offer as stiff a challenge, and this is the one game in the championship where Ireland should dominate in scrimmage.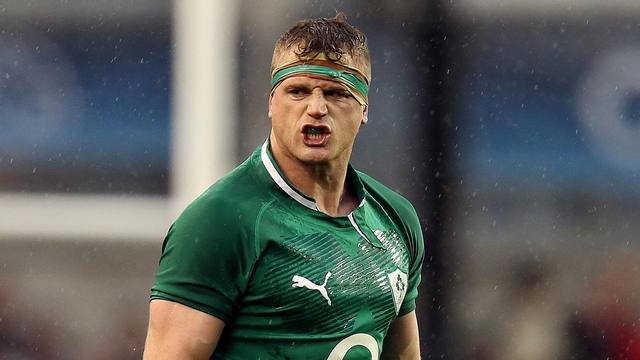 Improvement in the loose
Two of Ireland's big call carriers, Jamie Heaslip and lock Mike McCarthy, had shockers in the loose against England.
Knock-ons and static reception of the ball set a tone that the rest of the Ireland team followed; Ireland must go back to basics here and take the ball from deep.
A wet surface could not be used as an excuse for the errors with ball-in-hand, given that England were far more clinical when they kept the egg. Concentration was poor by Ireland when they tried to play running rugby. It also appeared Ireland were over-hyped going into the clash with England. A more tempered approach in the half-hour build-up to the clash with the Thistle should go a long way to eradicating those simple ball errors.
The breakdown
The breakdown was not sealed with conscientious zeal last time out and this was a major source of possession for England as they disrupted Ireland when Declan Kidney's men most needed fast ruck ball.
Again, Ireland must remember the basics here in Murrayfield: closing off the ruck space securely and allowing Murray the opportunity to feed outside him with pace, bringing the backline into play with depth and speed.
Creating space
The big issue when the backline got the ball in the Aviva was creating space against England.
There was not one member of the 9-to-15 division that looked capable of breaking the line at will. Better link-up play across the line is necessary. In defence of the backs last time out, the rain prevented offloading at will.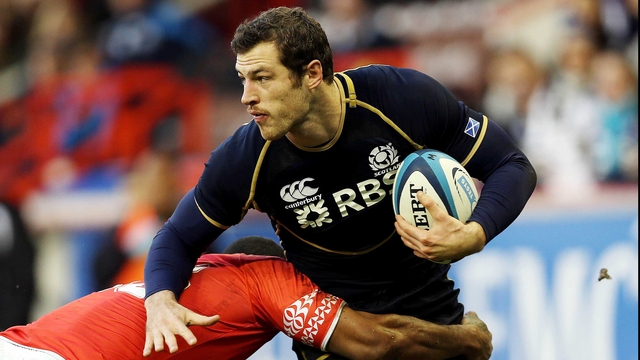 Scotland's improve backline
Scotland's game plan against Italy displayed once more what they displayed in the first round of matches against England: that their backline can do damage.
The back three of Sean Maitland, Stuart Hogg and Tim Visser are capable of breaking lines given the right ball.
However, Ireland's backs should still have the edge in this department, and they will look to make amends for last week's blunt lines of running by taking the ball at Scotland in hand.
Ireland spilled the ball nine times against England: again, the basics must improve.
Scotland played with verve and intensity against Italy. But Ireland will not be as genteel as the Italians were in inviting Scotland on to them, one would imagine.
Instead they will come up strong in defence and look to shatter Scotland with choke tackles, forcing penalties and turnovers.
Scotland will fancy this one and another close battle between these teams looks likely.
If Ireland can improve their basics and rediscover the flair they showed against Argentina and for 50 minutes against Wales, they will defeat Scotland.
Where Ireland can secure victory
Ireland need better line speed and must be quicker to the breakdown than they were last time out.
When at the breakdown Ireland's delivery of the ball to Murray was laboured; this was followed by Murray having one of his slow-delivery days.
With that pace taken out of the game, Ireland allowed England to settle and set their line to soak up the next attack.
Speed to the breakdown, at the breakdown, and from the breakdown will hurt Scotland. Ireland must realise this.
Failure to do so will bring the Scotland pack into the game and turn the occasion into an arm wrestle, a very dangerous thing to get involved in at Murrayfield.
Much of the talk after the England game was that Ireland didn't play enough of a kicking game.
In fact, England and Ireland both mixed running and kicking. It was just that Ireland's kicking was weaker than their opponents; while when England ran it they made fewer mistakes.
The introduction of Marshall and Jackson changes the complexion of the game completely. This new 10-12 combination is where Scotland will focus their attack throughout the 80 minutes. Expect forwards running into these channels phase-after-phase.
In addition, Craig Gilroy has looked slightly uneasy under the high ball out on the wing. This is another avenue Scotland will look to go down. Scotland's own Jackson at number 10, Ruaridh, will be the architect of trying to expose Ireland's Nos 10, 12 and 14.
But, Ireland will be well aware of this, and shall use their superb back row to shield their 10-12 axis, with Heaslip likely to drop deep to help the back three – especially Gilroy – in fielding high balls.
If Ireland can nullify these threats from the Scots, then they should be able to dominate the set pieces and the loose, with what is on paper a superior pack.
Ireland's experience of these Murrayfield encounters should allow them to gain the upper hand just enough to control Scotland and prevent their flying back-three from doing damage. But the feeling is that this could be a very close encounter for Kidney's charges.
Live RBS 6 Nations coverage on RTÉ Two from 2pm on Saturday 23 February and 1.15pm on Sunday 24 February (Scotland v Ireland). Live streaming Ireland only.
Live radio coverage of Scotland v Ireland on Sunday Sport on RTÉ Radio 1 from 1.50pm. Live streaming available worldwide.
Prediction: Ireland to win by four
Scotland v Ireland, RBS 6 Nations, Sunday 24 February, Murrayfield, kick-off 14:00:
Scotland: 15 Stuart Hogg 14 Sean Maitland 13 Sean Lamont 12 Matt Scott 11 Tim Visser 10 Ruaridh Jackson 9 Greig Laidlaw 8 Johnnie Beattie 7 Kelly Brown 6 Robert Harley 5 Jim Hamilton 4 Richie Gray 3 Geoff Cross 2 Ross Ford 1 Ryan Grant.
Replacements: 16 Dougie Hall 17 Jon Welsh 18 Moray Low 19 Alastair Kellock 20 David Denton 21 Henry Pyrgos 22 Duncan Weir 23 Max Evans.
Ireland: 15 R Kearney 14 C Gilroy 13 B O'Driscoll 12 L Marshall 11 K Earls 10 P Jackson 9 C Murray 1 T Court 2 R Best 3 M Ross 4 D O'Callaghan 5 D Ryan 6 P O'Mahony 7 S O'Brien 8 J Heaslip (captain).
Replacements: 16 S Cronin 17 D Kilcoyne 18 D Fitzpatrick 19 D Toner 20 I Henderson 21 E Reddan 22 R O'Gara 23 L Fitzgerald.
Referee: Wayne Barnes (England).
Touch judges: Jerome Garces (France) and Greg Garner (England).
TV: Eric Gauzins (France).