By Tadhg Peavoy
Italy captain Sergio Parisse has revealed that Italy will go into the 2013 RBS 6 Nations with results their main focus, not just good performances.
The Stade Francais clubman told RTÉ Sport: "This season we can't talk about Italy winning the championship.
"But I think we've shown everyone we're a team to be respected and our performances in November show we're to be respected.
"But I think it's crucial in this Six Nations that we get results and get victories Especially this one because we have three games at home."
Targets
The Argentina-born forward continued: "We don't' have have a target. But if you look at our Six Nation history, we've just won two games in succession - in 2007.
"And in the rest of the tournaments we just win one match, usually against Scotland.
"But we don't target winning one or two games, we just want to focus on every match and especially the matches we're going to play at home.
"After we go to England and Scotland with good matches at home. We want to get as many wins as possible."
"Ireland didn't play well in November, but they can still be a great team" - Sergio Parisse
Stadio Olimpico
Parisse also relishes playing at the Stadio Olimpico in Rome, and growing rugby as a sport in Italy.
"Playing New Zealand with 70,000 people in the stadium [over autumn] was great," he said.
"It's great to see that amount of people coming to see the team.
"The three Six Nations games are sold out and it's a big responsibility to get a good result for the supporters because they deserve it.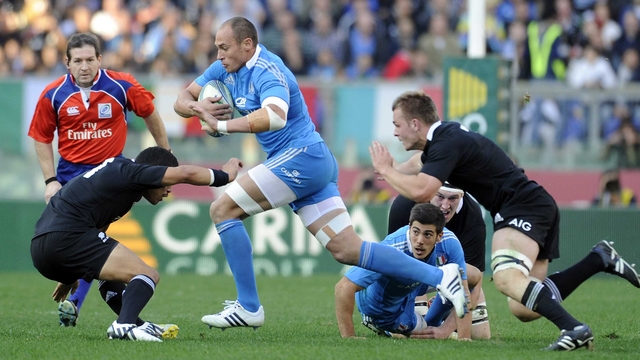 "More people in the stadium means more money for the rugby movement in the country and it's really important to rugby's profile in Italy."
France and England are favourites
The 29-year-old also feels that France and England are the favourites heading into this year's championship, but feels Ireland and Wales cannot be discounted.
"In my point of view, it's going to be between France and England," he said.
"France were definitely the best team in the November Tests and England beat New Zealand, so everyone expects this England team to dominate the Six Nations. But you never know, the magic thing about the Six Nations is that you never know.
"Everyone thinks Wales are under pressure and Ireland didn't play well in November, but they can still be a great team and have the talent to win the championship.
"Scotland are under Italy in the rankings but are still difficult to play. Like us, we're difficult to play.
"Even the big nations like Ireland, England or France respect us as a team."