by James McMahon
Jamie Heaslip has revealed that he was so happy to have been named Ireland captain that he wanted to kiss coach Declan Kidney.
Heaslip has been appointed skipper for the Six Nations even though Brian O'Driscoll, who has filled the post on a permanent basis since 2004, is fit after recovering from an ankle injury.
Speaking to RTÉ Sport's Damien O'Meara at the launch of this year's RBS 6 Nations in London, Heaslip said: "I nearly had to stop myself from jumping across the table to shake Declan's hand.
"Being captain is a very proud moment for me, my family and my friends. The chance to lead out your colleagues in such a big tournament and wear that green jersey is awesome.
"Indeed to play for Ireland - well it's Roy of the Rovers stuff – a boyhood dream. I remember being nine or 10 thinking I was Simon Geoghegan (his rugby hero), running around the house.
"Then the chance to play for your country comes along. That's was great and then getting the opportunity to captain the side for the November Internationals and now for the Six Nations is extra special."
Increased focus
Of course the role of captaincy does bring added responsibility, but Heaslip seems to be to be taking it in his stride.
" I don't mind all the media stuff. The Six Nations gets a lot of media coverage – print, radio, TV and online. It creates huge interest and makes the players want to do better on the pitch.
"It's great to be part of that build up."
"When I did get the armband, some of the lads jokingly said that I have to act like an adult now.
There was a bit of slagging alright. Seriously, I strive to be professional in the way I approach the role of captaincy. It's important that you conduct yourself admirably, both on and off the field."
The Wales assignment
Heaslip is happy with the way preparations are going for the Millennium Stadium clash on 2 February.
"Our focus is very much on Cardiiff. We are an ambitious bunch and our aim is not to be second best. When we gathered for training on Sunday last our aim was to be up to a level for international rugby by the Friday
"To do that, you have to get all that game knowledge and be able to switch from the club language to the international language. It's crucial that collectively we're all on the same page on how we want to attack and defend and that all the different systems are used for a common goal.
"Once we have all that 'job focus' acquired and are happy that we are at the right level for test rugby – our mindset will then switch to Welsh and the game we will employ to attack and defend against them.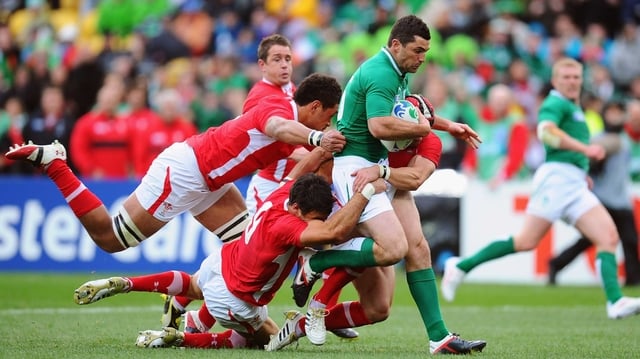 "The first match in the Six Nations is all about momentum. Wales have beaten us the last three times we played them – so we know what's ahead of us.
"The great thing about this competition is that it's wide open. There's is no side that look like they can run away it. I think that's why so many people are engrossed by the competition.
"We're just dying to get out there. To open her campaign in the Millennium Stadium is great. It's a marvellous venue with the roof either open or closed. Then there's the Welsh fans singing and the Irish also making their voices heard. It's brilliant!"
Buzz around the camp
All appears well according to the Irish skipper.
"It's an exciting camp to be involved with. The November series was a stepping stone creating the culture and vibe that we want - and developing our style of play.
"We're in a good place at the moment. Individually it's all about knowing our roles, whether it's gameplays or calls for lineouts and scrums.
"We just want to hammer those aspects home now and then be ready to focus on Wales in that final week."
The Lions Tour
Heaslip insists that he only wants to focus on the job in hand over the next few weeks and that selection for Australia will be for another day.
"Obviously the Lions is at the end of the season and it is a massive thing – the pinnacle of a career for many.
"I see it as being out of our hands and our focus must be on a competition that is very tough. If you play well over the next few weeks then hopefully the Lions will come into sharper focus with regard to being selected."
Upturn in fortunes
The mood surrounding the Irish team has changed since the November games. Back then we were all fixated and worried about world rankings. The vibe seems a lot more positive now just ahead of the tournament. Heaslip agrees.
"The summer tour in New Zealand did not go well and since then we've spoken collectively about what the green jersey means and that it always should be held in high regard even when we're not playing.
"The Irish supporters are enthusiastic and the jersey also means a lot to them.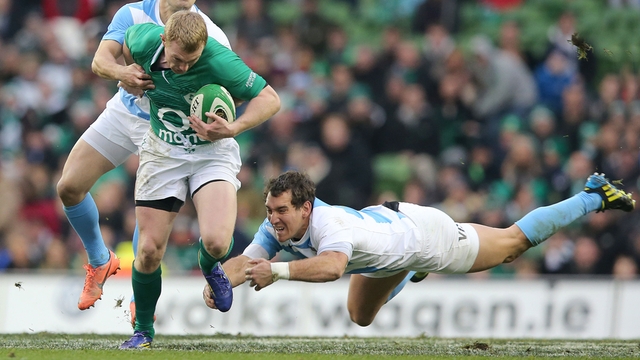 "The November Internationals, I think, restored the faith and the fans responded positively to a job well done.
"We're determined to take a further step forward in the next few weeks. As long as we keep going forward we should be in a good place."
Prediction
If it's not to be Ireland then who will win the 2013 RBS 6 Nations?
"It's a difficult one to answer. If you look at what happened before Christmas then England are in great form. France can never be discounted.
"Wales had a difficult November, but they only lost out by a score or two in their games. They are a dangerous side. We made two mistakes against them late on last year and they punished us. In this competition if you make an error, then three, five or seven points go against you on the board."