RBS 6 Nations Analysis: England v Ireland
Updated: Friday, 16 Mar 2012 17:58
By Kurt McQuilkin
There is nothing an Irish rugby team likes more than to rain on an English rugby team's parade and the cherry on top is doing it at Twickenham, the headquarters of English rugby, on St Patricks day.
The English will naturally be hoping France can beat Wales at the Millenium Stadium to keep their faint hopes of a Championship title alive.
But there is a rather large hurdle to negotiate in the form of a very upbeat and confident Irish team.
The Irish know that a win is paramount on Saturday, not only because it's against the old enemy but because a win will mean finishing up in a good position on the championship table.
More importantly, it would be a great confidence booster going into what I believe will be a memorable and defining three-match test series for Ireland against New Zealand in June of this year.
There are crucial individual, sub-unit and unit contests across the park in attack and defence this weekend.
The one-on-one individual encounter that I'm particularly looking forward to is the battles of the 10s: the Jonathan Sexton v Owen Farrell match up. They both have an array of skills but I believe their kicking out of hand could mean the winning or losing of this match for each of their respective teams this weekend.
Kicking out of hand set to be key battle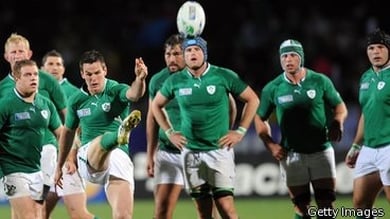 Watching these kicking duels from a spectators point of view can look pretty pointless and hard to comprehend at times. But it is actually a game of strategy where the kicking team are testing out the back three defenders defensive positioning and trying to probe and unsettle their shape.
It is not only about the obvious kicking threat. By showing the defence a late but false picture of an attacking running option, you can drag a defender momentarily out of that corridor by only a meter or two.
That is all that a player like Sexton or Ronan O'Gara needs to exploit that space and gain their side valuable attacking field postion.
Likewise the defence can change the picture late on the attacking team. Generally, if the attack are going to kick the defence want them to put the ball into the midfeild areas and create at worst a contestable 50/50 situation.
To try and create this the defender initially aligns outside of the touchline channel, but then moves back late into the coverage zone on the oppositions scrumhalf's pass.
That forces the attacking 10 to either move the ball through the hands when he doesn't want to, or else force the kick into the midfield area of the pitch with the defensive back three converging to compete in the air.
It is a game of meters and late movement. Execution and nerve will decide who comes out on top in these battles.
England will need to diligently protect their 10–15 meter channels along the touchlines knowing that if they show the likes of Sexton any space at all in this area he can pump those low spiralling punts deep into English territory. If he succeeds, Ireland will have an excellent platform and even though the Irish lineout is not performing to the usual high standards, I am backing the Irish set piece to dominate their English counterparts.
The scrum is another vitally important. At tighthead, Mike Ross is a very important and at times under rated cog in the Irish set piece.
Mike Ross: Key cog in the Irish machine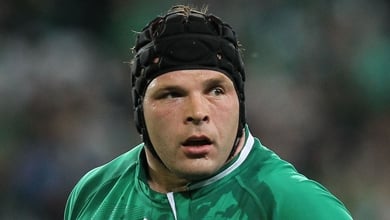 As an aside, New Zealand have in Mike Cron one of world rugby's elite scrum coaches. His work with some of the younger props around the country in the provincial academies and age grade systems is producing some outstanding results.
I watched the Chiefs v Crusaders Super rugby match last weekend and saw a 20-year-old prop named Ben Tameifuna, who weighs in at 134kgs (21 stone) and is 1.82m tall (6 feet), take incumbent New Zealand prop Ben Franks to school, giving him a torrid evening at scrum time. Franks was eventually replaced, giving a moral victory to the young Tameifuna.
Getting back to Ross, we are not seeing him carrying as much as last season's Six Nations, but he plays a crucial cornerstone role for Ireland at scrum time in particular.
We will need him at his rock solid best against England this weekend. It is not until you lose the services of a player like Ross that you realise what a pivotal role he plays.
Having that steady set piece scrum that you can rely upon is a vital component to launching your starter plays on the front foot becuase it naturally brings you onto the ball as an attacking back unit.
From a defensive point of view, a rock solid platform can give your players a good head start at getting to the collision zone slightly ahead of your opposite in that battle of the gainline a scrum under intense pressure has the effect of sitting your defensive screen on its heels and putting it at the mercy of the advancing attacking unit.
There are some crucial contests and in the ened, I think Ireland will have too much resolve and look forward to a heart warming win in Twickenham.