RBS 6 Nations Analysis: How England view Ireland
Updated: Friday, 16 Mar 2012 17:27
By Tadhg Peavoy
Ireland versus England in the RBS 6 Nations represents one of the highlights of the annual Irish sporting calendar.
<notforsyndication>Watch England v Ireland (ko 5.00pm) live on RTÉ Two and RTÉ.ie (Ireland only). Coverage starts at 12.00 with Italy v Scotland followed by Wales v France. Live coverage on RTÉ Radio 1 and RTÉ.ie (Worldwide) from 1.30pm. </notforsyndication>
Like the All-Ireland football and hurling finals, the match is a date that is marked out in social, sporting and revelling calendars months in advance.
All games in the Six Nations are important, and of course carry equal weight in terms of lifting the championship trophy. But for the Irish people, the England game is a particular highlight.
There are many reasons for this, which any Irishman can elucidate. But, how do the English view the clash and does it hold the same weight in their view?
In the build-up to Saturday's Six Nations St Patrick's Day showdown, I spoke to former England second row and Rugby World Cup winner Ben Kay, as well as BBC rugby correspondent Alastair Eykyn, in order to gauge both the players' and the press' view of the battle that is Ireland-England. And also to discover their assessment of where England now stand under Stuart Lancaster.
BEN KAY: FORMER ENGLAND INTERNATIONAL AND RUGBY WORLD CUP WINNER
Kay believes that with the emergence of Ireland as a major force in European rugby, since the advent of the Six Nations in 2000, the clash has taken on added significance. Especially given that Ireland have won seven out of the last eight Six Nations games between the teams.
Kay said: "I think in recent times it has become of one of the most important [games for England].
"When you look at the games before the championship starts, I think at the moment it's probably the first one you look for. Obviously as the championship unravels you might be going for another team, like Wales this year.
"Certainly what's happened to England and Ireland over the last few years and the lack of wins that England have had, the Ireland game is the first one you look for.
"I remember going into the championship last year [2011] thinking 'I can see England doing quite well, but having that potential banana skin at the end of Ireland at the Aviva.' And that's the way it turned out.
"I think this game is right up there. Particularly with the quality of players Ireland have got. Because if they're not having a particularly good season, or they get a couple of bad results, even with Paul O'Connell and Brian O'Driscoll missing, they've got such great leadership and young talent coming through as well."
English rugby comes into the clash on a high following the Red Rose's dramatic 24-22 victory over France in Le Crunch in Paris last weekend.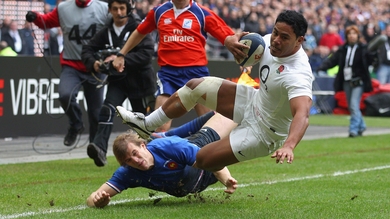 Kay feels that one of the main reasons England have improved under interim coach Lancaster is that the side are less inhibited and are playing with a new-found freedom.
"The Six Nations is all about pressure. What happened with Stuart Lancaster was that all the pressure got taken off the England team because not many coaches could have come in and made such wholesale changes.
"The English nation was demanding those changes after what happened at the World Cup. So, Lancaster didn't have that pressure because he was only the interim coach and didn't have to worry about being sacked. All he could do was enhance his reputation.
"That sort of rubbed off on the team and the championship is totally how you deal with the pressure.
"I don't think the England players have been under as much pressure as they were last year. Everyone was expecting England under Martin Johnson to win a Grand Slam or win a Six Nations; they were almost demanding that.
"I think going into it most English people would have been happy with three wins [this season].
"In terms of this weekend, I think the pressure is off even more. People can pat themselves on the back and say 'Things are improving', even if they don't win.
"But in terms of how much they've improved, Lancaster has certainly taken the opportunity that he's had, fixed some of the problems that England have had, and laid down the laws to the players about what it's going to take to be part of this setup moving forward.
"He's brought a load of young lads in, who are going to be around and benefit from the experience in 2015."
For Kay, the battle at out-half is the main focus of Saturday's game.
"For me, the big match-up is going to be Owen Farrell against Jonathan Sexton.
"Farrell has had an unbelievable start to his international career, as Sexton did to be honest.
"It could be a strange feeling for Sexton to be the old experienced player in the battle.
"I've been massively impressed with Farrell, even more when he moved across to out-half. I think when he was playing at 12 he almost thought he needed to be crashing over the gain line and doing that centre role. As soon as they moved him to ten, he's been much happier pulling the strings.
"What's really impressed me about him is his decision making. We saw one decision in the England-Wales game where Jamie Roberts flew out of the line to stop the pass, he just altered the pass and dinked it over the top of him.
"He's got a great balance to his game and knows when to kick. Saracens tend to play a pretty boring game, so that's pretty drilled into him. But when the opportunity is there, he can go as well.
"There's a great winning temperament drilled into him as well, which he's obviously inherited from his old man [England assistant coach Andy Farrell].
"He's been one of the big plusses for England, and that's going to be a massive battle."
Kay also highlights the back row clash as key to the outcome on Saturday.
"Ireland obviously have one of the best back rows in the world. And then you've got [Chris] Robshaw who's been outstanding in the Premiership this year.
"He hasn't really set the Six Nations alight yet, but he's been doing the graft.
"Tom Croft – how he didn't get man-of-the-match last week [against France] – was unbelievable.
"And then Ben Morgan has burst onto the scene this year.
"So, it's almost the tried and tested back row that everyone knows is fantastic in green against this new evolving back row in white.
"They're starting to get a bit of balance together. There's a bit of indifference between Morgan and Robshaw, which you weren't getting necessarily when [Phil] Dowson was playing.
"I think Ireland have the edge, but England, if they play to their potential, have the capacity to overcome them.
"That would be a massive feather in the cap for them and would lead the whole team."
ALASTAIR EYKYN: BBC RUGBY CORRESPONDENT
Eykyn, unlike Kay, feels that Ireland-England -while a massive match - may not hold quite the same sway and historical clout as some of the other home nations match-ups for the Red Rose.
"Almost every single one of the Six Nations games – with the possible exception of Italy – is a cup final.
"The proximity of the Welsh and the Scottish, together with the history of course, makes those battles extra special. But you could say the same for the Irish match too.
"I think the fact that we are separated by a bit of water makes a slight bit of difference.
"Perhaps, I would say that the England-Ireland matches in the past, not all of them, but some of them, have lacked that little bit of extra bite that you would see in an England-Wales or an England-Scotland match.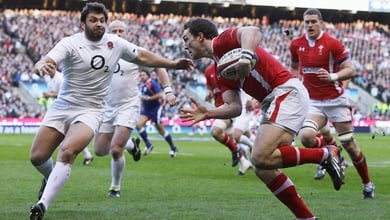 "Take nothing away from the ferocious games that they've played. Particularly the first game at Croke Park [in 2007], which was probably the most bruising and brutal of all of them, and last year's match, the Grand Slam game.
"So, we're talking very, very slim margins here. But, from a journalist's perspective, and I say this with a heavy heart because I love watching England play Ireland. Maybe, it's a tiny fraction down on the others."
The BBC rugby commentator feels England have come a long way in this championship, and that their progress can be clearly charted under Lancaster.
"They're a long way from being the finished article. But I think the important thing is they recognise that. They've only been together for a very short time. They got together for the first time in mid-January. So, to achieve what they've achieved in the last few weeks is pretty special.
"There has been a very obvious progression from the defensive displays that they showed against Scotland and Italy, advancing to pushing a very good Welsh team extremely close, playing much more adventurous rugby, still quite pragmatic, but nevertheless more intent.
"Then against France we saw the flowering, if you like, of what they were trying to achieve. I think they're a very impressive group of people.
"They clearly are enjoying playing for one another. They clearly have thrown off the shackles of the last regime, and the hangover from the last World Cup.
"By the very nature that they've only been together a short time, they are very much in the embryonic stages."
Eykyn also feels that the back row is an area where the battle will be ferocious at the RFU's rugby HQ this Paddy's Day.
"I think the Ireland back row will threaten England. I know everyone says that about the Ireland back row right now.
"You could talk about the balance of it, and whether they need an out-and-out seven. But for all of that, you have Ferris, O'Brien and Heaslip, who are world class.
"I think England will be right up against it there. I think Robshaw, Croft and Morgan have done very well.
"Again they've got issues with their balance, and they don't have a fetcher at seven either. Morgan has been outstanding, but he's incredibly inexperienced. That would be an area where I can see Ireland stronger in.
"I think Ferris has been monumental in this championship. I think we're beginning to see what the Lions missed out on in 2009. He's been utterly brilliant.
"I also think [Rob] Kearney has been one of the players of the championship. I'd be quite concerned about him. He never, ever looks like he's going to drop the ball. And he's beating defenders with his counter-attacking as well. I think he's lethal.
"Sexton - if he gets into the groove. We all know what he's capable of and I think a lot of the Northampton players will remember what happened in the Heineken Cup final last year; that will be playing on one or two minds.
"Sexton sets the bar very high. When he's good, he's exceptional. I'm not sure whether he's had the freedom to play entirely his natural game.
"People say that he suffers from the cloud hanging over him that is Ronan O'Gara, who is always going to come on and close the match. I don't know whether that's true or not. But I can say Sexton hasn't been at his absolute best [this championship]. But I don't think he's been that far away.
"Given front-foot ball and the opportunity to put some width on it, I rate him extremely highly."
The Beeb's man also points out an achingly true aspect to Ireland this season. Brian O'Driscoll's absence has been felt right to the core of Declan Kidney's team.
"I think the big, big loss for Ireland has been Brian O'Driscoll. As much as the way he brings his game to bear on a match, it's really the settling influence that he has.
"I don't think Ireland would have lost to Wales on the opening weekend if he'd been playing. In tight games he has a knack of imposing himself and making something happen."
The commentator feels that the forward battle could be a stalemate, but highlights Manu Tuilagi, Ben Foden and Chris Ashton as England's danger men.
"I feel the two packs could nullify each other [in Twickenham], and like I say, I'd probably pick the Irish back row ahead of the English one.
"I don't think there's going to be an awful lot in it at the set piece.
"I would be concerned, if I were Irish, about Tuilagi. He's incredibly difficult to bring down, and he always gets across the gain line. He has explosive power as well as serious gas.
"The question is how much he gets his hands on the ball. If he gets plenty of ball, then he's very, very dangerous. I also think that given plenty of possession, Ireland need to be concerned about Foden and Ashton as strike runners.
"And collectively, the defence. The England defence has been very strong. They were a little porous in the opening game against the Scots. The cover tackling was excellent, and they're incredibly committed. They'll happily tackle all afternoon.
"Sometimes you look at the pitch and think they're more happy without the ball. That's their foundation stone."
Tadhg Peavoy was in conversation with Ben Kay and Alastair Eykyn on 15 March 2012.